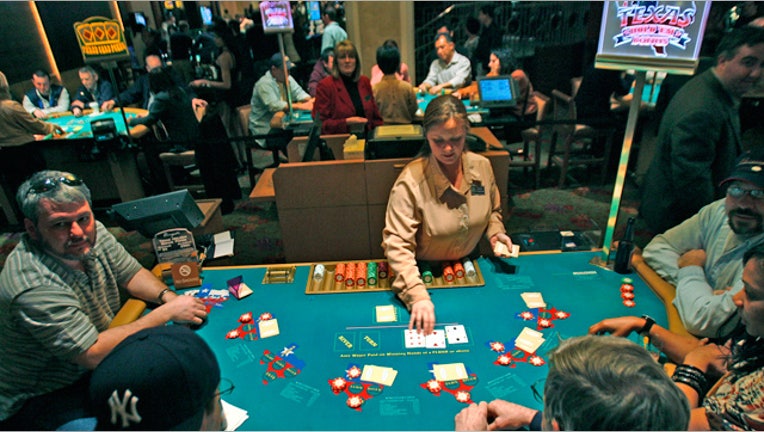 Gambling revenue in Macau, the only place where gambling is legal in China, surged by 25% last month from a year earlier as players continued to play despite renewed economic concerns.
The territory continues to stomp on Nevada gambling, which it first surpassed by revenue in 2006. Today, sales there more than triple those in Las Vegas.
It appears Sin City may never be able to catch up to the tiny Chinese territory, which is less than 12 square miles and makes enough money to surpass all gaming revenues in the entire U.S.
However, a new ruling by the U.S. Department of Justice that allows individual states to legalize online betting for casino games such as poker, may help propel Sin City's sales and help give a boost to the overall U.S. gambling industry.
"The United States Department of Justice has given the online gaming community a big, big present, made public two days before Christmas," gambling expert Nelson Rose wrote last week in his blog Gambling and the Law.
Las Vegas casinos more than doubled total profits over the last decade with the rise of online poker, as heightened interest in games over the web helped drive traffic and table revenues.
"The United States Department of Justice has given the online gaming community a big, big present, made public two days before Christmas."
The U.S. gambling hub saw a whopping 25% hike in revenue from May 2007 to June 2007 due mostly to Caesars' hosting of the World Series of Poker, which skyrocketed in popularity with the help of online gaming. Poker revenue in Nevada casinos more than doubled from 2002 through 2010 alongside the soaring demand for web poker, with the number of poker tables climbing to 920 from 386 and games revenues jumping 134% to $135.2 million from $57.8 million.
Las Vegas casinos were largely quiet early last year when the government first shut the sites and seized the domain names for the nation's three major web gambling companies, including Full Tilt Poker, PokerStars and Absolute Poker, a move that temporarily froze millions of dollars of players' money and sparked outrage from consumer rights groups.
It seemed web gambling wasn't as much of an impediment on big casinos as the government had thought. Las Vegas revenue actually slumped to $12.47 million in October 2006 from $12.59 million in September after the Unlawful Internet Gambling Enforcement Act first passed, according to the Center for Gaming Research.
Macau's Success Continues to Surprise 
In December, revenue in Macau grew to 23.61 billion patacas ($2.95 billion) from 18.88 billion in 2010, according to a report by the region's Gaming Inspection and Coordination Bureau. For the year, the region saw gambling revenue soar 42% to a record 267.87 billion patacas ($33.48 billion).
The territory, which allows online gaming, became the largest gambling center in the world after the Chinese government broke up a 40-year monopoly in 2002 and started allowing foreign casinos such as Las Vegas Sands (NYSE:LVS), MGM Resorts International (NYSE:MGM) and Wynn Resorts (NASDAQ:WYNN) to open shop.
The region's revenue is more than five times what analysts forecast for the Vegas Strip or Singapore, which also has an affluent gambling industry. Macau has been growing at a rapid pace since 2009, despite a global recession that led officials in China to tighten credit.
The revenue at casinos has been driven in Macau by wealthy gamers from mainland China that bet big on baccarat and other table games in private VIP rooms using money borrowed from so-called "junket operators," who arrange trips to Macau for high-rollers.
Despite fears that a global economic downslide could seep into China, December's numbers suggest gambling by these big players continues to soar and the market there remains robust.
Last May, MGM Macau filed for a $1.5 billion public offering on the Hong Kong Stock Exchange, while shares of Galaxy Entertainment, which opened its flagship Galaxy Macau casino in May, climbed 62% last year, and those of Melco International Development grew 30%.
Those gains were despite a 20% decline in Hong Kong's benchmark Hang Seng Index.
On Tuesday, shares of Las Vegas Sands, MGM Resorts and Wynn, the parent companies of some Western casinos in China, were each up more than 3%.
Betting States Legalize Online Gambling
Back in the U.S., things are much less glitzy. Las Vegas saw modest success in 2011 despite a downtrodden U.S. economy, however with only 8.1% growth in Nevada gaming revenues in October, it is growing at a much slower pace than Macau.
In December, though, when the Justice Department ruled that cash-strapped states could allow online gambling as long as it does not involve sports betting, there was a stir in Nevada.
Some big industry players, including Caesars Entertainment, which owns four of Atlantic City's casinos and has been a frontrunner for web-based gambling, and Boyd Gaming, which owns half of the Atlantic City's Borgata casino and hotel, scrambled to submit proposals to be licensed in Nevada.
Nevada and Washington D.C. are expected to have the first state-approved online gambling system up and running later this year, followed by Illinois, New York and New Hampshire, Rose predicts.
Meanwhile, New Jersey Senator Raymond Lesniak said on Monday he plans to push a bill allowing online gambling in the state through the Legislature and on Gov. Christ Christie's desk by next week.
"Christie understands his state needs the money," Rose said. "Last month, the voters of New Jersey approved sports betting. There is no reason they would not also approve Internet casinos."
Rose bets Internet gambling "explodes across the nation" with state adoption.
"I don't think revenues are going to be huge right off the bat because poker is not a huge source of revenue for casinos, only 1%," said David Schwartz, director of the Center for Gaming Research at the University of Las Vegas. However, it "has got potential to expand" as more states legalize online gambling and the interest spreads, he said.
That would be big for Las Vegas and U.S. gambling as a whole.
For example, if California and Nevada both start licensing online gaming companies, making it legal for people in both those states to play online, the two may be able to drum up some kind of revenue-sharing agreement that allows the nearly 40 million people in California to tap the market in Las Vegas from the comfort of their living room, with both states sharing the profit.
"Maybe, nationally, it will be bigger," Schwartz said, who noted that while revenues may not offer Las Vegas a huge boost, it could offer the national gambling industry a jump up through cross sharing.
If anything, the structure of the U.S. gambling industry is expected to be altered; big casinos are forecast to get involved and state adoption is expected to draw attention from low-level players.
"It's going to be different," Schwartz said, whether it makes Las Vegas more competitive or not.