TV Cash Floods Into (Some) College Programs, Threatens Competitive Balance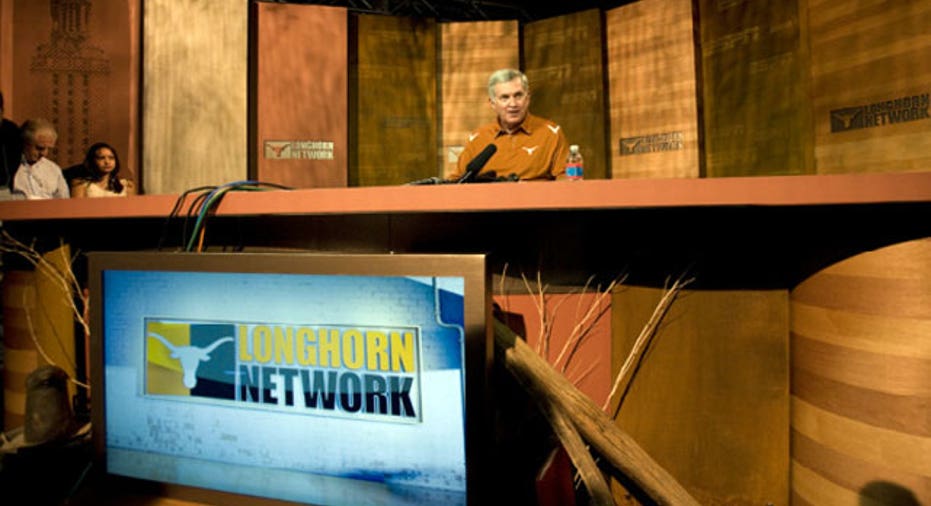 The blurry line between college and professional sports is set to grow even hazier this Friday as ESPN launches the Longhorn Network: a first-of-its-kind 24/7 cable network dedicated to the amateur sports world of the University of Texas.
The mega deal with Walt Disneys (NYSE:DIS) ESPN will generate $300 million over 20 years for UT and comes on the heels of a slew of lucrative TV rights deals between cable networks and college sports divisions.
While the contracts represent new sources of revenue at a time when many state budgets are cutting funding, they also raise questions about the widening gap between rich and poor schools and appear to bolster the case that athletes should be compensated for their role at the center of what is really a multibillion-dollar business.
These are multimillion dollar revenue streams that other schools cant even fathom, said Scott Minto, a sports business professor at San Diego State University. The revenue disparity is so severe that it will trickle down to every aspect of the college sports experience.
UT Lands Its Own Network
With an incredibly successful athletics department, a location in the middle of four of the top 50 U.S. media markets and a devoted base of alumni, UT is the ideal spot for the first 24/7 sports network focused on a single university
Unveiled in January, the Longhorn Network, which will be owned and operated by ESPN, will showcase UTs athletic prowess by broadcasting more than 200 exclusive games, countless interviews and daily analysis.
Were excited about it. Weve thought, talked and dreamed about this for five years, said DeLoss Dodds, who has been UTs athletic director for 30 years.
While the focus of the network will surely be on lucrative sports like football and basketball, the school said it is dedicated to giving air time to non-revenue generating sports like volleyball and track and field. Even academics will receive 12% of the programming, Dodds said.
The Longhorn Network, which is slated to launch on Friday, will be available on cable, satellite and telecom distributors within local and national markets. ESPN is close to deals with Verizon (NYSE:VZ) and Grande Communications and is expected to reach a slew of other ones, the SportsBusiness Journal reported.
ESPN declined to comment.
The positives for UT are countless: the school will be able to further monetize its athletic prowess, enhance its brand and even improve its academics. Crucially, UT has pledged that half of the revenue generated in the first five years of the 20-year deal will go toward academic programs and faculty support.
Huge Demand for Sports Content
The $300 million price tag on the rights deal is the latest sign of the insatiable appetite in the U.S. for premium sports programming. Even Dodds admitted the nine-digit figure was a little surprising to us.
Earlier this year, the Pac-12 Conference (then the Pac-10) reached a 12-year deal with ESPN and News Corp.s (NASDAQ:NWSA) FOX network worth $3 billion. That represents the largest rights agreement for a college sports league, blowing away ESPNs $220 million deal with the Big 10.
News Corp. is the parent company of FOX Business.
There are a number of other big rights agreements that have been reached in recent years, including ESPN deals worth $155 million a year with the Atlantic Coast Conferences, or ACC, and $205 million a year with the Southeastern Conference, or SEC.
Plus, CBS (NYSE:CBS) and Time Warners (NYSE:TWX) Turner Broadcasting signed a $10.8 billion, 14-year contract to broadcast the mens college basketball championship tournament, commonly known as March Madness.
There is a substantial premium being placed on sports content in the television world today, said Lee H. Berke, CEO of consulting firm LHB Sports, Entertainment & Media.  Theres only so much beachfront property to be had. The reality is there are more and more competitors all going after the same sports content.
ESPN was reportedly competing for the UT deal with FOX. I think ESPN made a little bit of a gamble here and well see in 20 years if it paid off, said Michael Cramer, a professor at UT and a former president of the Texas Rangers and Dallas Stars.
Will TV Cash Create a Competitive Imbalance?
Lured by the dollar signs in the UT contract, it seems likely a few other big-time programs will want to follow in their footsteps. According to multiple sources, the University of Oklahoma is in serious talks about launching a network to showcase its athletic program.
The prospect of big programs launching lucrative TV networks has raised some concern that the new revenue will create unfair competitive advantages and widen the gap between rich and poor programs.
Were running very quickly into the world of haves and have nots, said Paul Swangard, a sports marketing professor at the University of Oregon.
For example, UTs new ESPN deal puts it into a great position to recruit new athletes with upgraded facilities and the prospect of airtime. It also enables the program to entice big-name coaches with high-paying salaries.
The enhanced resources at the disposal of UT and other schools that ink deals threaten to further separate Bowl Championship Series schools from the rest of the pack or create an arms race among rivals.
I think it does give a competitive advantage and thats going to create additional challenges, but every school is out there trying to maximize its revenue, said Cramer. There are schools out there trying to one-up this deal right now either through their conference or on their own, he said.
However, Dodds said he doesnt believe the TV cash will creative a competitive unbalance.
The way you widen the gap is 15 starters rather than 30 in football, said Dodds. Money doesnt necessarily make it different. Money is good, but you cant buy separation like that.
Is it Still Amateur Sports?
At the same time, lucrative TV deals give greater fodder to those who believe athletes are being unfairly taken advantage of in the college sports world.
While universities, TV networks and coaches all prosper, athletes are not paid a salary. They are, however, given scholarships that can be worth in excess of $40,000 a year. Yet those scholarships can be rescinded due to poor play or even injury.
More and more money is being made by anyone who can write a business plan except the athletes who are capped at room, board and fees, said Allen Sack, a professor at the University of New Haven and author of College Athletes for Hire: The Evolution and Legacy of the NCAAs Amateur Myth.
There are a number of arguments against paying athletes, including that it would violate the spirit of college sports. Some believe compensating athletes would also favor the richest programs.
Sack said he believes the NCAA is straying from its stated purpose listed in its constitution to retain a clear line of demarcation between intercollegiate athletics and professional sports.
Theyre following a professional model. My God, theyre following the New York Yankees model, said Sack, alluding to the Yankees becoming the first franchise to launch a cable network in 2002. Its really built on a lie that these kids are simply amateurs engaged in a friendly extracurricular activity.
Dodds said UT is in favor of giving players so-called laundry money, which would not consist of a salary but a monthly stipend. However, he said, I dont think we should pay players. Thats what the pros are for.
Student athletes are also banned from accepting gifts or signing product endorsement deals like star athletes do.
There is no reason ... right now why these athletes should not be able to do side deals like their coaches do, said Sack, who played football at Notre Dame in the 1960s.
However, Dodds said he believes allowing students to receive endorsements would lead to a competitive imbalance because the dollar signs would overwhelm the recruiting process.