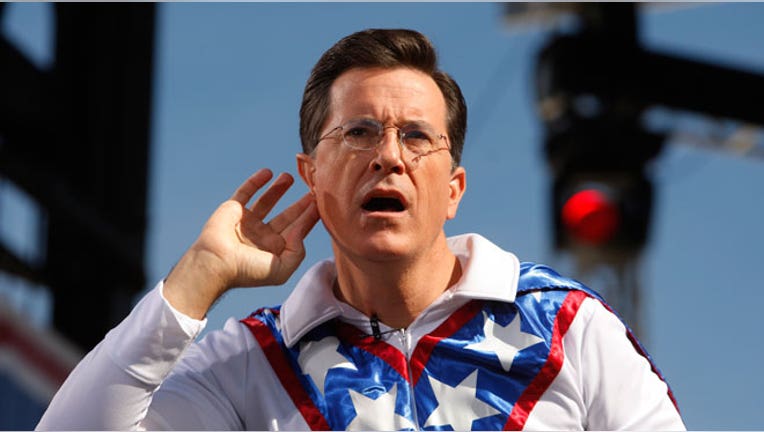 After hosting his own Comedy Central show for nearly a decade, comedian Stephen Colbert has been tapped to succeed David Letterman as host of CBS's (NYSE:CBS) "The Late Show," the network announced on Thursday.
Colbert, who has won multiple Emmy awards at Viacom's (NASDAQ:VIAB) Comedy Central, signed a five-year deal with CBS to replace Letterman when the elder comedian retires after 21 years as a late night host sometime in 2015.
"Simply being a guest on David Letterman's show has been a highlight of my career," Colbert said in a statement. "I never dreamed that I would follow in his footsteps, though everyone in late night follows Dave's lead."
Colbert is best known for his role as the satirical host of "The Colbert Report" where the comedian lampoons conservatives on a nightly basis.
"Stephen Colbert is one of the most inventive and respected forces on television," CBS CEO Leslie Moonves said in a statement. "David Letterman's legacy and accomplishments are an incredible source of pride for all of us here, and today's announcement speaks to our commitment of upholding what he established for CBS in late night."
Letterman announced his retirement on April 3, but has not determined when exactly next year he will step down.
"Stephen has always been a real friend to me. I'm very excited for him, and I'm flattered that CBS chose him. I also happen to know they wanted another guy with glasses," Letterman said.
CBS said specific creative elements, including the producers and location for Colbert's new show, will be determined and announced at a later date.
"I'm thrilled and grateful that CBS chose me. Now, if you'll excuse me, I have to go grind a gap in my front teeth," Colbert said
"The Colbert Report" launched in 2005 and since then has earned two Peabody Awards and 27 Emmy nominations, including a win last year for Outstanding Variety Series and three other wins.
Colbert served as a "correspondent" on Jon Stewart's "The Daily Show" before starting his own program.
The new role will put Colbert in even more direct competition with Jimmy Fallon, host of "The Tonight Show" on Comcast's (NASDAQ:CMCSA) NBC, and Jimmy Kimmel on Walt Disney's (NYSE:DIS) ABC.
Shares of New York-based CBS fell 2.6% to $60.74 Thursday afternoon, outpacing a 1.32% decline on the S&P 500. Viacom is off 2.99% to $83.32.
Sumner Redstone is the executive chairman of both CBS and Viacom.