Trust Him, He's a Doctor: Kim Nominated to Head World Bank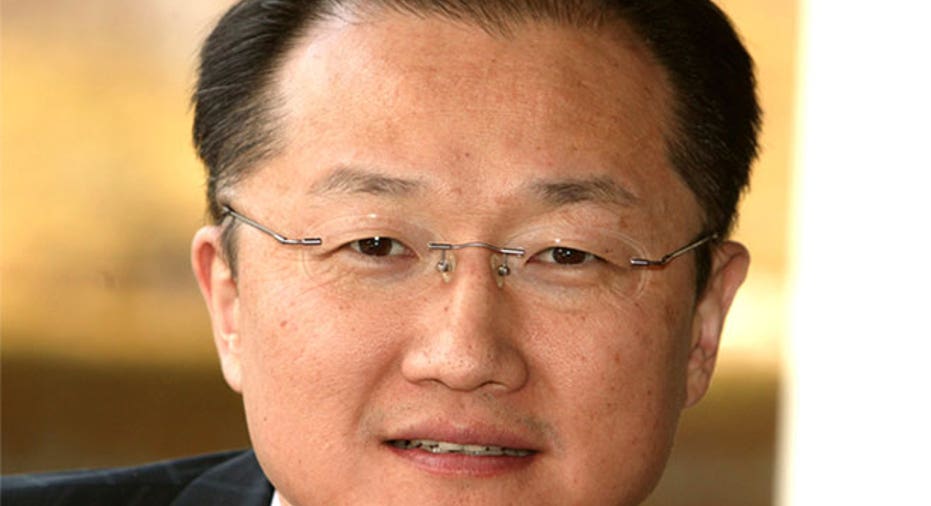 Unlike the many bankers, economists and businessmen that came before him, the next likely president of the World Bank is a medical doctor.
The White House's nomination of Dartmouth College President Jim Yong Kim to head the World Bank has raised more than a few eyebrows and breaks the mold of the organization's previous leaders.
It may even keep the door open for the other leading candidate: Nigerian Finance Minister Ngozi Okonjo-Iweala.
But seeing how the Washington-based World Bank has only been led by an American since its inception, it seems unlikely anyone but Kim will win.
"I don't think it's a shoe in, but at the end of the day Kim will be accepted because he obviously has the U.S. vote," said Gary Clyde Hufbauer, an economist at the Peterson Institute for International Economics.
What Does the World Bank Do?
Pending approval from the World Bank's board of directors, Kim will be handed the keys to an organization that looks a lot less like a bank these days and more like a consulting firm.
Founded in 1944, the World Bank was originally charged with helping Europe put itself back together following the destruction caused by World War II.
As that need lessened, the World Bank began providing loan in the 1970s and 1980s to developing countries that needed help building hard infrastructure like roads, airports, railways and power plants.
But today's global financial markets are more than capable of catering to the borrowing needs of most developing countries and the International Monetary Fund has worked to put out fires where they erupt (see: Europe).
Even though the organization still lends out interest-free money, today's World Bank helps advise developing countries on everything from building infrastructure to creating judicial systems.
"Now the bank has much more moved into what I would call the knowledge field," said Hufbauer.
With some 9,000 employees in 100 offices around the globe, the World Bank is comprised of the International Bank for Reconstruction and Development, which strives to lower poverty in middle-income and "creditworthy" poorer countries, and the International Development Association that focuses on the world's poorest countries.
While the World Bank's operations do dip into the health world, "medicine is only a part -- and I would even say a modest part -- of the World Bank's vast portfolio," said Hufbauer.
That's part of the reason why Kim's nomination to succeed current World Bank President Robert Zoellick is surprising.
Born in South Korea, Kim, 52, moved to the U.S. when he was five. After earning his medical degree at Harvard, Kim co-founded Partners in Health, which is a non-profit development agency that was hailed for its work in Haiti.
Kim later worked at the World Health Organization as the body's HIV/AIDS department.
What About Summers, Clinton?
"That is really different than experience of past world bank leaders. Without exception they have been bankers, businessmen, Congressmen," said Hufbauer. "This is breaking the mold."
By choosing Kim, President Obama passed over a slew of much "sexier" names, including controversial economist Larry Summers.
Like Kim, Summers also lead an elite school, serving as president of Harvard until 2006. Summers also served as director of the White House's National Economic Council under Obama and as secretary of the Treasury Department from 1999 until 2001. But Summers could have been a tougher sell politically.
"Summers is a lightning rod for criticism. He's kind of an abrasive character," said Hufbauer, who added that his "brilliance is without doubt."
Obama also chose not to tap Hillary Clinton for the job after the Secretary of State made it clear she wasn't interested.
Kim to Face Challenges
Hufbauer said Tim Geithner, the current Treasury Secretary, could have been an intriguing selection, but the timing would have left either a vacancy at the World Bank or Treasury until early next year.
If approved as the next World Bank president, Kim's success may be determined by his management style.
"This is where Zoellick has excelled and been well received by member countries, Congress and the staff," said Hufbauer, noting that these are three big and often contentious constituencies.
Hufbauer said he believes the biggest challenge facing today's World Bank is figuring out how to raise income growth, especially in lesser-well off countries like Indonesia, Mexico and Morocco.
These nations are "doing okay, but they're not doing as well as they could for their growing populations of unemployed folk," said Hufbauer.