Toyota's New Prius to Face Off Against Cheap Gas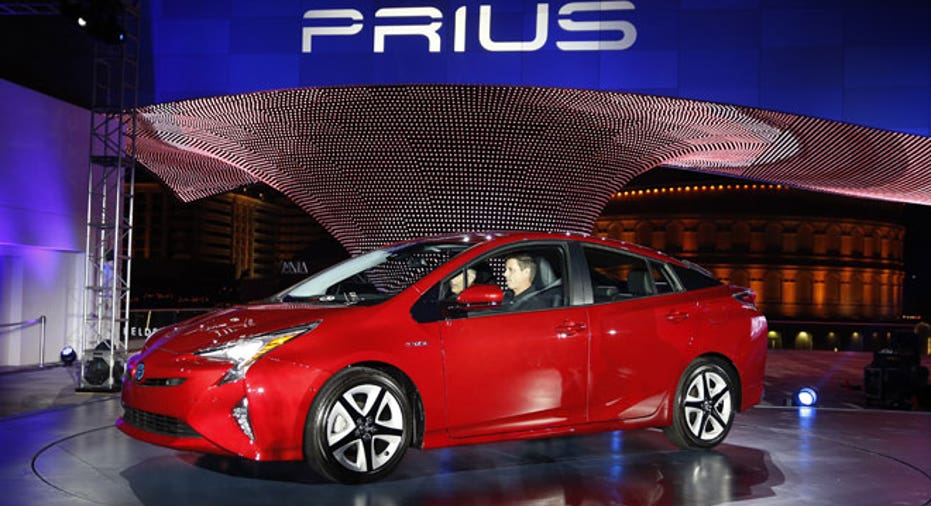 The fourth generation of Toyota's (NYSE:TM) Prius, armed with a new look and improved fuel economy, must face off against the lowest gasoline prices in a decade when it goes on sale early next year.
U.S. sales of the hybrid vehicle hit an annual high of 237,000 units in 2012, the same year that gasoline prices also rose to an all-time high of $3.63 per gallon. The current national average is $2.38 per gallon, down $1.05 versus a year ago. AAA said drivers paid the lowest prices at the pump over Labor Day weekend since 2004.
Battling cheaper gasoline and aging models, Toyota has sold 17% fewer Prius vehicles through August compared to the same period last year. Meanwhile, the swift retreat of oil prices has contributed to a surge in truck and SUV sales.
The 2016 Prius certainly will enter a different environment than its predecessors, but Toyota expects a new design and improved fuel efficiency to attract more buyers.
"The Prius is not launching at an ideal time. Gas prices are low and should remain low for the remainder of the year. Prius sales and gas prices have been directly related," Eric Lyman, TrueCar's (NASDAQ:TRUE) vice president of industry insights, said in an emailed analysis. "It's important to remember, gas prices are cyclical in nature, so should fuel prices rise again, Prius can quickly regain favor with consumers."
Toyota said the redesigned Prius is expected to get 55 mpg in combined city and highway fuel economy, which would reflect a 10% increase from the 2015 model.
The Japanese automaker also highlighted features that go beyond fuel economy. "It's not just about MPG anymore," Toyota said in its announcement. The Prius will be lowered nearly an inch and get a new suspension for improved handling. Toyota made significant changes to the look of the Prius as well, giving the 2016 model a sportier design.
"Today's customers want all the traditional benefits of a hybrid, but don't want to compromise on looks and performance," Toyota added.
Toyota did not announce pricing for the 2016 Prius, which was unveiled at a Las Vegas event Tuesday night. The current model has a starting price of $24,200 plus destination charges.
In addition to declining gasoline prices, the Prius will be challenged by broad improvements in fuel economy and tougher hybrid competition from rival automakers like Ford (NYSE:F) and Honda (NYSE:HMC).
The industry has boosted fuel economy for most other types of vehicles, including the fast-growing crossover segment. According to the University of Michigan Transportation Research Institute, the average fuel-economy estimate for cars sold in August was 25.3 miles per gallon, a gain of 5.2 mpg since October 2007.
Toyota has dominated the hybrid market, although TrueCar noted that the Prius has seen its retail share of the compact segment steadily drop since 2012. Overall, Hybrids account for just 3% of all vehicles sold in the U.S.
The Prius unveil comes the same week that Chevrolet confirmed its Volt plug-in hybrid will only launch in select states this fall. General Motors (NYSE:GM) scrapped plans for a national rollout of the next-generation 2016 Volt, choosing to instead sell the vehicle in its strongest markets at first.