Toyota Forecasts Strong Comeback in 2012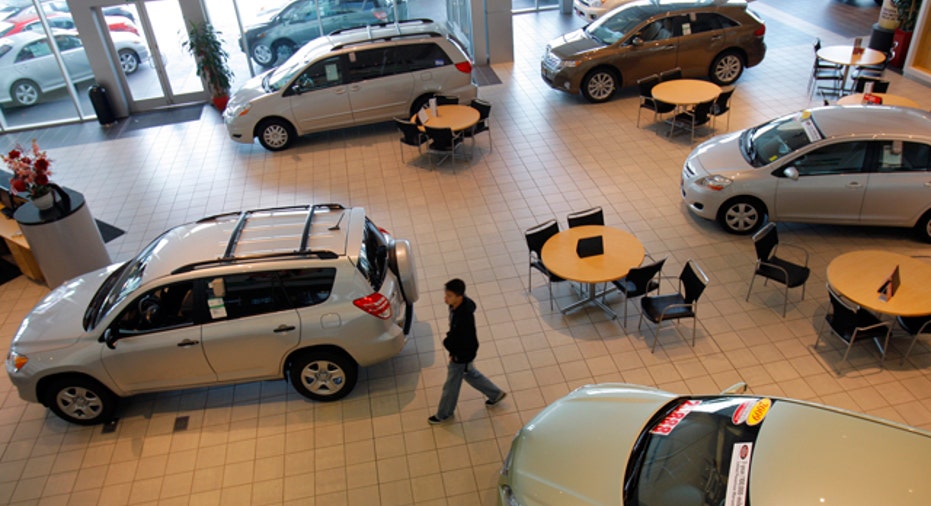 Toyota Motor Corp forecast a 20% jump in global sales to a record 8.48 million vehicles next year as it claws back from this year's output losses caused by natural disasters in Japan and Thailand.
Toyota overtook General Motors Co (NYSE:GM) as the world's top-selling automaker in 2008 but is set to lose that crown this year as supply-chain disruptions from the March earthquake and tsunami in Japan and flooding in Thailand cut production around the world.
With estimated sales this year of 7.90 million vehicles for the group, which includes units Daihatsu Motor Co and Hino Motors Ltd, Toyota will likely rank third behind General Motors and Volkswagen AG.
Toyota could regain the top ranking next year as it builds inventory to meet pent-up demand and adds output capacity in China and Brazil, among other countries. GM and VW have not disclosed their 2012 sales plans, and Toyota did not provide group forecasts.
"The reason they lost sales this year was because they couldn't build the cars. Now that they can, it's possible they'll take back the top spot," said Satoru Takada, analyst at Tokyo-based T.I.W.
"But it depends on which markets the growth will come from," he said, noting Toyota was dominant in Southeast Asia and the Middle East, but faces tougher competition in China and South America.
Toyota's parent-only plan for 2012 beats its previous peak of 8.43 million vehicles in 2007.
"I believe the target is achievable given Toyota is quickly recovering production and launching new models," said Lee Hyun-soo, an analyst at Kiwoom Securities in Seoul.
"There will be cut-throat competition between Toyota, GM and Volkswagen for the top spot in the global market next year."
Toyota's president, Akio Toyoda, has said he was not interested in a race to be the biggest automaker, while VW has a goal of selling 10 million vehicles to grab the title by 2018.
Measured by stock value, Toyota is way above its rivals, at $111 billion - more than VW and GM combined.
YEN CONCERN
At its peak in 2007, however, Toyota was valued at more than twice that, and analysts said a sales recovery would struggle to translate into similar profit gains at today's exchange rates.
"Rather than an increase in its production plans, the market is focusing on how (Toyota) will limit the losses with the dollar at 77-78 yen," said Yoshihiko Tabei, chief analyst at Kazaka Securities in Tokyo. "Even if they increase production, there are questions about how much that will lift profits."
Toyota's shares have lost 22% so far this year and are down 70% from a peak in early 2007, when the dollar fetched around 120 yen. On Thursday, they fell 0.6% in a Tokyo market that lost 0.4 percent.
Once the envy of the auto industry, Toyota has had a torrid couple of years - from a quality crisis that triggered the recall of more than 10 million vehicles globally, a tarnished image and a subsequent slide in sales.
Just as it was recovering from that the March 11 quake and tsunami that destroyed hundreds of kilometers of Japan's northeastern coastline forced it and other domestic automakers to scale back output for months.
In October, damage to suppliers from Thailand's floods did the same, hampering plans to make up for earlier output losses.
Production disrupted by the Thai floods has mostly returned to normal, keeping output only in Japan and Thailand reduced.
EMERGING MARKET LAGGARD
But Toyota has also lagged because of a relatively slow push into emerging markets as it scrambled to meet runaway demand in mature markets such as North America in the years leading up to the global financial crisis.
Toyota now aims to sell half its cars in emerging markets by 2015, up from around 40 percent now. "The numerical plans announced today reflect that strategy," said spokeswoman Amiko Tomita.
With growth in developing markets such as India and China slowing and Europe in the middle of a debt crisis, some said Toyota's plans may be optimistic.
"With these factors in mind, I think some investors are somewhat skeptical that they will reach these numbers," said Fujio Ando, a senior analyst at Chibagin Asset Management. "There might be a slight gap between the company's numbers and what investors expect," he said.
Toyota also announced plans to sell 8.95 million Toyota, Lexus and Scion vehicles worldwide in 2013 and build 8.98 million vehicles. It gave no regional breakdown for the forecasts outside Japan.
It plans to build 3.40 million vehicles and sell 1.53 million vehicles at home in 2012.