This 22-year-old created a $1M 'healthy' gummi bear company
The 22-year-old Canadian entrepreneur behind a new "healthy" gummi bear says she got the idea from her grandmother.
"We use no sugar or sugar alcohols or artificial sweeteners so it's just plant-based, non-GMO stevia. Also, we don't use any artificial ingredients like colors or flavors," Tara Bosch, founder and CEO of SmartSweets, tells FOX Business.
The treats have 24 grams of fiber, Bosch says, and only 2 grams of sugar and 9 grams of net carbs per bag, whereas traditional gummi bears contain between 21 and 22 grams of sugar in about 17 to 18 pieces.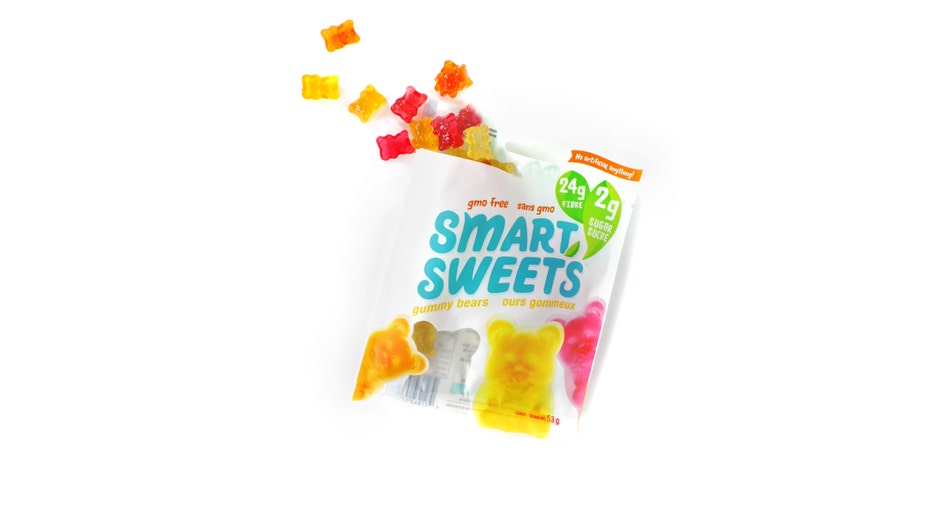 Bosch founded SmartSweets in Vancouver last year after dropping out of college to pursue her mission of kicking sugar in popular, every day sweets. She says she came up with the idea after her grandmother told her that she regretted eating so much sugar over the years because of her sweet tooth.
"It impacted her health and how she felt about herself. And that really sparked my exploration in looking for natural confectionery products that addressed sugar. From then on, I wanted to innovate candy that tasted like candy because if people are going to make a healthier choice, my belief is that it should taste like the real thing," she says.
And in less than a year's time, she says her company has already generated over $1 million in sales.
"Some of the large players in the confectionery space have already reached out to us. I think they are finally seeing consumers' awareness about sugar," Bosch adds.
The company is also working to raise a $2 million seed round, which she says would be used to expand to the United States by fall of this year.
"We already have $470,000 in financing to date and a few other folks that we are talking to about this seed round but are not finalized yet," Bosch says.
SmartSweets are already sold at Whole Foods (NASDAQ:WFM) and Bed Bath & Beyond (NASDAQ:BBBY) throughout Canada.