Thirty Years Overdue, It's Time to Rebuild America's Airports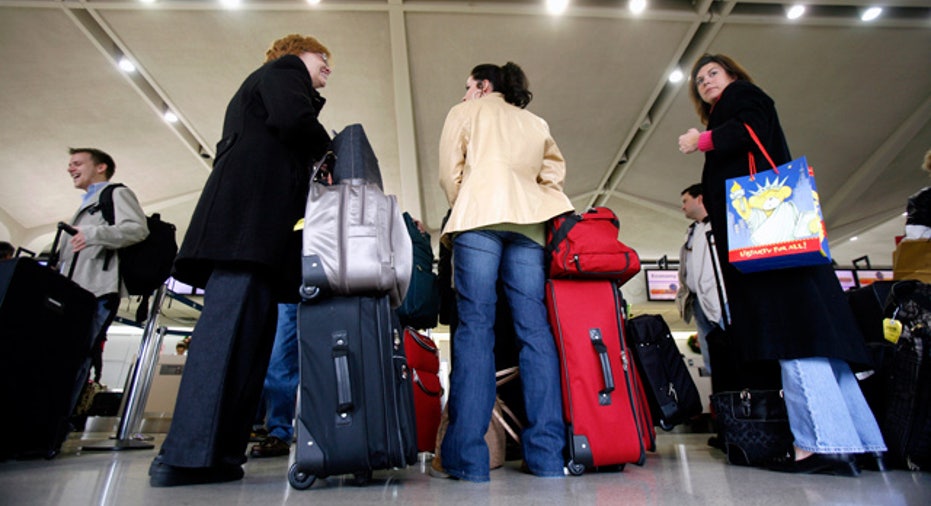 More people than ever are flying through America's airports. The Federal Aviation Administration (FAA) reported in 2012 that airline passenger travel will double over the next 20 years. By 2029, 1 billion passengers will travel through the nation's airports, reaching 1.14 billion in 2035.
But even as the number of travelers grows, airport infrastructure has remained unchanged for the last 20 years. A 2013 Airports Council International survey found that U.S. airports have $71.3 billion worth of construction to complete by 2017 to keep up with passenger travel. More passengers in terminals with the same number of seats has led to overcrowding. Those same passengers want organic, gluten-free food and luxury shopping to enjoy while waiting for a delayed flight. Adding more flights causes wear and tear on runways, which have a life of approximately 30 years.
The nation's airports are in desperate need of repair.
Dwight Pullen, Director of Aviation at Skanska, the fifth largest construction company globally, says today's airports can't accommodate the growing numbers and the changing needs of passengers travelling through U.S. airports.
Some of the biggest airport construction projects happening to date include Dallas/Fort Worth ($2.3 billion), Tampa ($2.5 billion) and Washington, D.C. Dulles ($5.6 billion).
Clearly these projects don't come cheap, and budgeting issues have been the number one hurdle in upgrading the nation's crumbling airports. The predominant source of funding for airport capital expenditures is the Passenger Facility Charge (PFC), an FAA (Federal Aviation Administration) fee of up to $4.50 added to a passenger's ticket cost. That charge hasn't been adjusted for inflation since it was set 15 to 20 years ago.
In September 2015, it was airports battling the airlines to raise the PFC. Airports wanted to increase the cap on the PFC to $8.50, while airlines countered saying passengers are already charged enough fees. Looming in the background during this debate was the infamous Transportation Bill that had a heavy focus on highways as lawmakers attempted to avoid raising gas taxes. Meanwhile airports were concerned that funding for the FAA would be squeezed in favor of highways.
Other sources of revenue include the car rental facility charge, grants and airport revenue bonds. Airlines and rental car agencies can also provide funding for new construction, like JetBlue's (NASDAQ:JBLU) terminal at John F. Kennedy airport in New York.
Pullen says airport construction can be divided into three sectors: the air side including runways and taxiways; the land side consisting of things like parking garages and roadways; and finally internal construction on terminals and concourses.
Some of the biggest airport projects have included constructing railway systems to airports, giving passengers another mode of transportation to bring them to and from the airport. Washington D.C.'s Dulles airport is currently in the middle of a multi-billion dollar transportation project extending one of the city's subway lines out to the airport in Virginia. Denver is close to completing a rail extension system to the city's international airport, slated to open spring 2016.
Airlines are purchasing the latest and largest aircraft from Boeing (NYSE:BA) and Airbus, leading to a new set of issues. Gates have to be reconfigured to accommodate aircraft of different sizes, and larger planes means more people can fly. As the number of seats in terminals has not risen in tandem with the increase in passengers, it's getting harder to find a place to sit as flyers wait for flights.
Improvements to security rank high on the list of what needs fixing. One of the challenges in upgrading security is that airports have to plan for construction projects to open in three to five years, all while not knowing what technological advances may surface between now and then. Security upgrades run the gamut featuring everything from shortening the amount of time passengers have to wait in security lines to employing the latest explosives detection technology.
"The number one complaint from passengers is really the time it takes to go through the travel process," says Jeff Conklin, vice president of Utility and Infrastructure at J.D. Power, a marketing research firm specializing in consumer surveys. The TSA recently rolled out in select airports display boards featuring wait times for security lines at various terminals. And new developments like TSA Precheck (TSA Pre✓®) and CLEAR screening have given passengers alternatives to waiting in long lines. Increasingly, airports are attempting to consolidate security checkpoints all while protecting America's flights with the latest technological innovations.
Cultural developments have also emerged as necessary additions to any airport that wants to please its passengers. "If you're in an airport with a certain locality, you want to experience the culture of that city or state. Especially if it's an international airport," says Pullen.
And some airports serve more than a cultural experience. The George Bush Intercontinental Airport in Houston is a major transportation point for wealthy Middle Eastern oil executives, who expect a certain level of convenience and standard when they travel. The airport is going through a master renovation adding local Houston dining favorites and improving parking among a slew of new developments to glamorize the airport.
One of the hardest parts of course is keeping the airport at full operations while renovating. "It's like doing open heart surgery on a runner who's running," says Pullen.
As travellers spend more time in airports, what they munch on and where they shop has become more important to them. "Passengers want the choice of anything from a restaurant all the way to grab and go food options" says Conklin. And within those choices they want everything from healthy options to full blown indulgences.
The same applies to retail where flyers also want a range of options from stores that offer something as simple as toothpaste to luxury items such as new fragrances and handbags.  "Features and choices can differentiate the experience. When passengers have options, we see a solid differentiation in passenger satisfaction," says Conklin.
With so many people travelling through airports now, not surprisingly, marketers have taken note. Travellers passing through JFK this Thanksgiving and Christmas season saw a pop up shop smack in the middle of the terminal featuring popular retailers like Amazon (NASDAQ:AMZN) and J.Crew. Conklin notes that the key to having a successful retailer fill a pop up space is to "nail the travelling demographic."
The airport innovations and upgrades will continue for years to come, all to make the flying experience more convenient. Pullen imagines a day when travellers could have their luggage picked up at their home and then dropped off at their hotel upon arrival.
And even the most unlikely of flyers are getting special treatment. Later this spring, a pet terminal will open at New York's JFK Airport.