Thinking of Studying Abroad? It's Not All About Cost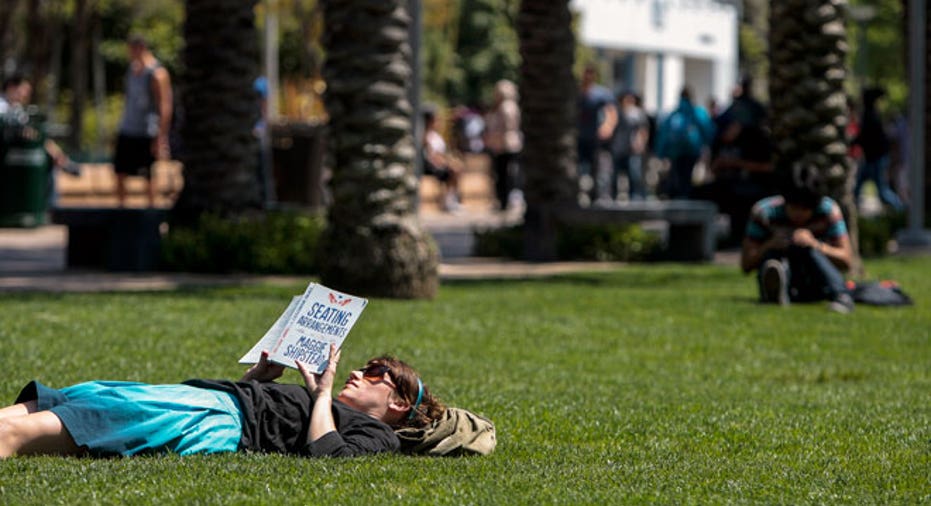 Studying abroad can provide a unique opportunity for college students to not only expand their education but also be exposed to different cultures and people—but the experience doesn't come cheap.
In the 2010-2011 school year, nearly 274,000 American students received credit abroad, a 1% increase from the year before, according to the Institute of International Education.
However, the decision to study abroad during a college career is a lot harder than just picking a country and buying guidebooks. There are substantial costs involved for leaving campus, including the potential of higher tuition costs, room and board costs and added living expenses. Students also need to work with their school to make sure credits will transfer and be appropriately applied to their degree or they might be forced to stay in school longer, adding more costs.
"If a student's budget is limited, there are plenty of things to do at little or no cost [abroad]," says Paul Geis, associate director of study abroad for Elon University. "Most of our programs sponsor academic, cultural and social activities in and around the host city."
Experts say studying abroad can afford students valuable experiences and skills that can't be taught in the classroom or even help secure a job in the future. Jennifer Grasz, vice president of corporate communications for CareerBuilder, says studying abroad "can show a sense of independence and initiative to a future employer."
For students mulling spending a semester overseas, here's what experts advise they take into account to make an informed decision.
What Will it Cost?
For the 2012-2013 academic year, the average cost of studying abroad for one semester was $17,785, according to the Institute of International Education. Some programs can cost much less, and some can cost much more depending on the institution and funding options, so students should do their research to find a program that fits their needs and budget.
The most obvious extra cost of studying abroad is getting to the new campus. Depending on where the student chooses to study, a round trip air ticket can be as much as $2,000, and traveling around the region also carries a hefty price tag.  "How much students choose to travel accounts for some of the greatest variation in how much students spend while abroad," says Geis.
Studying abroad often costs more than a semester at the student's home university. With the British Pound at $1.57 U.S. and the euro at $1.33 U.S., even a trip to the grocery store could be more expensive in a foreign country.
Housing costs may vary by the program as well. Some include a dormitory or homestay in the abroad fee, while others require the student to find his or her own apartment in the city – an added cost to tuition.
Other additional costs could include passport and visa fees, immunizations, international health insurance and local transportation, although according to the Institute of International Education, some of these may be included in the study abroad program fees.
Students should consider how their universities' tuition applies to study abroad and apply for scholarships to help make the journey more affordable.
Transferring Credits
If a student's major requires specific courses, studying abroad could make it difficult to graduate in four years.
It depends on the school and the program, but generally many classes taken abroad can count toward a student's degree. Students should meet with their academic advisers early in their college careers to determine a four-year plan and whether studying abroad fits into it.
"With proper planning and careful program selection, our students are able to satisfy a number of degree requirements," Geis explains, "including classes in their majors, from biology to dance to marketing to exercise science."
Missing On-Campus Experiences
Students should consider their other commitments on campus and class availability when planning to study abroad.
Brandon Thaler, a junior at American University, chose not to study abroad in the fall of 2012 because he didn't want to miss being in the capital during the presidential election. Liz Gibbons, a junior at Notre Dame, remained stateside during fall semesters because she never wanted to miss the Fighting Irish's football season.
Some upperclassmen hold leadership positions that require them to be on campus for a full year, prohibiting them from studying abroad during that time.
Enhance Your Degree, Job Prospects
As the world becomes more globalized and as America continues to invest in international markets, a student who has lived, studied, or worked in a foreign country could be seen as a valuable asset to hiring manager, according to Grasz.
"Employers will often spend 30 seconds or less reviewing a resume," Grasz says. "If they're sifting through 100 resumes, an internship abroad will likely grab their attention."
While studying abroad can covey to an employer a willingness to take on new challenges as well as a sense of autonomy, students should emphasize what they learned from their experiences on their resumes. Grasz suggests highlighting how the student grew professionally and to quantify their experiences on how they will benefit the company whenever possible.
Become Bilingual
Studying abroad offers students the opportunity to become immersed in a foreign language outside a classroom and learn conversational skills, and fluency in another language is a big resume booster.
If a company is deciding between two equally qualified candidates, 33% of employers would choose the candidate who is bilingual, according to a 2012 CareerBuilder survey. The most useful languages to know for business are Mandarin Chinese, French, and Arabic, according to CareerBuilder. As America becomes increasingly diverse, Spanish is a useful language for many jobs as well.
Personal Growth
Perhaps the most intangible benefit of studying abroad is the personal responsibility that comes to adjusting and living in another culture. Students may live on their own at their university, but living independently in a foreign country requires figuring out a new currency, learning a new form of transportation, and cooking with different kitchen appliances – all in another language.
University of Nevada, Las Vegas, senior Agata Siwinska studied abroad in Viterbo, Italy, last year and lived on her own in an apartment, an experience that made her more responsible with her finances.
"I knew exactly how much my rent would be, when it was due, and I was constantly over aware of how much money I had in my bank account," Siwinska says. "The euro/dollar exchange was painful, but Bank of America offered a $0 withdrawal fee when I used their sister bank in Europe, which was really helpful."
Megan Smallen, a junior at Loyola Marymount University in Los Angeles, studied abroad in Bonn, Germany, and had to get crafty as well.
"Traveling on a student budget was an excellent experience," she says. "It gave me the opportunity to meet extraordinary people by couch surfing and staying in hostels."
Andy Smith, a Gonzaga University senior, studied abroad in Florence and says he considers himself more personally responsible now.
"Although I consider myself to be largely independent," Smith says, "the confidence and level of self-sufficiency necessary to thrive in another country can only be obtained, ironically, through taking a chance and going abroad."