The Royal Baby Naming Game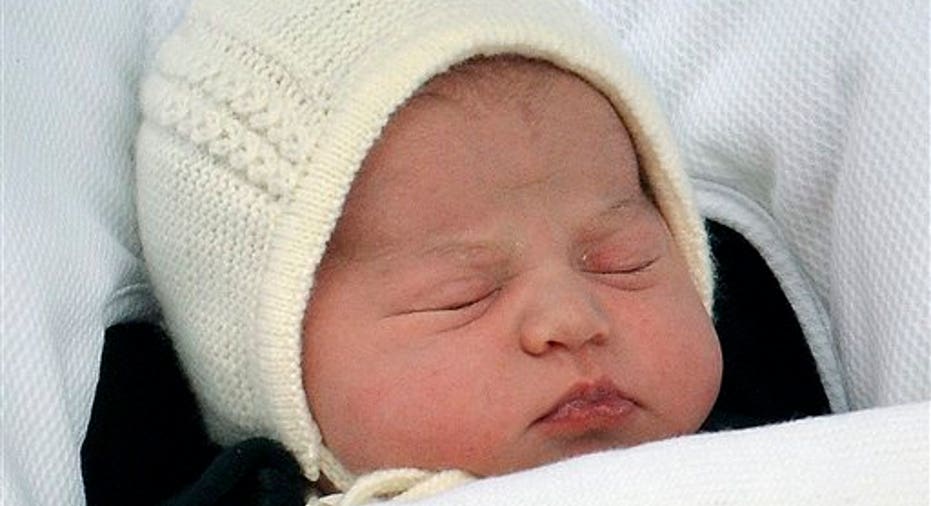 Charlotte it is. The Duke and Duchess of Cambridge have officially named their daughter Charlotte Elizabeth Diana. And, if you're one of the lucky royal watchers who placed a bet on her name—it's pay day too. The sport of royal baby naming has now reached $1.5 million dollars and is officially one of the biggest non-sporting gambling events in the U.K.
"We're paying out ₤1 million pounds (roughly $1.5 million dollars) to punters (British term for gamblers). It's our biggest royal payout ever," said Nicola McGeady, spokesperson for Coral, a British bookmaker. Over tens of thousands of bets were made over the past six months with things starting to really intensify over the last 24 hours, according to the online betting shop.
"We were getting in thousands of bets with 50% of them going to Charlotte. We had to cut the odds from 6 to 1 to 3 to 1. It made us think that inside information was being leaked, said McGeady.
McGeady says the name Alice was a clear favorite before the Duchess had her baby with a 5 to 4 shot. And, Olivia was the third favorite with 66 to 1 odds.
"The British public adores the royal family. They want to get involve some way and this is a way for them to do that," says McGeady.
George was also the favorite name among bettors in 2013 when Prince William and Kate had their first child. Though the payout was slightly less around  ₤500,000 pounds ($756,000 dollars), a little more than half of what his little sister brought in.
"It's a good name. Charlotte is the female of Charles, William's father. Elizabeth is after the Queen and Kate's mother (Carole Elizabeth Middleton) and Diana, of course, who William is making sure his mother is not forgotten," said Dickie Arbiter, a Royal Commentator and former Press Secretary to the Queen.
Charlotte has a long royal pedigree and became popular in the 18th century when it was the name of George III's wife, Queen Charlotte of Mecklenburg-Strelitz. According to figures from the Office for National Statistics, Charlotte is the 21st most popular girl's name in England and Wales with 2,242 babies being given it in 2013.
The name is also popular in the United States. According to the Social Security Administration in 2013, the name was ranked number 11 with 9,232 babies given that name.
Elizabeth, Charlotte's middle name was number 10 with 9,345 names. The top spot went to Sophia with 21,075.
Charlotte may have brought in more cash than her brother George went it comes to the naming game but George made the biggest impact on retail sales.
"This baby doesn't compare to Prince George. George had a huge emotional impact especially on young mothers," said Joshua Bamfield, Director of the Centre of Retail Research based in Nottingham, UK.
The birth of Prince George brought in ₤247 million pounds (roughly $365 million dollars) in 2013 while new retail estimates for Princess Charlotte is estimated to be about ₤80 million pounds (roughly $121 million dollars). That ends up being about a $244 million dollar difference in revenues sales including festivities, souvenirs, and media.
Bamfield stresses that Charlotte's overall impact in the fashion industry could be worth up to a ₤150 million pounds per year.
"She will essentially have the "Kate effect" and everything she wears will create buzz,"said Bamfield.
The new girl baby, regardless of her gender or name, will be fourth in line to the throne and will essentially be a "spare to the heir."
"She will have to create a new role for herself, just like George V and Prince Harry had to, said Arbiter, who is author of "On Duty with the Queen."
Arbiter says life will be pretty normal for the new baby and things will only begin to change for her in her teens when she realizes the power that she has.