The Obamacare Exchanges: 5 Opening-Day Tales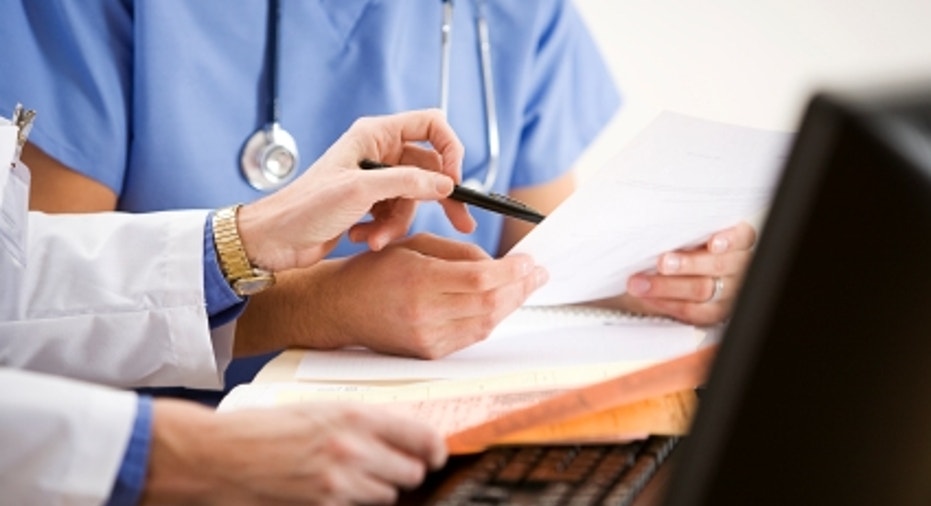 Bankrate asked five writers around the country to go for an opening-day test-drive on the new Obamacare exchanges, the online health insurance marketplaces where consumers can shop for plans and learn about their eligibility for federal tax credits that will cut the monthly premiums. It was a bumpy ride for most, as the federal exchange website HealthCare.gov and state-operated marketplaces appeared to be overwhelmed. On its Twitter feed, HealthCare.gov promised that, "We're working to fix these issues as soon as possible" and said the site had received 1 million visitors in one day -- five times more than had ever visited Medicare.gov in a similar span. Consumers have until Dec. 15 to sign up for a plan taking effect on Jan. 1.
Delay message on HealthCare.gov
A foggy start in Florida
By Jay MacDonald
Unless you arose before sunrise Tuesday, your shopping experience on the opening day of the new Florida health insurance marketplace can be summed up in four words: "please wait" and "system down."
Florida residents were left staring at those sequential screen messages over and over for hours after the state's health exchange on the federal HealthCare.gov website crashed at sunrise and remained that way all morning. Even the call center was overwhelmed.
"The System is down" message on HealthCare.gov
So much for predictions of a lack of public interest in the new coverage.
Early risers, such as me and my cross-state cohort Richard Palmer, who teaches health policy at Florida International University in Miami, were able to sneak on before the pileup. Unfortunately, we were both tossed off without warning during the identity verification process and never reached the insurance plan pages.
"I got to the point where I was able to sign up. And when they asked me to fill in my security phrases -- such as your mother's maiden name or something -- it just didn't populate. So I put in some responses regardless, and it said, 'Sorry, the system is down,'" Palmer says.
The same thing happened to me.
I hope to find a cheaper marketplace alternative to the high-deductible health savings account I've had for years. I've never come anywhere close to reaching my HSA's five-figure deductible, and, since I'm well past "young invincible" age, I figure it wouldn't hurt to have coverage I might actually use one day.
But today was not to be the day.
Still, as a cheerful phone rep reassured me, there's plenty of time left to shop this fall. Consumers who need coverage beginning on Jan. 1, 2014, have until Dec. 15 to peruse their state offerings. Open enrollment for metallic (as in bronze, silver, gold and platinum levels) and catastrophic marketplace plans continues through next March.
'Affordable' care in NY? Fuhgeddaboudit!
By Sheryl Nance-Nash
My husband is older than 65 and ready to retire. One thing stands between him and that dream: our need for his employer-sponsored health care. I am a freelancer and depend on his coverage. So does our young-adult daughter.
With much anticipation, I went on the New York State of Health, or NYSOH, website, the state's Obamacare marketplace.
I plugged in my best guess for what our household income would be with my income and my husband's pension. I went for the "gold" level, since we need comprehensive care. Those plans in my county ranged from $645-$1,264, and most were about $800 -- just for my daughter and me.
Error message on New York State exchange site
If he retired, my husband could receive Medicare. But because it doesn't cover everything, we would need to devote additional health care dollars to him, pushing our monthly health care tab to at least $1,000.
I was a bit ticked about all the hype. What's so affordable about the Affordable Care Act? "It's (about) people without affordable employer group coverage whose household income is between 100% and 400% of the federal poverty level, who will get subsidies and therefore pay the lowest monthly amount," says Daniel Colacino, vice president of Rose and Kiernan, an insurance agency.
In my frustration, I sought further help. Colacino connected me with Elisabeth Benjamin, vice president of health initiatives with the Community Service Society of New York, which is serving as a statewide Obamacare "navigator," or helper.
She assured me, "Everyone will benefit from bulk purchasing. The more people, the lower the prices." Well, right now, it's not low enough for my family.
Sorry, honey, you're gonna have to keep on working.
P.S. Glad I did my "shopping" a week before the official Oct. 1 launch. I logged on several times Tuesday morning and got an error message. I tried again later and nothing, period. Will I keep trying? No thanks.
Hung up in the Hoosier State
By David McMillin
When the new Affordable Care Act exchanges opened Tuesday, I wasn't looking only for my own coverage options; I also was on the hunt to compare options for my parents, a healthy couple in their early 60s who live in southern Indiana.
My dad is currently a contract worker, not a full-time salaried employee with benefits. While his contract guarantees he gets paid, a big portion of that money goes toward my parents' insurance. Their monthly tab clocks in near $1,000.
I asked my dad if he was planning to compare his new options under Obamacare. He didn't know where to begin. His lack of awareness may be partly due to the fact that the state government in Indiana does not support the president's initiative.
Busy chat message on HealthCare.gov
When I first visited the frequently asked questions section of the Indiana health care reform website, I expected to find helpful tips on how to apply for coverage or how to compare options. Instead, I was greeted by statistics from the Indiana Department of Insurance projecting a 72% average cost increase for individual health insurance in 2014 due to the ACA. That kind of number can look very intimidating.
Still, I pressed on. Because Indiana has not opened its own exchange, the website directed me to the federal exchange, where my search encountered some hurdles. When I first logged on, I received a message asking me to wait due to "a lot of visitors on our site right now."
After waiting for an extended period of time, I had the opportunity to set up an account. The issues continued again.
Instead of waiting longer, the "live chat" button seemed promising. Wrong assumption. After submitting a request at 8:04 a.m., I received the following message 15 times over the course of the next hour: "Please be patient while we're helping other people."
The law's success hinges on people such as my parents and me getting answers that ultimately motivate them to get coverage. On opening day, those answers seemed to be very elusive.
Surprising savings in California
By Marcie Geffner
Good. Bad. Surprising. Confusing.
That sums up my first encounter with Covered California, the health insurance exchange now open in the Golden State, where I live.
Being self-employed, I buy my health coverage in the individual insurance market. My current policy has a $5,300 deductible and $317 premium, due to my 50-something age. The advantages include protection against catastrophic medical bills and negotiated rates for services.
Covered California website
My policy isn't "grandfathered," which means if I don't choose a new plan through the exchange, I'll be automatically dumped into an Obamacare "bronze" plan that will increase my premium to $344, add a $60 copay for my first three office visits and raise my annual out-of-pocket maximum to $6,300. Ouch.
The website was easy to use. It took only two minutes to enter my age, income and ZIP code and produce a chart of plans for which I'm eligible.
None of the plans is as attractive as the one I'm losing. Still, there are benefits to Obamacare that I like: preventive services at no additional cost (colonoscopy, anyone?), no lifetime benefit cap, and the ability to shop and change plans without worrying about pre-existing medical conditions.
The website offers no information about doctors, so I'll have to call mine to find out which plans they accept.
To my surprise, I qualify for premium assistance of $41 per month because my California-sized mortgage, health savings account and other deductions lower my adjusted gross income. If my income rises or my deductions drop even slightly, though, I'll have to reimburse that subsidy at the end of the year.
Each of the 33 plans from which I can choose has nine different copays in addition to various deductibles, out-of-pocket maximums and premiums. I'm inclined to choose an affordable HSA-compatible plan, but clearly I'll need to do a lot more researching, thinking and number-crunching to make a decision.
No answers for a 20-something
By Stacy Lipson
Recently, on the day after my 26th birthday, I lost my health insurance. I would need to find coverage in the individual insurance market or wait to check out plans in an Affordable Care Act online marketplace, or exchange.
Since I had moved to Illinois only a few months earlier, my questions about Obamacare were complex: Would I qualify for a subsidy based on my income? Which coverage level would I choose?
I started off my search by reaching out to the experts. I emailed and called the Illinois Department of Insurance. I was referred to a spokesman but never heard back, despite repeated messages.
Error message received on HealthCare.gov
Next, I found a website with information on the Illinois exchange, which would be part of the federal HealthCare.gov site. I received an error message when I clicked to learn more. So I started researching on my own. I learned, for example, that the monthly rate would increase if I smoked. At least I'm not a smoker!
I found that The Associated Press had reported that the lowest-cost plan for a 25-year-old nonsmoker would be $120 in Chicago or $128 in Peoria.
I knew I would have to wait until the marketplace's official launch Oct. 1 to compare monthly insurance rates.
When Tuesday arrived, I logged on to HealthCare.gov at 7 a.m. Even though my account was active, I found the experience frustrating and time-consuming.
Each time I refreshed the login page, a message appeared, thanking me for my patience. On my second attempt to enter my login info, an error message appeared on the site. I cleared my cookies and browser. No change.
Not to be deterred, I attempted to gain access three more times, and each time, the same bug appeared on the site. After spending more than an hour on the website, I logged off and moved on to the next project on my to-do list. I can only hope the bugs and glitches will be fixed the next time I attempt to log on.
Copyright 2013, Bankrate Inc.