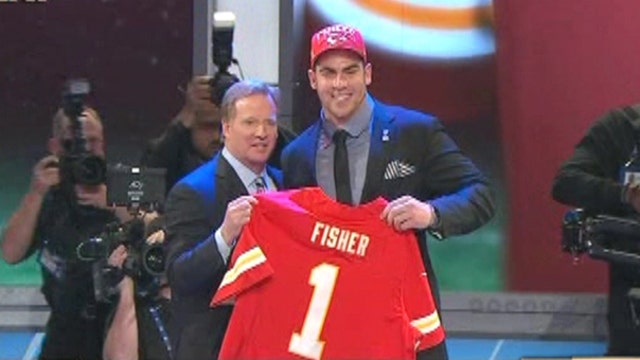 The 2013 NFL Draft is underway with the first round kicking off in New York's Radio City Music Hall. Thirty-two players were selected on day 1, and it ended up being a big night for the big men in town.
The Kansas City Chiefs selected Central Michigan offensive tackle Eric Fisher as the number one overall pick. The Jacksonville Jaguars strengthened their offensive line with the number two pick: Texas A&M's Luke Joeckel.
Being drafted doesn't just come with bragging rights, though. The big announcement is usually accompanied by a large paycheck. This weekend, more than 200 college students will have the chance to become "overnight" millionaires.
But the instant money might prove to be disastrous. A report by "Sports Illustrated" estimated  78% of NFL players are bankrupt or facing financial stress within two years of finishing their playing careers.
"The problem with these young players is that no one is teaching them how to manage their money," said Ed Butowsky, Chapwood Capital Investment Management Managing Director. "It's all about education and finding the few who are skilled with the knowledge to help."
So what should this weekend's newly minted millionaires do in order to avoid becoming part of the staggering statistic?
"Athletes need to create a plan early out and recognize the need to invest for the future," Steve Baker, of Baker Sports Management, said. "Athletes in the NFL will likely only make millions of dollars each year for about five or six years, so in order to sustain wealth, they need to be smart about their purchases."
After all, the league's luxurious lifestyle can be tempting, so it may be hard to convince the league's future stars that now is the time to be frugal. Former football players who have seen teammates struggle to pay bills offered financial advice at this year's draft, hoping to help players ensure financial security after their football career is over.
"It's important to live well within your means.  This game does not last forever," Jonathan Ogden, former NFL offensive tackle and Hall of Famer said. "You've got to plan for the future. Have a couple people involved in managing your money. Don't just have one overseer seeing everything, you've got to have a checks and balances system."
And to one former player, it's as simple as learning how to say a two letter word.
"Learn how to say no," Orlando Pace, who played in the NFL for 13 seasons, said. "There are going to be a lot of people asking you for a lot of favors. The first words you really need to learn is how to say no."
Rookie contracts will be signed in a few weeks. Eric Fisher, the number one overall pick, is projected to receive a guaranteed $22.1 million.