The Cost of Being a Celebrity Cheater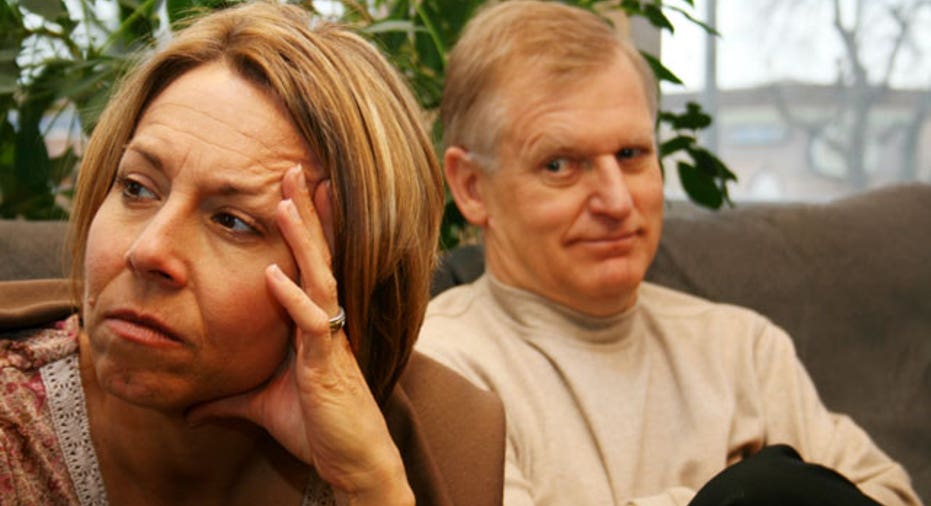 Infidelity not only destroys marriages -- it can also supersize a divorce settlement.
Just ask Stacy D. Phillips, founder and managing partner of the Los Angeles family law firm Phillips, Lerner and Lauzon and author of "Divorce: It's All About Control." Her firm has represented the ex-spouses of Whitney Houston, Axl Rose, Tori Spelling, LeAnn Rimes and Jean-Claude Van Damme.
"Certainly infidelity changes it emotionally," says Phillips. "Where what might have been a divorce in which people had a little bit of trust and didn't feel like they had to turn over every rock, when there's infidelity they don't trust anything and are much more aggressive in looking at things."
The division of assets -- bank accounts, homes, cars, etc. -- is just the beginning. "You can lose your kids, and there's no price tag for that," says Phillips. "And depending on your field, you can lose your livelihood and your endorsements if you have a clause in your contract that holds you to a higher standard. Studios and ball teams don't want to be embarrassed."
Spurned spouses of high-profile philanderers may win a percentage of future earnings. "I once represented the wife of an actor who did a movie and was paid a minimal amount, and that movie became a big hit," she says. "He was the (main) character, therefore the movie needed him, and there was movie two, three, four (and so on)."
The spouse can even receive reimbursement for money their spouse spent on the affair.
"I've had clients who've had two families," says Phillips. "Reimbursement could go as far as years of support -- a house, car and expenses for raising and schooling a secret child or children."
If the cheater is found to have breached their fiduciary duty to their spouse, punitive damages may also be granted.
"There's nothing typical; each one is a little different," says Phillips. "Some just want to walk away and I tell them, 'in six months, are you going to be able to look in the mirror?' But some people say, 'I want to take you to the cleaners!'"
Here's a look at unions that were torn apart by cheating.
Donald and Ivana: Trumps Are Wild
The celebrity cheater: Donald Trump, New York real estate tycoon.
The other woman: Marla Maples, Georgia beauty queen and aspiring actress.
What was gained: Maples became a celebrity and bankable Broadway actress ("The Will Rogers Follies") thanks to her high-profile relationship with the real estate mogul from 1988 until Trump divorced first wife Ivana in 1992. Trump and Maples married and had daughter Tiffany (not in that order) the following year, separated in 1997 and divorced in 1999. Maples received $2 million as part of a prenuptial agreement, plus child support.
In the bigger picture, the media heat that surrounded the affair arguably elevated Trump's public profile from prickly multimillionaire to enduring celebrity, paving the way for the 2004 debut of "The Apprentice," his successful reality TV franchise. Ivana launched her own empire, which includes fashion, jewelry, cosmetics, bestselling novels and a reality show, "Ivana Young Man."
What it cost: Divorcing Ivana cost Donald a rumored $20 million, the couple's $14 million Connecticut estate, half of their Mar-a-Lago manse in Florida, $350,000 annual alimony and child support for their three children, Donald Jr., Ivanka and Eric.
Tiger and Elin Woods Finish in The Rough
The celebrity cheater: Tiger Woods, high-profile professional golfer.
The other woman: Numerous.
What was gained: Zip. Zilch. Nada. There have been no winners and plenty of losers since Thanksgiving 2009, when Woods backed his SUV badly out of his Orlando, Fla., mansion and straight into tabloid hell. Tiger's public confession of numerous affairs and a stint in rehab did little to repair his marriage or contain the damage.
What it cost: Does "everything" sound about right? For starters, his divorce from wife Elin reportedly cost Woods $100 million, two Florida homes, an apartment and $2.2 million estate in Sweden, plus physical custody of daughter, Sam, and son, Charlie. There's also the $22 million in lost endorsement deals with Gatorade, AT&T and Accenture (though he retained Nike and Gillette).
Last but not least, there's his golf game. In 2009, the last PGA tour before the scandal, Woods won six tournaments, earned $10.5 million and placed first in the FedExCup standings. The following year, he finished in the top 10 twice, earned $1.3 million and fell to 112th in the FedExCup standings.
Then again, with a net worth estimated at $500 million, Tiger won't starve.
Political Philanderers Pay the Price
The celebrity cheater: Political Lotharios.
The other woman: Multiple.
What was gained: Presumably, a brief respite from maintaining a public countenance acceptable to their constituents.
What it cost: Let's start with presidential timber.
Sen. Gary Hart, D-Colo., threw away his 1988 presidential bid when news photographers caught him canoodling with 29-year-old model Donna Rice aboard the aptly named yacht, "Monkey Business." Cost: $200,000 presidential salary, $50,000 expense account and his political career.
Sen. John Edwards, D-N.C., shattered his Oval Office dreams by having an extramarital affair and child with campaign videographer Rielle Hunter. Cost: $400,000 presidential salary, $50,000 expense account, $2.2 million reimbursement for misusing federal campaign matching funds, his $140,000 senate salary, his marriage and his political career.
And the governors? Who could forget South Carolina Gov. Mark Sanford's trips up the Appalachian Trail with his Argentine gal pal Maria Chapur? Cost: His marriage and presidential aspirations. Or New York Gov. Eliot Spitzer, whose 15 months in office and political career ended abruptly in a prostitution scandal. Cost: $179,000 governor salary.
Other politicians recently felled by philandering include Rep. Tim Mahoney, D-Fla.; Rep. Christopher Lee, R-N.Y.; and Rep. Anthony Weiner, D-N.Y.
Sandra Bullock and Jesse James: Road Burned
The celebrity cheater: Reality TV star Jesse James.
The other woman: Tattoo model Michelle "Bombshell" McGee.
What was gained: Undue publicity for everyone involved. America's sweetheart Sandra Bullock was blindsided and mortified by the news of her husband's year-long affair with a tattoo model just days after receiving the best actress Oscar for "The Blind Side." James and McGee cashed in on their 15 minutes, however; he with a tell-all book, "American Outlaw," and she with numerous talk show turns and an Australian "Sexpo" tour.
What it cost: Would you believe nothing? Despite James' attempt to save face by stating he would refuse spousal support (he is the CEO of West Coast Choppers after all), it really wasn't necessary -- by Texas law, you must be married 10 years to receive alimony.
Maria Shriver to Arnold Schwarzenegger: 'I Won't be Back.'
The celebrity cheater: The former "Governator" and action hero.
The other woman: Longtime housekeeper Mildred Baena.
What was gained: The worst reviews of Schwarzenegger's career. The world was shocked, not only that the former bodybuilder would have an affair and father a love child with Baena, but also that it would be his wife, Maria Shriver, who recognized the unmistakable resemblance in her housekeeper's son and ended the charade.
Arnold, of course, gained a son, 14-year-old Joseph, who was born just five days after Shriver gave birth to the couple's fourth and youngest child, Christopher, in 1997.
What it cost: Let's call this a redistribution of wealth, shall we? According to Celebrity Net Worth, the Hollywood action hero-turned-governor is worth in the neighborhood of $300 million. Shriver, an Emmy Award-winning television journalist, has amassed around $100 million, also a very nice neighborhood.
According to TMZ, there was no prenup. Because California is a community property state, most of the millions they've accumulated over a quarter-century together could be split 50-50, leaving Shriver with a settlement in the comfortable neighborhood of $200 million.
Baena says Schwarzenegger was "generous" to her following the birth of their secret son.
Shania Twain and Mutt Lange: Happy Endings
The celebrity cheater: Robert "Mutt" Lange, the Svengali-like music producer behind Shania Twain's hits.
The other woman: Twain's best friend, Marie-Anne Thiebaud, who was Lange's personal assistant and Swiss interpreter.
What was gained: A qualified happy ending. When Lange met Twain in 1993, he was a legendary rock producer (AC/DC, Bryan Adams, Def Leppard) and she was a Canadian country music novice 17 years his junior. They met, quickly married and moved to Switzerland. Together they produced three multiplatinum albums, including "Come on Over," still the best-selling album by a female singer. They also had a son, Eja, in 2001.
Twain learned of her husband's affair from the other woman's husband, Swiss businessman Frederic Thiebaud, whom she later started dating. Following her 2010 divorce from Lange, Twain wed Frederic on New Year's Day in Puerto Rico. It was Frederic who suggested she take Oprah Winfrey up on an offer to host her own reality TV show on the OWN network, "Why not? With Shania Twain."
What it cost: While terms of their Swiss divorce remain sealed, there may have been a redistribution of the Twain-Lange empire, which Celebrity Net Worth estimates at $350 million for Twain and $225 million for Lange.