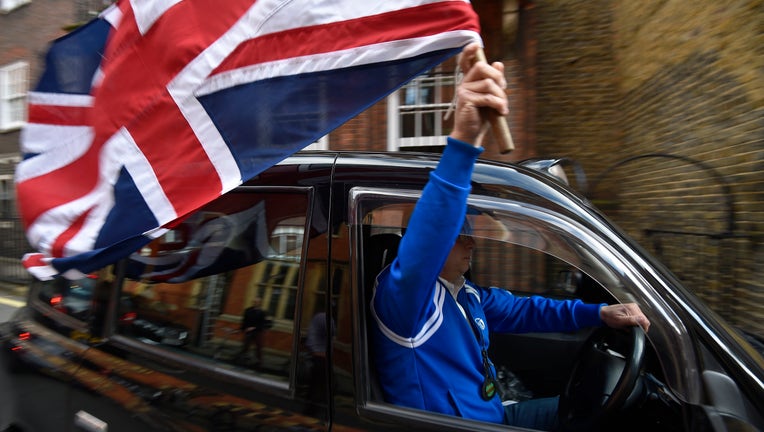 Republican House Speaker Paul Ryan said in a local Wisconsin interview that he supports a free trade deal with the United Kingdom after it has separated from the European Union.
By putting the UK at the front of the queue in trade talks, that would be the exact opposite of moving one of America's oldest and most important allies to "the back of the queue" -- as President Barack Obama warned would happen this past spring if the UK voted to leave.
To do that, add the UK to the North American Free Trade Agreement struck in 1994. Top officials with the "Three Amigos," the U.S., Canada and Mexico, are already meeting in Ottawa to discuss NAFTA starting June 29; President Obama is scheduled to speak. In fact, members of Congress back in the 1990s had initially wanted to include the UK. To the point where the Senate Finance Committee in 1999 commissioned a study by the U.S. International Trade Commission on the UK joining NAFTA. That study found that UK exports to NAFTA members would increase by about $5.3 billion, while UK exports to European Union (EU) countries would drop by about $17 billion.
The U.S. is the UK's most significant trading partner. The U.S. exported $56.1 billion in goods to the UK alone last year, while UK exports to the U.S. total about $50 billion annually. The UK enjoys a record $587.9 billion in U.S. foreign direct investment as of two years ago. UK foreign direct investment in the U.S. totals about $448.5 billion. U.S. companies employed over 1.2 million UK workers in the U.S., and UK companies employ about 1.1 million Americans, as of 2014. The U.S. exported $218 billion in goods to the EU last year, says Wells Fargo.
Lost in the handwringing is perspective. Trade deals with European democracies were vital to calming potential conflicts after World War II and stopping the Cold War. But instead of true free markets and trade, the EU opted for the policy of a ballooning European supranational that challenged NATO, hyper-managed markets, stressed "harmonization" over encouraging the next Google or Apple, and flat-lined EU growth while adding to the euracracy in Brussels and its suffocating couch cushion of regulatory powers.
Expanding NAFTA to include the UK could be done alongside U.S. talks with the European Union on the Transatlantic Trade and Investment Partnership (TTIP).
However, the White House would be expected to drag its feet on updating NAFTA to include the UK, since it didn't support a Brexit. Yet, given that so much about NAFTA needs to be updated anyway--it was enacted before the Internet took off and trade online burgeoned—isn't it common sense to strike some kind of direct trade deal with the U.K. within the existing structure?
More from Emac's Bottom Line
A U.S.-UK trade deal would help stabilize the Brexit crisis, House Speaker Ryan said.
"We need to emphasize that [the U.K. is] our indispensable ally," Rep. Ryan told Milwaukee's WISN radio. "We have a special relationship, and I think that does mean we should have a trade agreement with" the UK.
Speaker Ryan added: "We need to show our solidarity. Obviously it takes time to do something like this, but I think it is something we should be working on."
Other members of Congress support a U.S.-UK trade deal. "They've been a great trading partner to the United States for decades and decades, and I wouldn't stop trading with them 'cause they got out of the EU," Sen. Johnny Isakson (R-Ga.) said before the "Leave" vote.
"I'd be happy to negotiate a bilateral agreement," the senator said, adding, "it might even be easier" than hammering out the larger EU trade deal involving 27 countries, given how simpatico the U.S. and the UK are in areas such as financial services, and given how senators, including Senator Mitch McConnell, are worried about potential EU intransigence on agriculture in TTIP.
"We should now begin to discuss a modern, new trade agreement with the UK that not only continues but expands the level of trade between our two nations," House Ways and Means Committee Chairman Kevin Brady said last Friday.
The presumptive Republican nominee Donald Trump might also back a U.S.-UK trade deal.
"I want one-on-one" trade, Trump said at a rally last month in Indiana. "I don't want to be tied up: If 'Country A' does this and if 'Country C' does that, then 'Country D' will be able to come to — nobody knows what the hell is going on."
And despite the hyperventilation, there are plenty of trade mechanisms the UK could model itself after once it fully departs the EU. Just take a look at the much-ignored European Free Trade Association (EFTA). Its four country members--Iceland, Liechtenstein, Norway and Switzerland-- are not in the EU, but they enjoy robust free trade agreements with an estimated 35 nations, reaching an estimated 440 million consumers outside the EU, with potentially dozens more countries on the way to being involved.