The Biggest Gas Guzzlers on the Road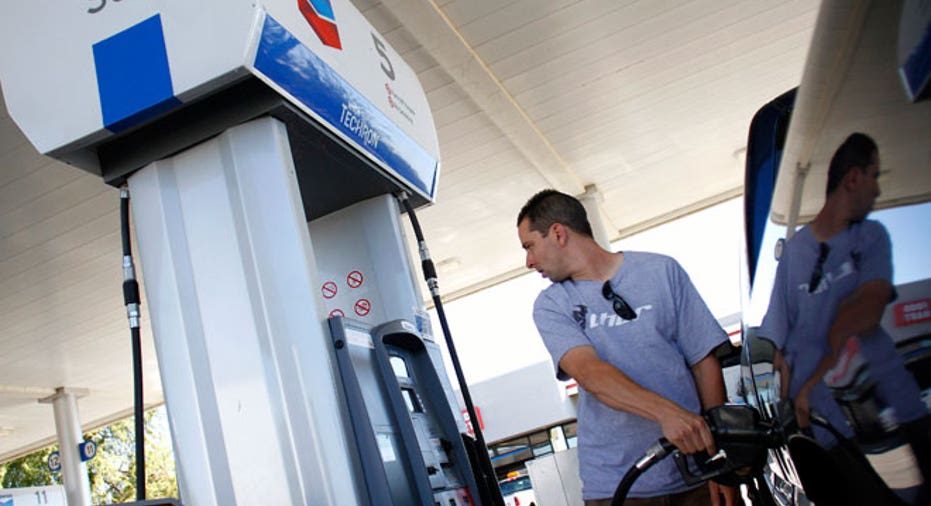 As the average price of a gallon of regular gas varies between $3.50 and $4 nationwide, fuel efficiency remains prized among the new cars most people buy. But some drivers are too rich to care about gas costs, or need or choose to drive cars or trucks that are big and heavy. As a result, the least fuel-efficient cars fall into two categories — ultra high-end luxury cars and large vans and SUVs.
This story was originally published by 24/7 Wall St.
Cars with high gas mileage like the Toyota Camry, Corolla and Prius and the Honda Civic, Accord and CR-V remain at the top of the best-selling cars in America list every month. With small four-cylinder engines, most of these vehicles get an average of 30 miles per gallon (mpg) or better.
At the other end of the spectrum are some sports cars that get 14 mpg or less. These sports cars have one other thing in common. They have price tags of over $100,000, and in some cases $2 million. Each has eight-cylinder engines, or more, and often those engines are turbo-charged to create more horsepower. They are toys for the rich, and what their owners pay for gas is a tiny fraction of what they paid for the vehicle itself.
The second category of gas guzzlers are big trucks used for hauling people or freight. With a weight of nearly three tons — and that is before they are loaded — their engines need to be large.
Based on data provided by the U.S. Department of Energy on fuel efficiency for all cars and light trucks, 24/7 Wall St. identified the least fuel-efficient vehicles in America. Average mpg is based on a combination of city and highway driving. For each of the 10 least fuel-efficient cars, we considered fuel efficiency, engine type and the cost of fuel over the course of a year, as well as the cost of the vehicle. Research firm Edmunds or the vehicle manufacturers themselves provided car prices. The annual cost of fuel is based on 45% highway, 55% city driving, 15,000 annual miles and current fuel prices. Those fuel prices are, of course, rising daily.
These are the least fuel-efficient cars in America.
10. 2013 Bugatti Veyron 16.4 Grand Sport Vitesse >MPG: 10 >Engine type: gasoline >Car type: all-wheel drive, two-seater >Fuel cost per year: $6,000 >Sticker price/base model: $2.14 million (estimate)
Although the latest version of the 2013 Bugatti Veyron will be available to the public, it exemplifies an exclusive class of cars designed primarily to break world records and build prestige for its manufacturer. Only two of these cars have been registered since 2008. The new Veyron was introduced at the 2012 Geneva auto show and was rated with 1,184 horsepower, 1,106 lb-ft of torque and a top speed of 258 mph, making it the world's fastest road car on the market. New technology has provided enhanced aerodynamics, lighter-weight materials and better handling, making it clear that the engineers have prioritized these attributes at the expense of fuel efficiency.
9. 2013 Chevrolet Express 2500 >MPG: 12 >Engine type: gasoline >Car type: two-wheel drive, cargo van >Fuel cost per year: $4,650 >Sticker price/base model: $29,835
With an impressive 204 cubic feet of cargo space, the Express is one of the few cargo vans available on the market today. The Express gets 10 mpg in the city, and 15 mpg on the highway. At these rates, driving 15,000 miles annually at current gas prices mean owners will spend about $4,650 on gas per year. Perhaps due to its relatively low price and industry-oriented design, 114,112 Express vans have been registered since 2008, by far the highest on this list. Unlike the Veyron, the Chevrolet Express made the list for its gargantuan size — it is a work truck, not a sexy sports car. In terms of fuel efficiency, the results are the same.
Also Read: The Most Dangerous States for Pedestrians
8. 2013 GMC K2500 Yukon XL >MPG: 12 >Engine type: gasoline >Car type: four-wheel drive, SUV >Fuel cost per year: $4,650 >Sticker price/base model: $45,395
The Yukon is another good example of a car for which fuel efficiency is sacrificed for power and size. The Yukon XL has a maximum payload of up to 2,400 lbs. and a conventional trailer towing capacity of up to 9,600 lbs. GMC is confident that drivers of this vehicle will be able to take large quantities of virtually anything with them on their travels. On the other hand, ConsumerReports.org gave the Yukon a poor rating for the owner costs category, which measured depreciation, interest, sales tax, insurance, fuel, maintenance and repair costs to determine the expense of the vehicle over a five-year period. Attempting to preserve hauling power against Americans' growing demand for fuel economy, GMC has worked hard to promote the Yukon's advanced fuel management technology. One function, for example, deactivates four of the eight cylinders when maximum torque is unnecessary, increasing efficiency. The small print, however, reveals that this modest effort to mitigate wastefulness is only present in the Yukon XL half-ton.
7. 2013 Chevrolet C2500 Suburban >MPG: 12 >Engine type: gasoline >Car type: two-wheel drive, SUV >Fuel cost per year: $4,650 >Sticker price/base model: $44,155
In 2012, the Suburban was ranked as the number one affordable large SUV by U.S. News, which reflects its popularity for consumers who are interested in transporting multiple large families, hockey teams, and hauling virtually anything across rugged terrain. SUV customers for whom the next largest vehicle — the Chevy Tahoe — is inadequate can expect 30 more cubic feet in cargo space and 20 inches more length with the Suburban. In the past four years, 12,638 Suburbans were registered, nearly 11,000 more than the GMC Yukon XL, one of its competitors. In spite of scoring very good in terms of owner satisfaction, ConsumerReports.org scored the Suburban poorly for owner costs. The downside, of course, is its fuel economy. In the city, the Suburban will only get 10 mpg. Based on the combined fuel efficiency of 12 mpg, 2.1 gallons of fuel will disappear after only 25 miles and would cost about $7.25. The EPA estimates that a full tank of gas will last 281 miles. Suburban drivers should budget accordingly.
6. 2013 Mercedes-Benz G-550 >MPG: 13 >Engine type: gasoline >Car type: all-wheel drive, SUV >Fuel cost per year: $4,600 >Sticker price/base model: $113,000
The Mercedes-Benz G-550 was first conceived in 1979, and originally designed for military use. Today, it represents Mercedes's fusing of off-road versatility with the luxury style that the company is known for. According to an Edmunds Review, the G-class is attractive for its massive power, luxurious interior and tanklike presence. On the other hand, its unwieldy handling, limited front leg room, very tall roofline and abysmal fuel economy limit this vehicle to a relatively small group of consumers. The fact that Mercedes offers heavy-duty armor plating as a special option confirms our suspicion that the G-550 SUV does not really make sense for the average consumer. Rather, this vehicle probably will attract consumers with disposable incomes and preferences for relatively safe, high-end luxury SUVs. The cost, however, is fuel economy that does not get much worse.
5. 2013 GMC K15 Sierra >MPG: 14 >Engine type: gasoline >Car type: four-wheel drive, standard pickup truck >Fuel cost per year: $4,000 >Sticker price/base model: $22,195
Unlike many of the inefficient cars 24/7 Wall St. reviewed, and unlike pickup trucks in particular, the Sierra is available in hybrid form. It also includes sophisticated interior features and a reasonably good safety rating. RL Polk reports 64,915 registrations since 2008, making the Sierra one of the most popular on this list. Faring slightly better in combined mpg than the others on this list, the GMC K15 Sierra still has very poor fuel economy, with 12 estimated mpg for city driving and 18 mpg on the highway. According to the EPA, the Sierra requires 1.8 gallons of fuel to travel 25 miles, which will cost $6.64 at current gas prices.
Also Read: The Most Dangerous States to Drive In
4. 2013 Lamborghini Gallardo Spyder >MPG: 14 >Engine type: gasoline (manual 6-spd) >Car type: all-wheel drive, two-seater >Fuel cost per year: $4,300 >Sticker price/base model: $225,400 (2012)
The Gallardo Spyder is capable of reaching 62 mph in four seconds and can travel at a top speed of 201 mph. Its fuel tank capacity is 21.1 gallons. Like most sports cars, Lamborghinis privilege aesthetics and performance at tremendous speeds over practical considerations such as fuel economy. For example, the Spyder distinguishes itself from other Lamborghinis by being lighter — it is made mostly of carbon fiber and has polycarbonate windows. Firmer suspensions and aerodynamic enhancements also improve this car's speed. It would seem Lamborghinis, and those like it, attract drivers who consider ferocious power and fantastic noises more important than the financial experience at the gas station.
3. 2013 Bentley Continental GTC >MPG: 14 >Engine type: gasoline >Car type: all-wheel drive, subcompact >Fuel cost per year: $4,300 >Sticker price/base model: $191,400
In spite of finding a place on this list, the 2013 Bentley Continental has better gas mileage than its 2012 counterpart due to its downsizing to a smaller twin-turbo V-8. This Bentley variant, although capable of reaching 60 mph in five seconds, also prioritizes luxury and comfort. It has seating for four, automatic convertible fabric and all-wheel drive. Bentley is known for producing high-end convertibles, but the Continental GTC does not have the handling or exotic style of a Lamborghini or Veyron, making it one of the few contenders on this list that is neither a sports car nor an SUV. Somehow, it is still only capable of a combined gas mileage of 14.
2. 2013 Rolls-Royce Phantom Coupe >MPG: 14 >Engine type: gasoline >Car type: compact >Fuel cost per year: $4,300 >Sticker price/base model: $400,000 (2012)
Weighing nearly 6,000 lbs, and priced more than $400,000, it is clear the Phantom Coupe is intended to live up to the extravagance associated with Rolls-Royce. The Kelly Blue Book points out that the sticker price is over twice the median cost of a new home. Only 146 of these cars were purchased and registered in the past four years, significantly less than the number of Lamborghini Gallardo Spyders. Naturally, its fuel economy is awful, with a maximum mileage of 19 on the highway, and only 11 in the city.
1. 2013 Land Rover Range Rover Sport >MPG: 14 >Engine type: gasoline >Car type: four-wheel drive, SUV >Fuel cost per year: $4,300 >Sticker price/base model: $60,895
Land Rovers are known for being extremely capable sports utility vehicles. Perhaps the power and size necessary to maintain this reputation explains their placement on this list. ConsumerReports.org reports poor acceleration, a stiff ride and poor fuel economy, explained in part by its heavy weight. It costs $7.12 to drive this Land Rover 25 miles, and its mileage is as low as 12 mpg when driving in a city. The EPA calculates that a visit to the gas station will cost $83 to fill its 23-gallon tank. Like many SUVs, the Range Rover Sport compromises fuel economy for more power and tanklike safety features, such as a highly rigid body and a low center of gravity.