The Basketball Tournament: A $2M Contest That Anyone Can Enter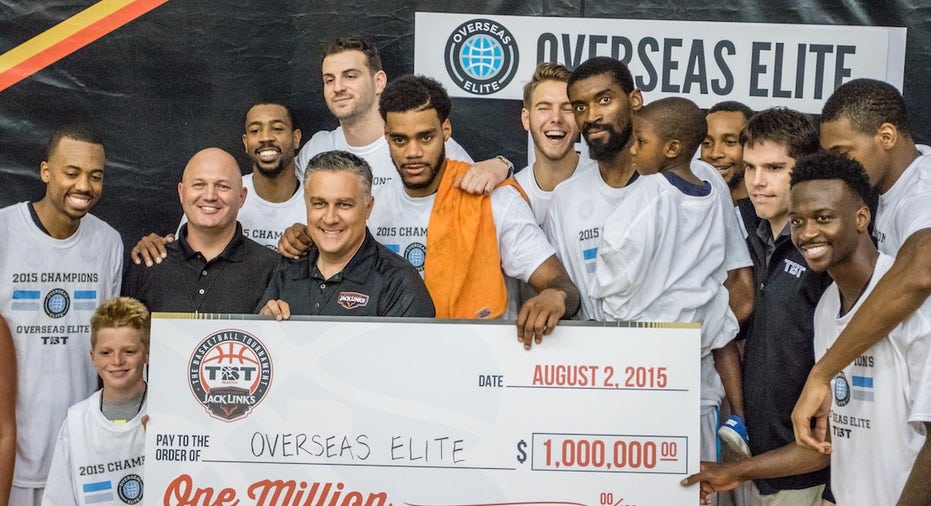 Five years ago, long before "The Basketball Tournament" became a nationally-televised event, Los Angeles-based television producer and comedy writer Jonathan Mugar contacted one of his close friends, Dan Friel, for a brainstorm session.
Mugar, an avid basketball fan and former two-sport athlete at Tufts University in Massachusetts, wondered what would happen if someone put together a "March Madness"-style tournament for the general public, with teams from around the world competing for a winner-take-all prize worth millions of dollars. Soon after that initial conversation, Mugar started to develop a business plan. The idea for a free-to-enter, five-on-five basketball competition open to anyone above the age of 18 began to take shape.
"We would go back and forth on email quite a bit and start to actually put the idea down into writing and see if we could make something out of it logistically that would work, and something that we could ultimately sell," Mugar, now chief executive of The Basketball Tournament, told FOXBusiness.com "It was maybe a four or five month process from original concept to getting it into a Word document that we could share with some people that I had connections with in the sports industry."
The inaugural edition of The Basketball Tournament launched in 2014 without a corporate sponsor or broadcast partner, but featured 32 teams, multiple ex-NBA players and a $500,000 prize. Two years later, the competition's field has doubled to 64 teams divided among four regions, chosen from hundreds of applicants. The winner-take-all prize has increased to $2 million in 2016, and ESPN will broadcast both the semifinals and the championship game for the second straight year. Jack Link's Protein Snacks has signed on as the event's official title sponsor.
"TBT" relies on crowdsourced marketing to boost its profile. While anyone can enter the tournament, entry is limited to the 64 teams that drive the most supporters to register on the tournament's website. Fans have a financial incentive to actively recruit for their team of choice – 10% of this year's $2 million prize will be divided among the winning team's top 100 supporters, ranked by number of referrals.
"The Basketball Tournament is appealing because there are players who are familiar to a lot of fans and there's also an opportunity for anyone to assemble a team to compete for the title and the $2 million prize," said Dan Ochs, ESPN Programming's Director of Content Strategy & Acquisitions. "When we were pitched on this a few years ago, the concept really stood out, and we are excited to continue our coverage of the event again this summer."
Registration for the 2016 edition of The Basketball Tournament began on Friday, April 1. The competition opens at four regional venues in July and culminate on August 2 in the nationally-televised championship game at Fordham University in New York. Mugar is betting that the allure of a monetary reward for fandom will translate into higher television ratings.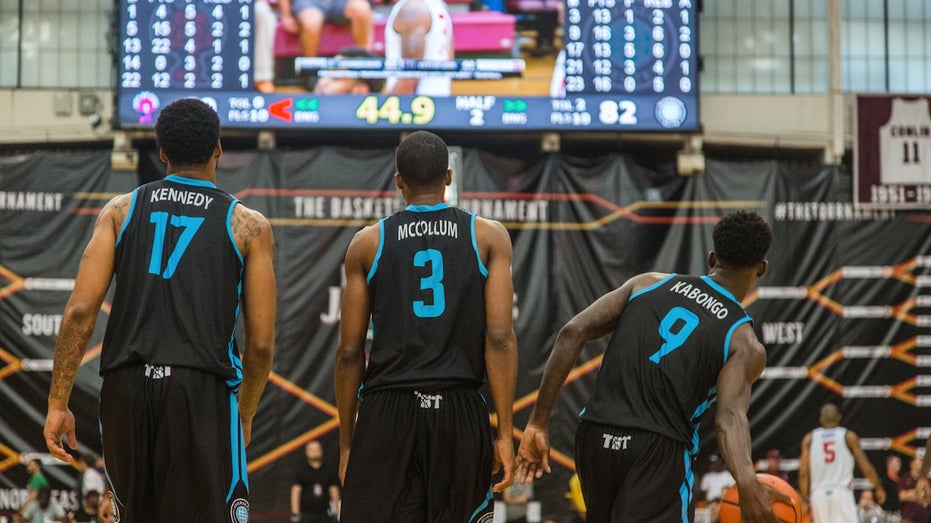 "We are asking something of fans. Every team is asking something of fans: come to the website and vote for us. We want to convert all of those voters into viewers," Mugar said. "The best way for us to do that is to give them as much skin in the game as possible, give them a reason to follow that team, to watch on TV."
Humble Origins
In the months leading up to The Basketball Tournament's first tipoff, Mugar and his associates hit a wall. The concept for an open-entry basketball tournament generated plenty of enthusiasm in business meetings, but companies and broadcasters were slow to commit any resources to aid in its development. Mugar's ideas were fresh, but he was an unknown commodity in the sports media landscape.
Without a broadcast partner or any firm commitment from sponsors, Mugar decided to fund the tournament's $500,000 prize by himself, with some help from close friends and family members. Even now, Mugar acknowledges it was a "huge risk."
"There was tremendous interest in the concept. Everyone loved the idea of a tournament like this," Mugar said. "But the challenge became, who is this kid? Who is this team, and how do we know they can pull it off? I felt that we got to a point where I had to put it on myself."
As the tournament approached, Mugar reached out to Zach Lowe of the now-defunct sports site Grantland, who wrote the first story about the concept. TBT officials also made contact with Barstool Sports, a popular Boston-based sports and comedy blog with a massive following on social media. Site founder David Portnoy and longtime employee Daniel "Big Cat" Katz regularly promoted the event and started a team that included ex-NBA player Dahntay Jones and former University of Florida star Matthew Walsh.
"Having Barstool involved in that first year was unbelievably important, to prove the model and to demonstrate to people what types of teams will basically populate this model," Mugar said. "We don't charge a fee, we just place an enormous emphasis on someone's ability to tap into an existing network of people. Barstool has that network, college alumni teams have that network, nonprofits have that network, and those are the types of teams that wind up participating."
The tournament started smoothly and generated strong buzz on social media. Shortly after the initial tipoff, ESPN made contact. A group of former University of Notre Dame basketball players defeated Team Barstool in the inaugural championship game, which streamed live on ESPN3. The following year, ESPN streamed five TBT games on its digital platform and aired the tournament's semifinals and finals on its flagship channel.
Long-Term Goals
TBT has grown rapidly since in 2014, but attempts to expand carry new financial risks. The brand generates revenue through TV partnerships, sponsorship deals, advertising and the sale of tickets and merchandise. At present, Jack Link's Protein Snacks is the tournament's sole corporate sponsor. If this year's revenue stream falls short of $2 million, Mugar and his private group of investors will have to cover any deficit in order to guarantee the tournament's prize.
But Mugar is fixated on expansion. He wants The Basketball Tournament to become a worldwide event, with a grand prize worth tens of millions of dollars. He and his partners have talked about starting similar events for hockey and soccer, but only after they've "mastered" basketball.
"We want to be the biggest, most open sporting event in the world," Mugar said.