The $500,000,000 Trend Spinning the Toy Industry Upside Down
You've seen them on the streets, on your commute and in your office; fidget spinners.  The three-pronged pieces of plastic that are flicked for fun were originally designed as a therapeutic tool for children with ADHD and Autism to help calm fidgety behaviors and promote concentration. Kids (and adults alike) are buying spinners by bulk.  Despite often times being a nuisance in the classroom, they have become a national trend.
These spinners have also created an economic boom that the toy industry has never seen before.
"Right now we are in the midst of the biggest, fastest moving trend that I have ever seen in the toy industry," says Jackie Breyer, editorial director for The Toy Insider.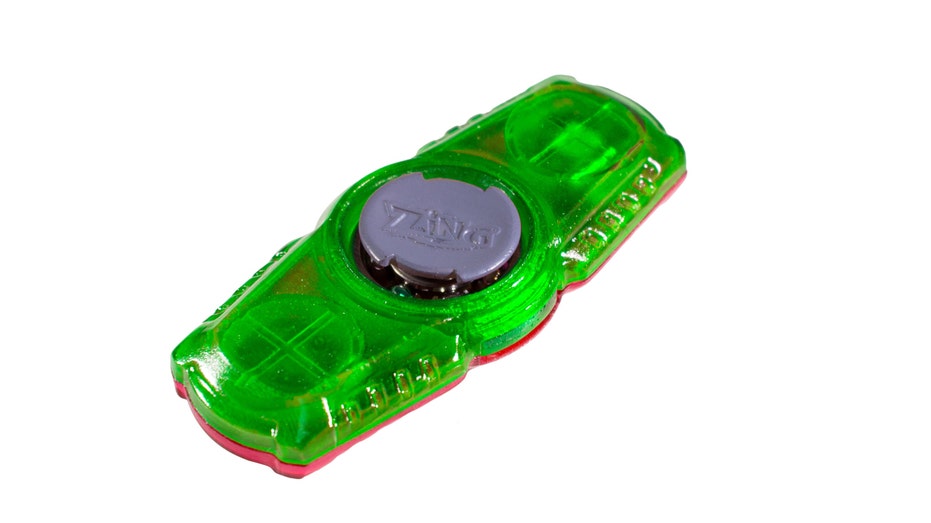 The fidget movement made its first major appearance at the North American International Toy Fair in February of 2017. It's estimated that over 200 million spinners have already shipped to retailers.
Smart manufactures and retailers began stocking the shelves in early March. Zing, a Portland, Oregon based toy manufacturer saw the writing on the wall. They noticed a growing trend on social media for "everyday carry" (#EDC) toys and quickly dove into the market. Once they saw spinners taking off, they fast-tracked their stackable, LED lit Spinzipz into production.
"A fidget spinner is great for smaller companies because we can react quickly, and get the orders, we can ship fast," says Josh Loerzel, VP of sales and marketing for Zing.
Zing has already shipped over a million units, on track for two with the possibility of shipping out 4 million Spinzipz a month.  "Shipping several million pieces a month that still constitutes such a small piece of the actual overall demand," says Loerzel. "For a small company like us, it's a godsend."
Since the spinner trend is still turning, retail groups and associations cannot provide specific data on just how much spinners will add to retailers' pockets. However, selling for $5-$10 a pop, Breyer suggests that if the 1,500 specialty retail shops in the nation can keep the momentum going past May, they could see $130,000-$150,000 in revenue.
"Toys R Us for example are going to have licensed spinners - DC and Marvel comics spinners - so when you take that all in to account we could be looking at a half a billion dollars," says Breyer.
"This makes our whole year," adds Loerzel.
Be sure to watch the video above for more insight on this spinning trend.