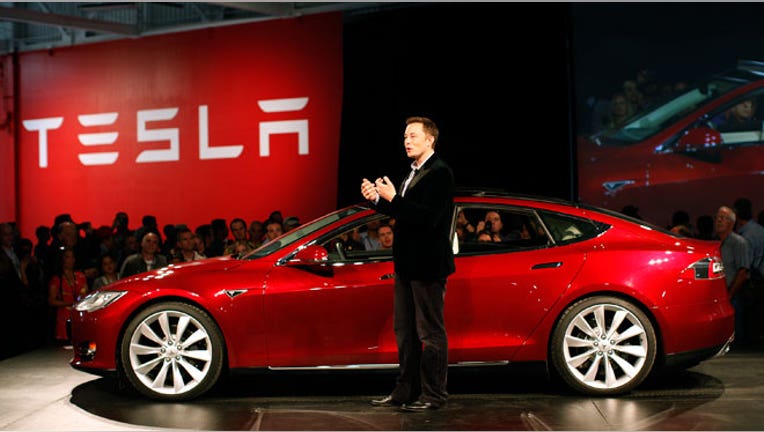 Tesla Motors (NASDAQ:TSLA) is widening its search for the location of a new battery factory to three sites, according to chief executive Elon Musk.
In an appearance at Tesla's annual meeting on Tuesday, Musk also said he plans to remain CEO of the company he founded until at least 2018. That would keep Musk behind the wheel through the launch of Tesla's third-generation electric car, which is expected to cost about $35,000 and go on sale at the end of 2016.
Investors are closely watching Tesla's progress toward building the battery factory, which the company has dubbed a "Gigafactory." Tesla has said the plant will lower costs and boost production of lithium-ion batteries starting in 2017.
When it reported earnings last month, the electric car maker indicated it would start work on at least two potential locations for the Gigafactory to prevent any delays after breaking ground.
On Tuesday, Musk said Tesla may begin construction on three sites. A final decision on the Gigafactory's location will be made after the end of this year. Tesla is considering sites in Arizona, New Mexico, Texas and Nevada, while California -- Tesla's home state -- remains a possibility.
"We're probably going to do two or maybe three states all the way to creating a foundation and completing the plans and getting approval. It might actually be three states we do it in," Musk said during a presentation for shareholders.
Tesla and Panasonic, the company's partner in the plant, believe the automaker can cut battery costs by more than 30%, according to Musk. Panasonic recently said it has not decided how much it will invest in the factory, which would be the world's largest manufacturing facility for battery packs.
Musk said a next-generation roadster could be five years out, while Tesla may consider building electric trucks and a vehicle that costs less than $35,000.
The PayPal co-founder, who also started rocket maker SpaceX, foreshadowed a "controversial" announcement related to some of Tesla's technology patents, saying other automakers have been slow to bring long-range electric cars to market. The remarks ignited speculation that Tesla could release some of its patents.
Tesla shares slipped 80 cents to $204.14 in recent trading on Wednesday. The stock is up roughly 35.7% on the year.