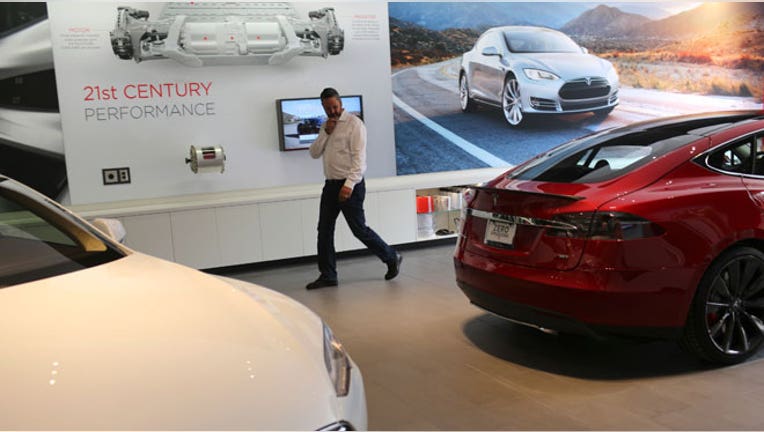 Tesla Motors (NASDAQ:TSLA) plans to make a "major economic development announcement" on Thursday in Nevada.
According to The Wall Street Journal, the electric car maker has chosen Nevada as the site for a large battery factory, which Tesla dubbed a Gigafactory. The plant is expected to cost up to $5 billion and employ roughly 6,500 workers.
Tesla spokeswoman Liz Jarvis-Shean declined to discuss details of the announcement. She said the Palo Alto, Calif.-based company "looks forward to joining Governor [Brian] Sandoval and legislative leaders tomorrow in Carson City at 4pm for a major economic development announcement."
In July, Tesla disclosed that it broke ground outside of Reno, Nevada, at a possible location for the plant. Tesla also unveiled a Gigafactory partnership with Panasonic that calls for the electronics company to manufacture lithium-ion cells and invest in related equipment.
The company sees production of battery cells reaching 35 gigawatt hours annually in the Gigafactory. That would exceed the current total for all lithium-ion battery production worldwide.
The Gigafactory is scheduled to open in 2017. Tesla plans to launch the Model X crossover in spring 2015. Analysts expect the Model 3, a next-generation sedan, to be priced below the current Model S.
Tesla expects the Gigafactory to lower the cost of lithium-ion batteries used in the automaker's vehicles.
Tesla has been considering sites in Arizona, California, New Mexico and Texas for the battery plant. Chief executive Elon Musk also suggested that Tesla could begin construction at multiple sites to prevent delays.
Shares fell 1% to $281.25 in recent trading. Tesla is up about 86% since the start of 2014.