Tesla owners to get early look at mysterious Model 3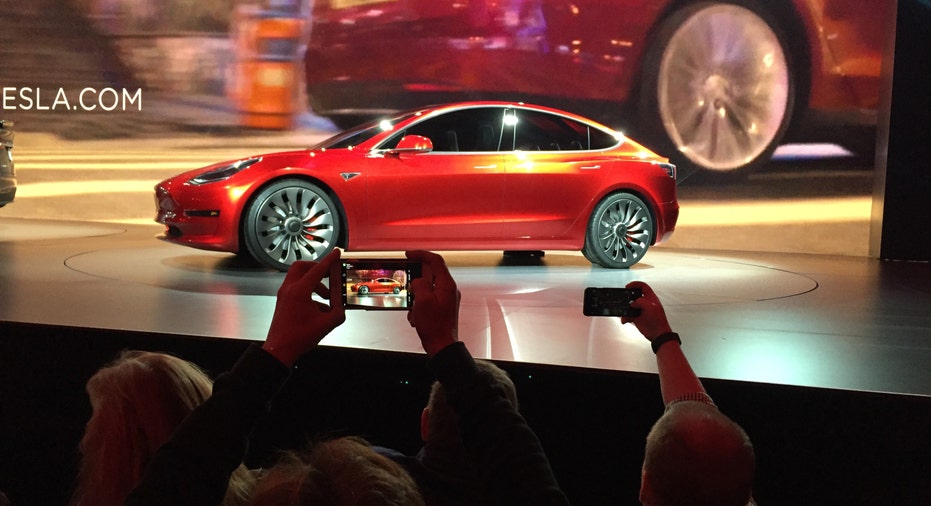 Tesla (NASDAQ:TSLA) is offering some owners an early look at the upcoming Model 3, roughly one month before it begins rolling off assembly lines.
The Model 3, Tesla's first foray into an affordable electric car, will be on display during private factory tours Friday and Saturday, according to invites sent by the company. Tesla has yet to reveal the production version of its newest plug-in vehicle, and an official unveiling may not occur until July, CEO Elon Musk said in April.
The "VIP" tours at Tesla's factory in Fremont, Calif., are by invitation only. Tesla invited owners who referred five or more buyers during the final three months of 2016. It remains unclear if Tesla will give owners a peek at a production version of the Model 3 or the prototype that appeared at a public event last year.
Few details have emerged since Tesla offered a preview of the Model 3 in March 2016. Last week, an internal document revealed by InsideEVs.com—and later confirmed by Tesla—offered some clues. The plug-in sedan will accelerate from zero to 60 mph in 5.6 seconds, according to a chart comparing the Model 3 and Model S, Tesla's more-expensive car. The Model 3 will also have at least 215 miles of range on one charge, less than the Model S's max range of 335 miles.
Final pricing remains a mystery, although Musk has said the Model 3 would start around $35,000 before tax incentives. With options, the average Model 3 should cost around $42,000.
Model 3 orders at 180,000 in 24 hours. Selling price w avg option mix prob $42k, so ~$7.5B in a day. Future of electric cars looking bright!

— Elon Musk (@elonmusk) April 1, 2016
During Tesla's earnings call in May, Musk expressed some concern that potential customers incorrectly view the Model 3 as an improved replacement for the Model S. Tesla's sales staff will "anti-sell" the Model 3, he said, in hopes of encouraging would-be buyers to pay for the premium Model S.
As of May 2016, Tesla said 373,000 people placed $1,000 refundable deposits on a Model 3. The company hasn't disclosed an updated number. Earlier this year, Musk said the number of pre-orders has grown.
Tesla plans to deliver the first Model 3s to employees. Musk said the electric car maker will seek feedback from its employees before shipping the Model 3 to customers.
The Model 3 won't be without competition. General Motors (NYSE:GM) is rolling out the long-range Chevrolet Bolt across the country, and sales are on the rise. GM sold 1,566 Bolts in May, its best month so far. The Bolt has reached showrooms in about 14 states, and full availability is expected by September.
The Bolt, which can travel 238 miles on one charge, has a starting price of $37,500 before a $7,500 federal tax credit.