Tesla Model X a 'Litmus Test' for SUVs and Luxury Cars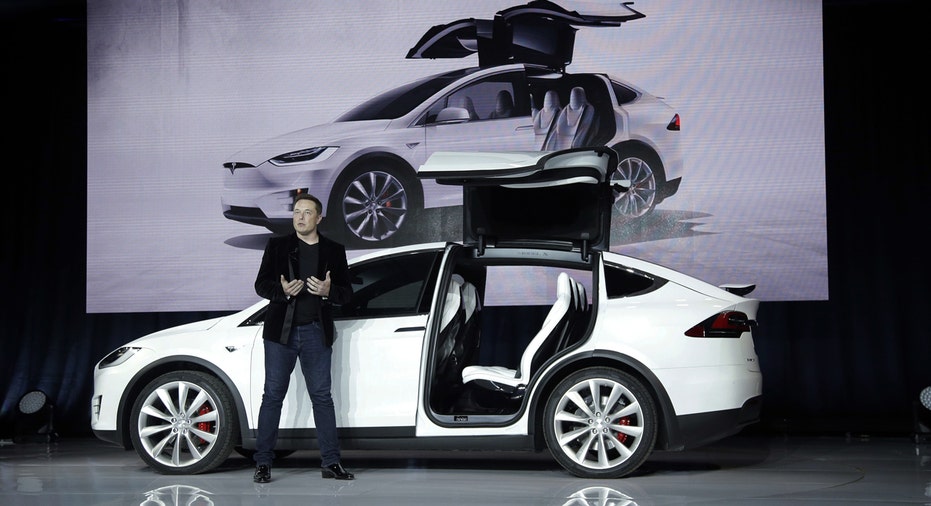 Tesla's (NASDAQ:TSLA) Model X, unveiled by the electric car maker on Tuesday night, is wandering down an uncharted road.
As the lone all-electric premium crossover to hit the U.S. market, the Model X crossover has carved its own niche in the luxury segment. Tesla highlighted unique design features such as "falcon wing" doors that adjust to tight spaces and low ceilings. The tiny sport-utility vehicle also packs plenty of bells and whistles from sport seats to a large tablet-like control screen.
But the Model X kicked off sales at a high price point: $132,000 to $144,000 for the Signature or Founders editions. Pricing for less expensive trims has yet to be announced. Tesla CEO Elon Musk said the Palo Alto, Calif.-based company will introduce a lower-cost Model X in the future.
The initial price tag easily puts Tesla's newest vehicle at the high end of the luxury market. Possible competitors include Toyota's (NYSE:TM) Lexus RX hybrid SUV that goes for at least $47,620. A plug-in hybrid version of the Porsche Cayenne has a starting price of $77,200.
Other competing models are on the horizon. Audi revealed an electric SUV concept, the E-Tron Quattro, at the recent Frankfurt Motor Show, promising a range of over 300 miles when it goes on sale in 2018. The Model X has an estimated maximum range of 257 miles.
General Motors (NYSE:GM) reportedly plans to launch the hatchback-style Chevrolet Bolt, a $30,000 car that can travel 200 miles on a single charge, sometime in 2017.
In the meantime, Tesla will be the the only U.S. automaker with an available electric crossover. The biggest question is whether Tesla can successfully pitch the Model X to consumers looking for a family hauler.
"There are two ways to go with a crossover. One is stylistic, the way Tesla has gone. The other is functional," said Jack Nerad, executive editorial director and executive market analyst at Kelley Blue Book. "More volume goes to functional crossovers, and less to coupe-like crossovers. Maybe that works for [Tesla's] brand, but it's not where most of the action has been."
The Model X is on the smaller end of the crossover spectrum. The company still promised towing capacity of 5,000 pounds using an optional hitch assembly. Tesla also managed to fit a third row of seating, allowing up to seven passengers and providing some extra functionality compared to the Model S.
"I think it's a litmus test vehicle," Nerad said. "Some will love it. Others will find it won't meet their needs for a real SUV. The Model X is more like a tall hatchback than it is like a true SUV."
The Model X's exclusivity also should attract luxury car buyers, Nerad added.
Musk said roughly 25,000 people have pre-ordered a Model X. Tesla expects to begin shipping base models at a later date, and interested buyers can place $5,000 deposits to reserve one. Deliveries of the pricier Model X, which requires a $40,000 deposit, will take up to a year for recent orders.
The first Model X customers took delivery of their vehicles on Tuesday.
Tesla first revealed a concept version of its crossover in 2012, and the upstart automaker planned to launch the Model X by the end of 2013. However, production delays pushed back the launch date several times. In August, Tesla projected a "small number" of Model X deliveries during the current quarter.