Tesla Aims to Win Battle of Supply vs. Demand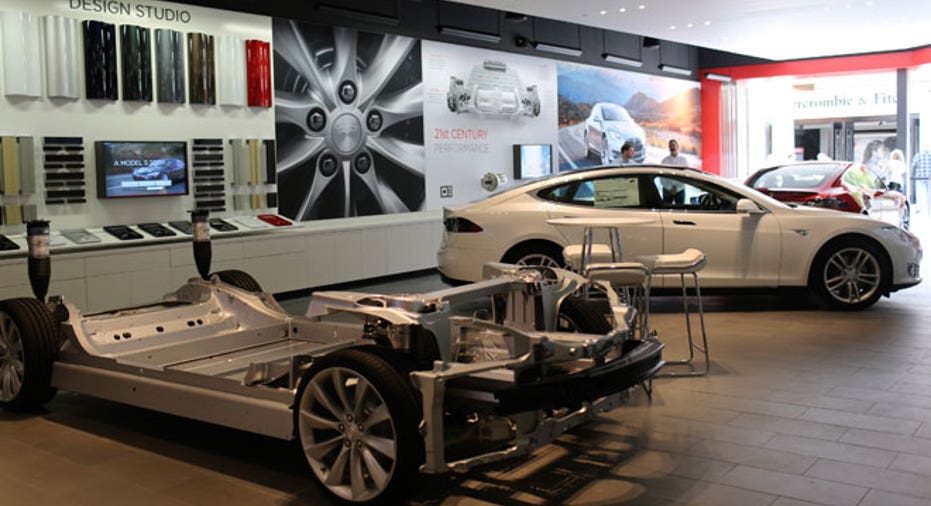 Investors and analysts appear confident consumer demand isn't a problem for Tesla Motors (NASDAQ:TSLA), which has promised to drastically increase production in the coming years.
Last week, Tesla provided some disappointing news in its third-quarter earnings report. The maker of electric cars lowered expectations for 2014 deliveries and delayed the launch of its Model X, a high-end electric crossover, until next fall.
Tesla also reported a wider third-quarter loss of $74.6 million, up from $38.5 million.
But the news didn't scare investors. The stock subsequently rallied and continued to climb Monday, rising more than half a percent to $241.93.
During a conference call with analysts, Tesla Chief Executive Elon Musk assured Wall Street  current demand for the Model S— the only Tesla model currently in production—exceeds its manufacturing capacity.
The automaker plans to spend $350 million in the fourth quarter to increase capacity and boost its production rate to at least 2,000 vehicles a week by the end of 2015. In the third quarter, the Palo Alto, Calif.-based company made about 7,200 cars, 2,000 less than anticipated due to a factory shutdown in July.
As a result, Tesla reduced its target for full-year deliveries to 33,000 units from 35,000. Tesla delivered 7,785 Model S sedans during the latest period, slightly below prior estimates.
"Essentially, in the third quarter, we sold every car, including ones in showrooms, that we had. Basically there was nothing left to sell," Musk said.
Boosting Production
In addition to the $350 million investment, Tesla is simplifying vehicle options to speed up the manufacturing process. Annual production is expected to end the year 50% higher compared to 2013, and Tesla aims to achieve 50% year-over-year growth in production for "several years to follow."
"Being unable to increase production fast enough, not lack of demand, is a fair criticism of Tesla," the company wrote in a letter to shareholders.
Musk expressed a similar sentiment during the conference call Wednesday, saying demand "is not our issue."
"Obviously there's a whole bunch of things we can do to stimulate demand, if that was our problem," he said, noting how Tesla doesn't pay to advertise the Model S. "We'd like to grow faster. There are things we need to do better like manufacturing growth and maybe not being too perfectionist about future product."
When asked for comment on investor support and Tesla's own confidence in its growth projections, a company spokesperson referred FOX Business to the shareholder letter and earnings call.
Tesla's next new product, the Model X, was slated to hit the market by the spring of 2015, but the sport-utility vehicle is now expected to go on sale in the third quarter. Demand should be high when the Model X goes into production, Musk said.
In a research note sent to clients, Morgan Stanley analyst Adam Jonas said the Model X delay and Tesla's other hiccups were expected.
Karl Brauer, a senior analyst at Kelley Blue Book, said Tesla has a history of moving launch dates.  Both the Model S and Roadster, Tesla's original car, experienced production delays.
Meanwhile, concerns over Model S demand in North America dissipated after Tesla reported higher deliveries in the region compared to the year-ago quarter. Morgan Stanley was bracing for a 40% drop. Total customer deposit balance, a gauge of Tesla orders, was level at $227 million. That implies an order intake that exceeds Tesla's current pace of deliveries, Jonas wrote.
U.S. demand may be peaking, according to Brauer, but Tesla has more room to grow in international markets. Tesla is looking to capitalize on demand in China, where luxury cars are selling fast.
The Model S got a couple important upgrades last month. Tesla announced the addition of all-wheel drive and Autopilot driver assists, giving the Model S more features that compete with luxury rivals like Mercedes-Benz.
Tesla also introduced a performance version that can travel from zero to 60 miles per hour in 3.2 seconds when coupled with all-wheel drive.
Tesla's outlook for 2015 deliveries also eased worries on Wall Street. Model S deliveries are projected to grow about 50% to 50,000 units. Tesla didn't provide guidance for the Model X.
"Behind the scenes, Tesla continues to take steps to build high quality performance vehicles and a level of brand authenticity unmated by the vast majority of the global auto industry," Jonas, who rates Tesla's stock as "overweight," said in his note.
Growth Prospects
Investors are primarily focused on the next phase for Tesla: The Model 3 and its Gigafactory.
Tesla plans to introduce a mainstream electric car, the Model 3, which is expected to start around $35,000. The Model S has a starting price of $71,000 after $7,500 in federal tax incentives, although most customers pay well above that price when adding options.
Morgan Stanley analysts believe the Model 3 will arrive in Tesla showrooms in 2017. But they also caution that while a Tesla vehicle for the masses is certainly a possibility, investors should also consider it a "very distant optionality that we would not want to take for granted over the next 10 to 15 years."
Brauer suggested Tesla will have an uphill battle to go from building a limited number of high-end vehicles to building a larger number of mainstream vehicles.
"It's a paradigm shift in how the company thinks and operates. Everything gets harder when you increase volume," he explained.
Tesla is largely pinning its hopes on the Gigafactory, a large battery plant currently under construction outside of Reno, Nev. The facility will produce its first battery cell in 2016, a little earlier than originally scheduled.
Tesla aims to significantly reduce battery costs once the Gigafactory is operational, and the company said an earlier start date reduces any risk associated with ramping up production of the Model 3. Increased battery output may also help the company add capacity for the Model S and Model X.
"If we can't get to 30% [cost savings] even without technology improvements, somebody should shoot us," Musk joked. "It would be in complete defiance of economies of scale."