Teen-preneur Aims to Help Girls Find 'Beauty' in STEM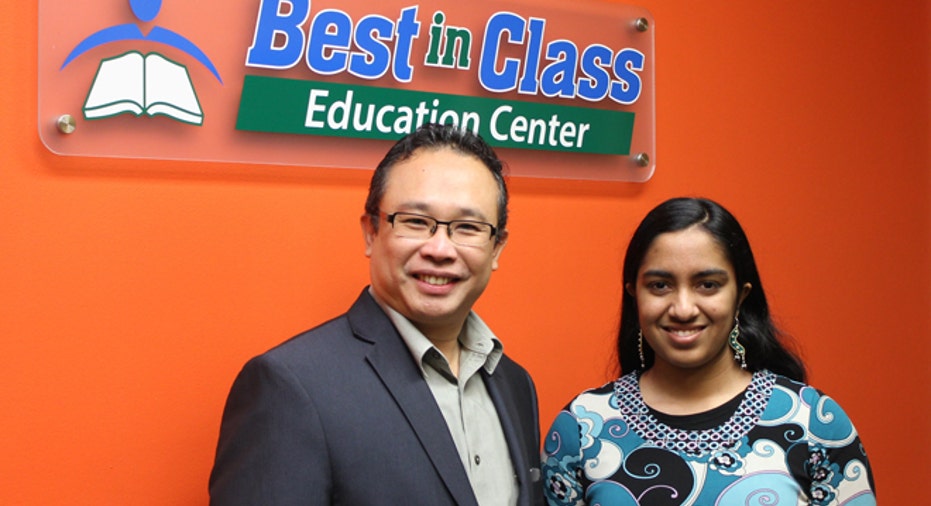 Social Business of the day: A Look at Entrepreneurs With Heart
Business: GRISM, or Girls Rock in Science and Math
Who: Mayukha Vadari, 16-year-old founder of GRISM
What: GRISM runs programs that aim to increase girls' interest in math and science.
When: November 2012
Where: Redmond, WA
How: During eighth grade, Mayukha Vadari noticed very few of her female classmates were as interested in math and science as she was.
"If you go to any math or science competition and look up at the winners, there will be one, maybe two girls up there, if that," Vadari said. After telling her dad about her observation, he told her "if I really wanted to do something about it, I should create a business plan."
Vadari did just that. She began collecting information and found the trend started somewhere around fifth or sixth grade, and decided her best bet was to approach girls before this point, to "increase their enthusiasm [for math and science] before they start losing it." She took her plan to Seattle-based supplemental-education organization Best in Class's CEO Hao Lam, who was impressed with the teen's ideas early on. Lam helped Vadari get others on board and come up with a rich curriculum.
Her theory is "if you guide girls into the right path, and provide them with encouragement from all sides," they will not only enjoy STEM-related subjects, but they will also excel in them. Lam echoes this sentiment.
"It's not only about teaching subjects like math and science in a manner that students can understand, but it's also about introducing them early on to the types of career paths they could have by mastering these subjects," Lam said. "When students grow up in this type of environment they are inspired to utilize what they're learning and also to help others."
Vadari currently runs the program along with about 15 other high school girls. The program, which is in its third year, has grown from 16 students to more than 50. A majority of their funds come from registration fees and sponsorships. Sponsors include Google, Modern Grid Solutions and Best in Class, which was GRISM's largest primary sponsor.
Biggest challenge: The largest hurdle facing GRISM is scale, Vadari said. She explains this type of non-profit is "relatively easy to run with only a small number of both participants and organizers," but as it gains popularity and more people want to get involved, she says expanding will be the biggest challenge.
Greatest inspiration: "My dad, who helps at the local temple and at several other places, was one of the people who inspired me to go beyond the normal and do something big," Vadari said. "My involvement early in my life at Best in Class allowed me to think through some ideas [about] organizing [GRISM]. They encouraged me to cultivate my passion for STEM."
Looking ahead: In the short term, Vadari hopes to get 250 girls to enter their competition, Girls Embrace Math & Science (GEMS), which will take place March 28, and is actively looking to expand GRISM to a second location.
Longer-term, "I want to expand and turn GRISM into first a nationwide franchise," she explained. "After that, I want to expand it to worldwide, so that girls all over the world can discover the beauty that exists in math and science."