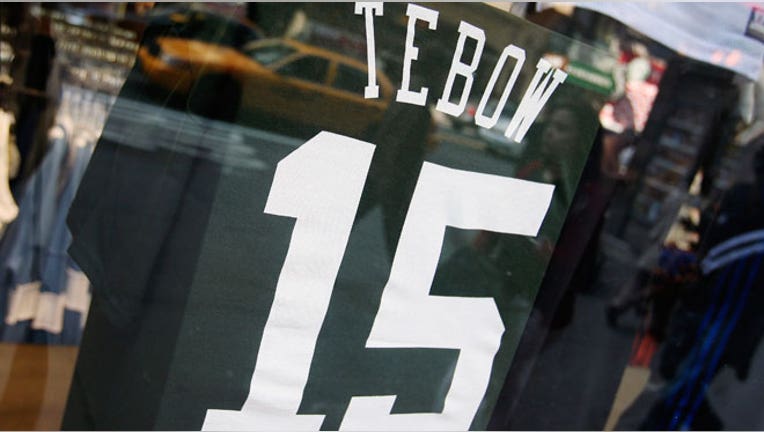 It didn't take long for the frenzy over Tim Tebow's arrival in Gotham to spill into New York City courtrooms.
Just a day after Tebow was formally introduced as a member of the New York Jets, Nike (NYSE:NKE) filed a suit against Reebok, accusing the Adidas unit of improperly using the quarterback's name on the apparel of his new team.
According to Reuters, the lawsuit, which was filed in U.S. District Court in New York on Tuesday and made public on Wednesday, said Reebok improperly introduced new products bearing Tebow's name and presumed number for the Jets last week after being traded from the Denver Broncos.
It's not clear specifically which apparel Nike is complaining about, but Reebok's 10-year, $250 million apparel deal with the NFL expires at the end of March.
Nike signed a five-year exclusive apparel deal with the league in 2010 that begins in April. According to Advertising Age, the Nike apparel deal is worth about $35 million a year.
"We have filed a complaint relating to unauthorized use of Tim Tebow's name on New York Jets related apparel. Nike is authorized and licensed to use Tim Tebow's name on products," Nike said in an emailed statement.
Nike signed an endorsement deal with Tebow in 2010 that reportedly paid him a minimum of just under $300,000 a year and included incentives that could pay him significantly more.
According to Reuters, Nike is seeking compensatory and punitive damages for unfair competition from Reebok under the Lantham Act, which governs trademark law in the U.S.
The transition between Nike and Reebok has created a shortage of team apparel for some retailers.
Reebok didn't immediately respond to a request for comment.