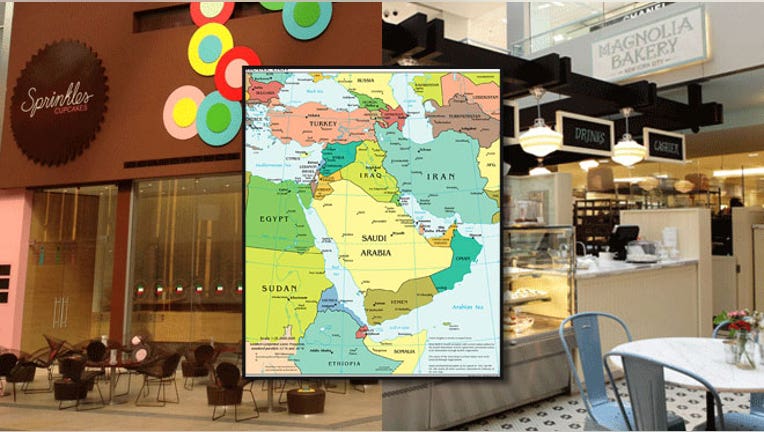 Talk about some serious flour power. When the owners of two of America's most iconic cupcake brands decided to expand their businesses, they didn't rush to open new cookie-cutter stores mere blocks from one another. Instead, they thought globally. Now, the tiny confections emerging from the ovens of Sprinkles Cupcakes and Magnolia Bakery aren't just baked in New York and California. The frosted treats have ventured all the way to the Middle East.
The Big City Bakery Goes Global Three years ago, when New York City-based Magnolia Bakery opened its first international store alongside upscale department store Bloomingdale's in Dubai, owner Steve Abrams thought the venture was going to be a one-time deal. "Naively I thought, 'Oh, it's going to be one thing we're going to do. It's in the middle of nowhere. It'll never bite us if we don't do well. It was always going to be a one-off thing for us," he said.
But Abrams said an interesting thing happened. When the bakery and the department store finally opened, the lines out the door weren't for Bloomingdale's.
They were for Magnolia.
"We'd already had a presence there which was much bigger than we thought or knew," Abrams said. "That's because of all the international travel from there to the U.S. People already knew us. We were more anticipated as an opening than Bloomingdale's."
The bakery's unexpected success in Dubai, located in the United Arab Emirates, led Abrams and his company to reconsider their business plan and focus more closely on international growth. With stores already open in Dubai, Kuwait, Qatar, and Beirut, Abrams said he's planning aggressive international expansion of at least 300 stores in the next five years.From Sandy Beaches to Dry Deserts Those with a sweet tooth know Sprinkles Cupcakes. Since the company opened its first location in Beverly Hills, Calif., in 2005 as the world's first cupcake-only bakery, it has enjoyed nationwide name recognition and success. And after eight years, Sprinkles ventured out of the Golden State and into a brand new market. Last year, the company entered into a franchise agreement with M.H. Alshaya Co. – the same company that helped take brands like Starbucks and the Cheesecake Factory international – to help them expand into the Middle East region. "The more I got familiar with the Middle East, the more I realized they have one of the strongest, most robust economies in the world," said Charles Nelson, who owns the Sprinkles Cupcakes brand with his wife Candace. "There are a lot of young families with children there and the economy is growing and healthy and they have a great aspiration for American, Western goods." The company's first international location opened in Kuwait in December of last year, and the Nelsons have plans to open another 34 shops in ten countries over the next five years.Obstacles in the Middle East For many, the idea of international expansion to the Middle East region might not make intuitive sense. After all, it's home to a host of conflict between Israel and its neighbors, the Arab Spring uprisings, saber rattling by Iran, and significant instability across the region. Despite that, it turns out the Middle East is becoming a great place for American business to boom. "They didn't come here by chance. They studied the markets, they looked at the indicators. The demand is very high and is likely to be maintained. Even the increase in per capita across the countries," Fahad Alturki, senior economist at Jadwa Investment, said. In fact the International Monetary Fund estimates the economy of the Middle East, North Africa region will grow at 3.6% this year, dramatically faster than the 2.1% expansion rate the U.S. is forecast to log. Looking further down the line, as the U.S. economy rebounds in the next four years, the spread between the two is expected to tighten only slightly.  
Still, chasing higher demand isn't always easy. For Magnolia's Abrams, religion weighed on his decision. Because he is Jewish, when interest for a store in Dubai cropped up, his first question was how his faith would affect the business. "I've been to Kuwait, Dubai, Abu Dabi, Lebanon, Qatar, and I've never been looked at sideways as an American or as a Jewish person," he said. "I've been nothing but treated with hospitality." Abrams added all the violence and political instability in various parts of the region doesn't scare away those who work or shop at his bakeries. "I was in Beirut when they were shelling the North because Syria was bleeding over into there," Abrams said. "It doesn't change life there. They're so used to this. It's the kind of thing where they'd run into a bomb shelter and then they would be all out to dinner and the clubs. It's part of a normal life for them in some of these countries."The Sweet Success of a Challenge Both brands make cupcake and confection baking look easy – especially as they learn the nuances to running a business in new countries with legal and political norms different from the U.S. "There's definitely a sweet tooth over there," he said. "Because Kuwait is an alcohol-free country, sweets replace alcohol and are seen as a way to treat yourself." But as they build their international businesses, Nelson, Abrams and their teams are discovering international expansion isn't exactly a piece of cake. Import and export restrictions in the Middle East are much more complex than Nelson said he anticipated. "Vanilla extract is illegal in Kuwait because it contains alcohol. So, we had to adjust ingredients or change our recipes to fit those requirements. We can replicate those flavors, thankfully. You can make an extract into a non-alcoholic emulsion, it just takes some work." Sprinkles wasn't the only one to run into difficulties getting its tried and true ingredients into the Middle East nations. Magnolia's Abrams said the learning curve can be steep, and not always pretty. His company ran into problems when trying to import $33,000 worth of butter to one of its international locations. He said the approval process for a container of ingredients can often take up to three or four weeks before the receiving nation's government will allow it into the country.   "We literally had people in Lebanon asking us for the names of the cows, practically, for the butter. That's how deep you have to get….they wanted to throw out (the butter) and we had to provide them with backup data. Those things are new to us," he said. Abrams added the most challenging part of expanding his brand internationally is logistics. "I could walk to the bakery from my office. It's eight blocks. I can walk to Rock Center in eight minutes. I could walk to Bloomingdales in 10. It's pretty easy to manage the stores, but even then you have problems. So, imagine what it's like when you're six, eight, 12 hundred miles away. It's very hard," he said. Abrams said another of his biggest challenges is finding the right balance between global expansion and all that comes with being an internationally-known household name, and not losing sight of where he and his bakery came from. He said the ultimate goal is keeping a direct relationship with every person touching and creating any of his brand's products. "I'm always trying to walk the tightrope of not losing the brand equity, which is mom and pop. I don't want to be too corporate. I don't' want some conglomerate where I'm dealing with a third-tier manager of a big food and beverage company. So, finding the sweet spot is interesting and one of our challenges (in international expansion)," Abrams said.Room to Grow Though the focus of expansion for two of America's most well-known confection brands is on the Middle East, the bakeries haven't forgotten where they came from and the single item that propelled them to fame.
"We're still on this so-called cupcake craze, which is impossible to call something a craze for more than 12 years. This is a staple. They can't kill us. We won't be killed. At the same time, cupcakes are new to every market we're talking about. And they're going to have some legs for awhile," Abrams said. Both brands are planning additional U.S. expansion alongside their growth in the Middle East. Nelson said Sprinkles has plans to open 34 locations in the next five years, with six openings planned in the U.S. this year including shops in Las Vegas, Dallas and Los Angeles. Magnolia Bakery plans to continue its growth domestically as well, and is seeking funding to roll out an additional 60 locations in the U.S. in the next five years.