Superstorm Sandy: One Year Later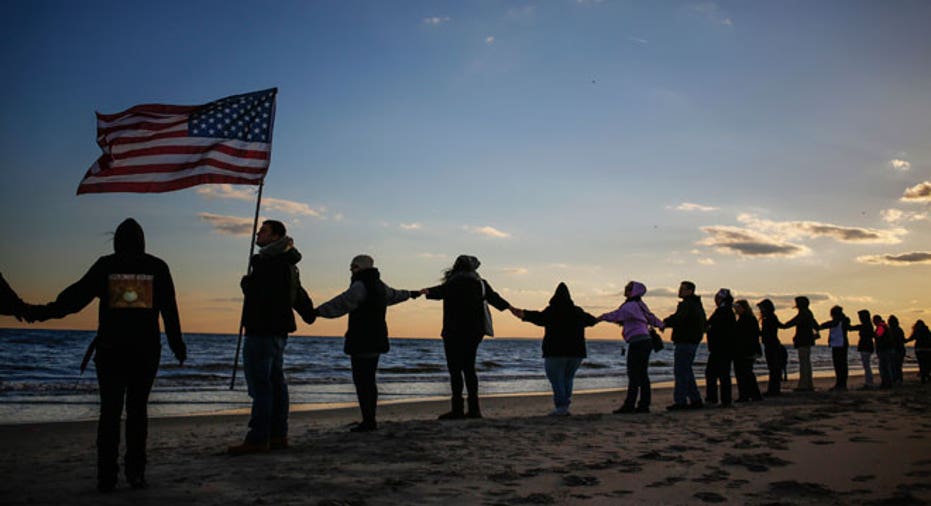 It was the biggest Atlantic Ocean storm in U.S. history, a monster that killed an estimated 285 people. It devastated New York. and New Jersey, and led to 8.6 million homes and businesses without power, gas, and water. It affected an estimated 50 million people from the Bahamas to Rhode Island, covering 820 miles in the U.S., from the east coast all the way to the Great Lakes. An estimated 650,000 homes and 200,000 businesses were destroyed or damaged. The roughly 13 states affected were hit with an estimated $65 billion in damages and economic losses.
The fallout from Superstorm Sandy is still felt, not just in swamped towns in New York and New Jersey, but nationwide. Now, homeowners across the country face another looming threat: Dramatic increases in flood insurance that could create ghost towns on the water nationwide.
FOX Business picks up coverage again,  live all day in one of the most hard-hit areas, Belle Harbor, Rockaway, a beachside town in Queens on Long Island, with interviews of local business leaders and firemen as the one-year anniversary of Sandy approaches.
It is hard to exhaust superlatives on this storm. With violent, remorseless efficiency, Superstorm Sandy completely changed the landscape forever. The states affected took a terrible beating, as residents learned a brutal lesson: How easy it is for nature to destroy, and how difficult it is to rebuild.
Officials in the tri-state area rapidly shut airports, trains, subways, bridges and tunnels to prepare for the velocity of historic hurricane winds and the highest storm surge in New York Harbor on record.
People in New York and New Jersey were drowned or electrocuted in their own homes, or were drowned after being pulled out into the ocean.
Houses in New York and New Jersey cracked under the incredible force, families' furniture, belongings, even cars were washed out into the ocean at night. Out on the peninsula in the Rockaways and Breezy Point, the velocity of the Atlantic Ocean roaring in to meet the waters from Jamaica Bay pouring in from the north swept homes and businesses off foundations, and tossed wave runners and speed boats into kitchens.
Iconic, historic boardwalks were torn apart like matchsticks all along the coasts in New York and New Jersey. An entire strip of stores burned down on Rockaway Beach Blvd., still vacant and empty today. People used surfboards canoes, kayaks, anything they could find to rescue each other and their belongings.
An estimated 110 fires broke out citywide. A massive six-alarm fire, one of the largest in New York City history, threatened about 2,800 homes in Breezy Point, which sits right to the west of the Rockaways. About two-dozen engine companies, a dozen ladder companies, and squad and rescue cars fought to get through the wreckage, waiting for the unsung first responders to come clear the way, the garbage men, so firemen could break through to stop the devouring flames as families fell to their knees crying.
Hundreds of homes went up in flames or were destroyed by flooding in the Rockaways. About 350 homes were destroyed in Breezy alone, 135 due to fire, another 215 homes demolished due to flooding and fire. Many have since moved back to deal with the charred rubble, but they can't afford to rebuild or pay for higher flood insurance. Many New Jersey, Breezy Point, Rockaway, and Staten Island residents applied for government "Build it Back" grants, and are still waiting to get funding. The Interior Department recently announced $162 million in new funding for 45 storm-protection projects from North Carolina to Maine. Utilities are still conducting major overhauls.
Ironically, on July 6, nearly three months before Sandy hit, President Barack Obama signed into law a widely supported piece of legislation called the federal Biggert-Waters Flood Insurance Reform Act of 2012, effective July 1, 2012. The reform act affects all waterfront property in every state in the country. It was designed to phase out FEMA subsidies and grandfathering, which let homeowners cover their homes at rates corresponding to older flood maps. The legislation lets flood insurance rates increase by 25% per year until actuarial rates are achieved.
Since private insurers don't offer it, the federal government sells flood insurance. Those who buy insurance from the federally funded National Flood Insurance Program overseen by FEMA usually live in areas prone to flooding, meaning insurers have to pay out on policies at much costlier levels than they would otherwise on other insurance policies. FEMA's National Flood Insurance Program cost U.S. taxpayers tens of billions of dollars and has been in insolvent since Hurricane Katrina. But federal officials have long been in the process of turning this program into a risk-based insurance system, which many taxpayers also said was the right thing to do. Since the bill was signed into law, New Jersey and New York have been updating area floodplain maps, resulting in thousands more properties to sit in floodplains. An estimated 35% of residents and businesses in New York City floodplains now have no flood insurance, according to a new study by the Rand Corporation, commissioned by New York City Mayor Michael Bloomberg's office. Residents with federally-backed mortgages are seeing flood insurance costs rising from an average $430 a year to $5,000 to $10,000 a year. The new premiums don't include the prior subsidies from the program and are based on the actual risk of flooding.   New York City Mayor Michael Bloomberg is now urging Congress and FEMA to delay some provisions in the new National Flood Insurance Program until the government can ensure flood insurance stays affordable for low- and middle-income families. Rand, and city official say the federal government could provide some relief from these premium increases, including flood mitigation measures and high-deductible policies.
"For thousands of New Yorkers, the difference in the cost of insurance as a result of federal policy changes is the difference between being able to stay in their neighborhoods and having to move," said Mayor Bloomberg in a statement. "We will continue to lobby the federal government to implement solutions to help New York City residents mitigate the significant rise in their flood insurance costs and help New Yorkers damaged by Hurricane Sandy to recover and rebuild."
The National Association of Mutual Insurance Companies is now asking the Senate to resist calls to delay or rescind flood insurance rate increases implemented due to the 2012 law.
Two-dozen senators signed on to a letter last week asking Congress to delay the rate hikes pending completion of affordability studies and appeals of new flood maps now being used to figure out homeowner and business increases in mandated flood rates levied by the National Flood Insurance Program.