Student Loan Borrowers Are Getting the Best Deal in 10 Years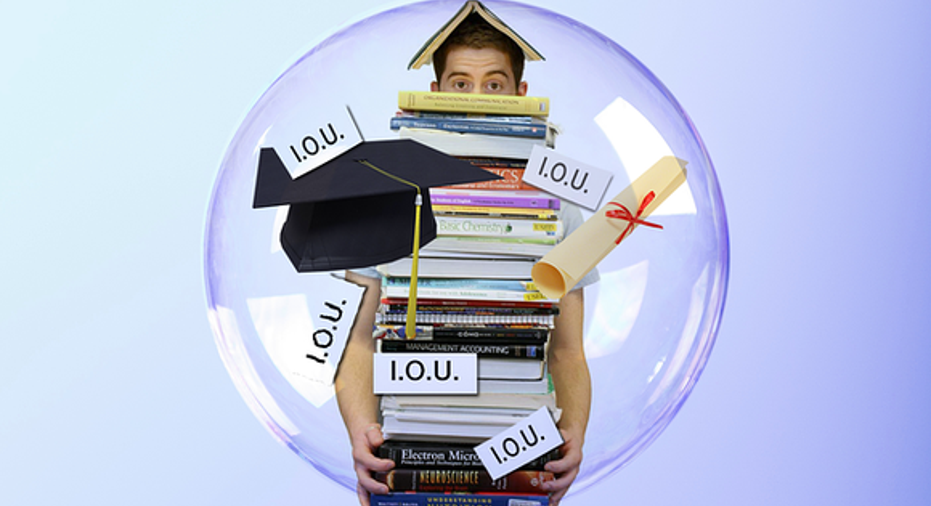 Here's something you don't hear every day: It's a good time to be taking out student loans.
That's because the interest rate on the most common student loans — undergraduate Federal Direct Loans — just dropped to 3.76% for loans disbursed between July 1 and June 30 of next year. Last year, the interest rate was 4.29%, and before that, it was 4.66%. Interest rates on federal student loans taken out by parents and graduate students also dropped, to 6.31% from 6.84%.
In 2013, a new student loan law tied federal student loan interest rates to the 10-year treasury note. President Barack Obama signed the law right before interest rates were set to jump to 6.8%, and now, every year, new student loan rates are set by the last 10-year treasury note auction before June 1. The rate is calculated by adding 2.05 percentage points to the high yield of the 10-year note at the time of the auction — 1.71% on May 11. (In writing the 2013 law, Congress added the 2.05 percentage points to cover the administrative costs of issuing these government-backed loans.)
Back in 2013, when this law was new, some student loan experts saw the move to a 10-year-note benchmark as a band-aid — that an improving economy would eventually drive up student loan interest rates to the high levels this method initially avoided.
"This interest rate can go pretty high," Mitchell D. Weiss, a professor of finance at the University of Hartford, and a Credit.com contributor, said in a 2013 interview after Obama signed the law. Congress set a cap of 8.25% on undergraduate Direct loans and a 9.5% cap on graduate and parent PLUS loans.
That's still the case but, for now, students taking out federal student loans in the coming academic year can enjoy their historically low interest rates. Between July 1, 2006 and June 30, 2010, Direct unsubsidized loans carried a 6.8% interest rate for undergraduate and graduate students. In the last decade, only borrowers who had Direct subsidized loans disbursed between July 1, 2011 and June 30, 2013 enjoyed an interest rate (3.4%) lower than the new 3.76%. (Subsidized loans, on which the government pays interest while the borrower is in school, are less common than unsubsidized loans.)
Of course, these lowest-in-a-decade interest rates may not be much consolation when considering that tuition increases have consistently outpaced inflation in the same time period. This interest-rate drop may not be as much of a good deal as it is a lucky break for students who will likely have record amounts of student loan debt. To see how your student loans affect your credit (they do, quite a bit), you can review your free credit report summary, updated monthly, on Credit.com.
More From Credit.comWhat is a Good Credit Score?How to Get Out of Debt: A Step-by-Step Guide to Financial FreedomRepayment Options for Student Loans
This article originally appeared on Credit.com.
Christine DiGangi is a reporter and editor for Credit.com, covering a variety of personal finance topics. Her writing has been featured on USA Today, MSN, Yahoo! Finance and The New York Times International Weekly, among other outlets. More by Christine DiGangi