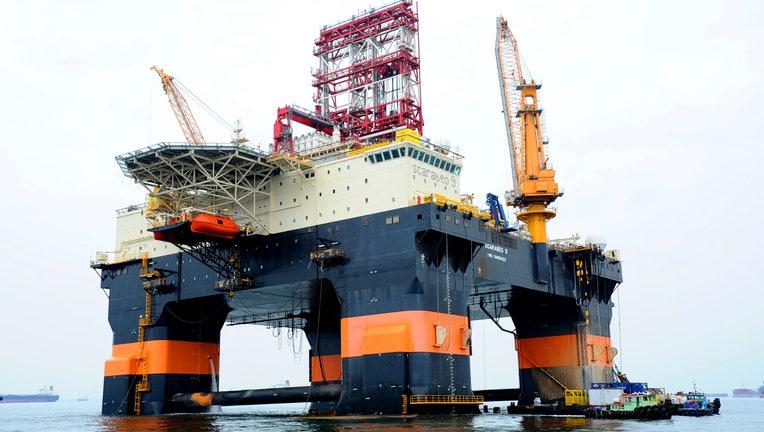 U.S. crude oil prices rose more than 2 percent on Thursday, narrowing its discount to European Brent for a second day, on a wave of surprisingly upbeat global economic data and supply disruptions in Africa and Iraq.
The number of Americans filing new claims for unemployment benefits fell to a 5-1/2-year low last week, and a closely watched index of U.S. manufacturing activity was at its highest in two years. A China industrial index beat expectations and euro zone manufacturing returned to growth.
The broad rally in riskier assets also drew on Wednesday's meeting of the Federal Reserve, which showed no sign it is planning to curb its bond buying at its next meeting in September. The U.S. S&P 500 stock index rose 1 percent to a new record high and copper gained 2 percent.
"The combination of a strong stock market, strong economic data, and the fact that the Fed said they were worried about deflation, looks double-barrelled bullish to me," said Phil Flynn, an analyst with Price Futures Group in Chicago.
"As fear of the great taper go down, we seem to be going back to the sane old days when good economic news supported oil prices instead of sending bearish signals."
U.S. crude outpaced Brent, adding $2.61 to reach $107.64 a barrel by 12:30 p.m. EDT (1630 GMT), trading $1.69 lower than its North Sea counterpart .
Brent crude gained $1.62 to $109.32 a barrel and hit $109.45 intra-day, the highest since July 16. It ended July with the largest monthly percentage gain since August 2012.
U.S. gasoline futures were also stronger, rising 4 cents to reach $3.04 a gallon.
China's official purchasing manager's index was also higher than expected, and a survey showed euro zone manufacturing began to grow in July, suggesting the region might pull out of recession this quarter.
U.S. stock markets jumped, with the S&P 500 index topping 1,700 points for the first time ever.
SUPPLY DISRUPTION
Concern over supplies from Libya, Iraq and Nigeria also underpinned prices. The disruptions helped trim OPEC output to a four-month low in July, according to a Reuters survey published on Wednesday.
In Libya, protests at oilfields and terminals cut average supply to 1.15 million barrels per day in July, according to the survey, down 150,000 bpd from June. Libya's oil minister said output had fallen 330,000 bpd from 1.4 million bpd on Monday.
Iraq's production has also come under pressure as Sunni insurgents target its northern pipeline, while technical problems are curbing output in the south.
Europe's biggest oil company, Royal Dutch Shell Plc , said on Thursday that a surge in oil thefts in Nigeria contributed to a lower second-quarter profit, while Italy's Eni SpA cut its production target and highlighted Nigerian outages.
Lending further support, oil inventories at the Cushing, Oklahoma, delivery point for the U.S. crude contract fell for a fifth straight week, government data showed on Wednesday, although overall stocks increased.