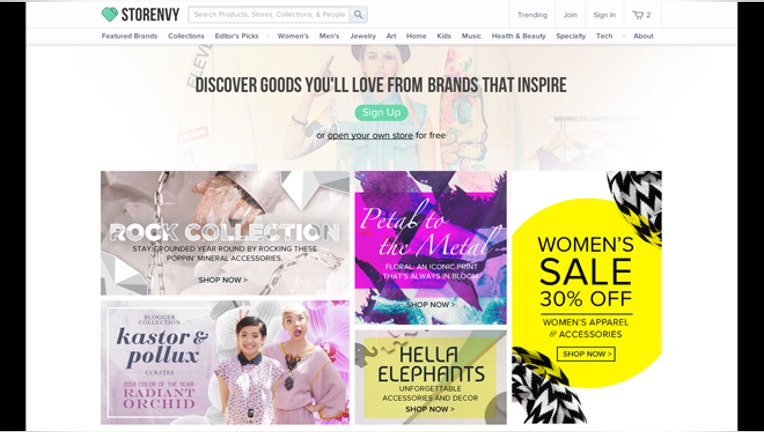 Sellers on online marketplace Storenvy will start paying the startup a small percentage of Marketplace sales made in 2014, according to the company.
The plan is to monetize the dashboard, which means Storenvy will begin charging its more than 65,000 merchants for every sale that goes through the site's Marketplace. Founder and CEO Jon Crawford says it will be a "modest amount, less than any retail markup," likely less than 15%.
According to Crawford, the site saw nearly $5 million in sales made on the platform in December, including $1 million through the Marketplace. The new monetization model is aimed at helping the company become profitable.
Different from the 900,000-storefront strong Etsy, it is free to open a store on Storenvy, and currently users are only charged for add-on features such as ability to offer coupon codes. Thousands of long-time storeowners and rookie sellers have taken advantage of the freemium service to enter the e-retail marketplace.
In 20 minutes or less, sellers can create store pages and custom urls, and begin selling merchandise. Still, there are guidelines merchants must meet to sell through Storenvy; for example, have good product photography, no typos, solid product descriptions.
The site offers a home to everyone -- consumers, merchants, Storenvy employees -- as it classifies itself as a social network site in addition to ecommerce. Storeowners have brand pages where they tell their story and consumers get to know them. Each product has an "envy" button like a "favorite" on Twitter or "like" on Facebook.
Indie folk band Edward Sharpe and the Magnetic Zeroes, Threads by The Shine Project and Kid Monarch Clothing Company (who collaborated with Make-A-Wish on "Batkid" t-shirts) are among the brands on Storenvy.
Crawford started working on the idea for the site in 2008. Storenvy, which officially launched in 2010, exists to "give a platform to authentic brands with a story to tell." In 2012, the startup launched its Marketplace to be a crowd-curated destination shopping space made up of the three-million-and-counting products from stores powered by the site.
A Midwestern boy originally from Oklahoma, Crawford calls the site the "Tumblr of commerce powerers" because of its inclusive and user-friendly format. (In fact, former Tumblr president John Maloney joined the Storenvy board in 2012.)
"[Storenvy aims] to reduce the gap between consumers and merchants so that when you shop online it's like walking into a boutique and meeting the owner," Crawford says.
According to Crawford, the San Francisco-based platform so far has raised $6.5 million in funding from Spark Capital, Intel Capital, First Round Capital, Kleiner Perkins and Charles River Ventures. And according to Sergio Monsalve, a partner at Norwest Venture Partners (NVP), there's a lot of value to this venture.
"The key metric to look for is whether Storenvy is becoming a meaningful part of the store owners' sales," Monsalve says. "On the merchants' side, there's always a tradeoff between being a volume distribution channel versus a high margin niche channel."
Monsalve says as long as Storenvy continues to foster a significant partnership with merchants, turning on the revenue model won't necessarily prompt them to close their digital Storenvy doors.
The company recently experimented with a pop-up store in San Francisco, which was such a hit today it is rotating merchants to sell in the shop each month.  Storenvy also plans to release their first mobile app this year.
"The ultimate feature," Crawford says, "is making store owners feel confident enough to be successful."