Startup Offers Social-Data Solutions to Book Publishers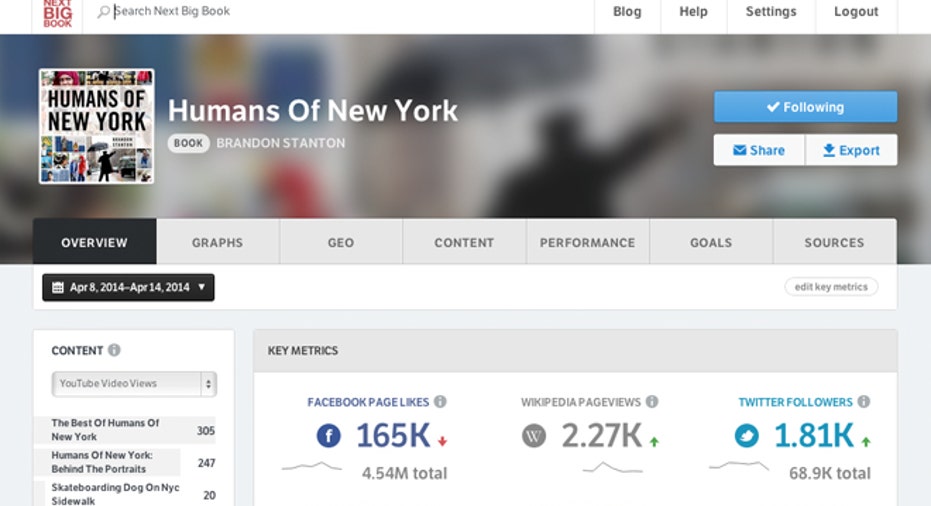 Not long after launching their music data analytics platform in 2009, the co-founders behind Next Big Sound say they felt the itch to offer data-driven solutions to other creative industries.
Nearly five years later, Next Big Book is up and running.
"The same forces challenging the music industry are also posing challenges to the publishing industry," Next Big Sound co-founder and CEO Alex White says. "Our mission is to make the data available useful to book publishers, giving [them] the tools they need to understand which of their books are likely to make it on best-seller charts and which marketing events are able to drive sales."
White says the startup began working with publishing giant Macmillan on the book platform last year. The partnership was made public on Memorial Day, when the company launched the new service.
"They're [Macmillan] five blocks away from us, so we spent countless hours shadowing their team and experts so that our product would be valuable to their business," White says.
Last month, Next Big Book won the first-ever Book Expo Startup Challenge and a grand-prize of $10,000 at Book Expo America. White says the New York City-based analytics upstart is also in talks with "the other big four book publishers" about potential partnerships. Since 2009, the company has raised more than $7 million in funding from  Foundry Group, IA Ventures, SoftTechVC, Alsop Louie Partners and angel investors including David Cohen, Troy Henikoff, Peter Zandan and David Cancel.
The platform for publishers operates in the same manner as the music version: a team of analysts collect social data for physical and digital books -- from Facebook (NASDAQ:FB) and Twitter (NYSE:TWTR) to Goodreads (NASDAQ:AMZN) and Instagram, and convert the private sales figures into a streamlined database.
From here, White says book sellers at Macmillan are able to log in to the database to see whether their last email blast actually drove sales, etc.
Michael McGuire, research vice president at Gartner, says using data to inform sales is nothing new, but the opportunity to analyze demand based on consumer activity on social media is new – and huge. However, he says, privacy and security concerns will always factor in when talking about audience data.
"There's an immense amount of information out there," says McGuire, and companies have to "reduce the signal to noise ratio."
Trade publishers saw about $7 million in net revenue for 2013, according to The Association of American Publishers' latest "StatShot" report. White believes that as publishers mull building internal data compilation systems or partnering with outside experts like Next Big Book, the task of overlaying sales data with social media statistics will boost the industry's success – and the bottom line.
"We believe the use of data is a competitive edge and organizations that are able to successfully adapt and act on this data are the ones that will prosper for years to come," White says.