Startup Combats MS With Home (State) Tees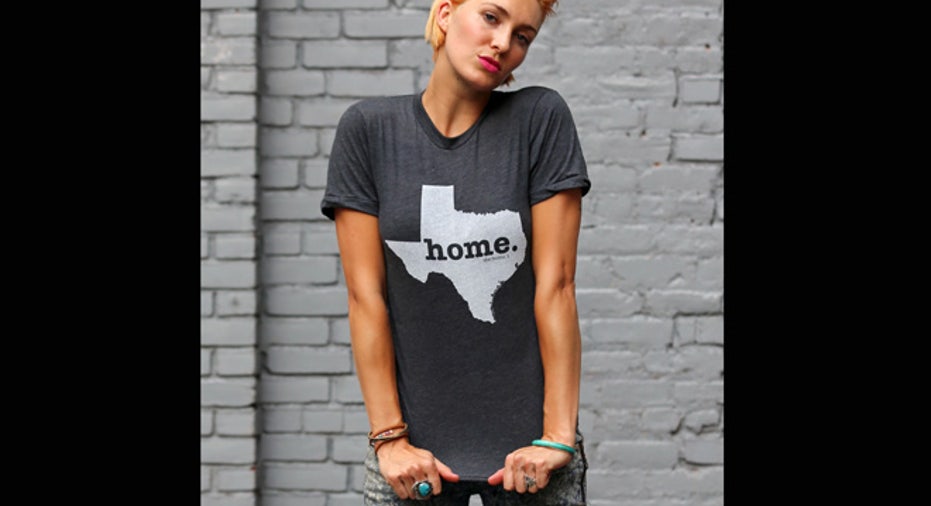 Social Business of the Day: A Look at Entrepreneurs With Heart
Business: The Home T, @TheHomeT
Who: Ryan Shell, co-founder
What: A socially conscious T-shirt company that makes state Tees (and other gear like totes through which you can show your state pride), donating a portion of its profits (10%) to multiple sclerosis (MS) research.
When: 2012
Where: New York City
How: North Carolina-born and raised Ryan Shell moved to New York in 2010 when, after a failed run at city council, he was offered a job in PR in the Big Apple.
Shortly thereafter, Shell met his wife through Match.com – not three hours into their first date he says he knew she was the one. Before tying the knot, the couple decided to start a side project to "earn some extra money," but more importantly, to help raise awareness for MS. Having several friends and family members affected by the disease, it was a cause they wanted to help highlight.
So in 2012, with $1,200 in hand, the Shells sold their first New York state Home T.
Fast forward three years, The Home T has expanded from a small booth in a Brooklyn fair to a profitable e-commerce venture that includes every state and comes in a variety of products including totes, hats, cycling gear, decals and more.
The company works with other small business owners in bringing the product to life – which is also intentional. "Getting to help re-kick-start their growth is so great," Shell told FOXBusiness.com, referring to the husband-and-wife team behind the fulfillments.
The couple says they made a strategic decision to expand slowly, both to minimize costs, but also to really cement the brand. Shell admits it was "a lot of trial by error, and it took us months to perfect the products, but we now have one of the best shirts you're ever going to find … hands down."
Biggest challenge: Shell says the greatest hurdle he's met so far is regulatory. He says starting and running a small business in the tax environment is incredibly difficult, and that current tax laws are "really hitting small business hard."
"It's hard to come to grips with," he said. "Especially as a small business advocate… I think we really need to give them a fighting chance."
Best advice: The young entrepreneur's advice is two-fold: First, "anytime you hire, hire rock stars." The idea is every employee you bring on should elevate the team to a better place. (Shell made his first hire in January.)
And separately, customer service should be a top priority. Shell says he is constantly asking himself, "What can we do to bend over backwards for them?"
Looking ahead: "Outfitting MS fundraising walk and cycling teams is adventurous, but it's something I'd love to do," Shell said. He hopes one day the brand and the cause will be synonymous.
To date, The Home T has donated just under $200,000 to MS research.