Starbucks 3Q Profit Up on More Visits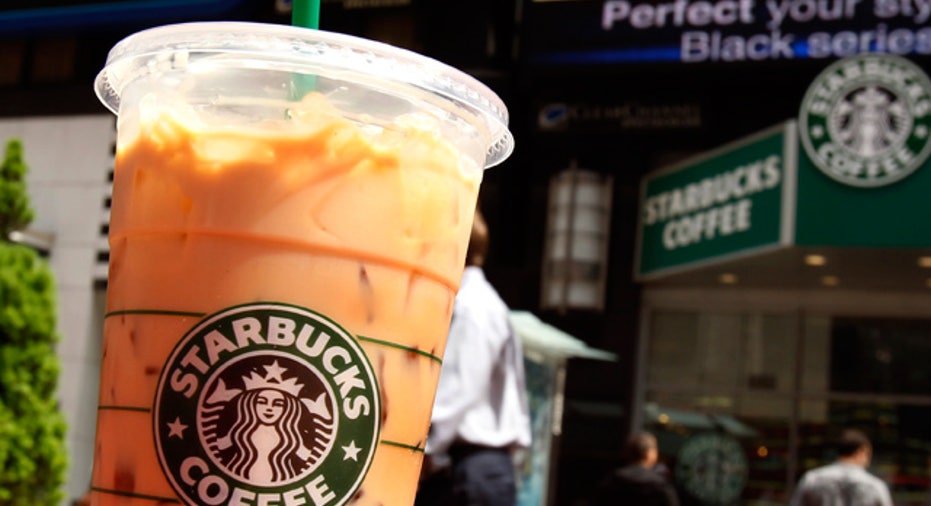 Starbucks Corp. (NASDAQ:SBUX) delivered a sweet treat to the Street on Thursday, announcing third-quarter results that beat expectations for revenue and profit.
The gourmet-coffee chain weighed in with net income of $279.1 million, or 36 cents a share, compared with year-ago earnings of $207.9 million, or 27 cents a share. Revenue rose 12% to $2.93 billion, compared with last years third-quarter sales of $2.61 billion.
Same-store sales in the U.S. rose 8% during the quarter, as international same-store sales rose 5%. Consolidated operating margin widened to 13.7%, from 12.5%, one year ago.
The results topped expectations, as analysts were looking for earnings of 34 cents a share on revenue of $2.85 billion, according to a poll by Thomson Reuters, and marks the second day of positive news for coffee purveyors. On Wednesday, Starbucks competitor Green Mountain Coffee Roasters (NASDAQ:GMCR) posted better-than expected results for the quarter.
"These results demonstrate the power, and the extraordinary global potential, of our unique new business model, said Howard Schultz, chairman, president and CEO, in a release. Starbucks has never been healthier, more connected to our customers and partners, or better positioned to go after the tremendous business opportunities that lie ahead.
The Seattle-based chain predicted fiscal 2011 adjusted earnings in the range of $1.50 to $1.51 per share, in-line with estimates. Starbucks forecast revenue in fiscal 2012 to rise 10%, with earnings-per-share increasing 15% to 20%. The coffee-giant admitted rising coffee costs will likely hurt the bottom line and warned that fiscal 2012 earnings per share would suffer an unfavorable impact of approximately 21 cents from higher prices.
Starbucks unveiled a robust plan to accelerate growth, with new stores opening at home and even more abroad. The company will add 600 net new stores in fiscal 2011, with another 800 net new stores on the way in fiscal 2012.
Shares of Starbucks rallied 2.6%, to close at $39.98 a share ahead of its report on Thursday, and then rose another 89, cents or 2.23%, after the bell. The stock is up nearly 25% so far this year.