Staples 4Q Profit Climbs 17% Despite Winter Storms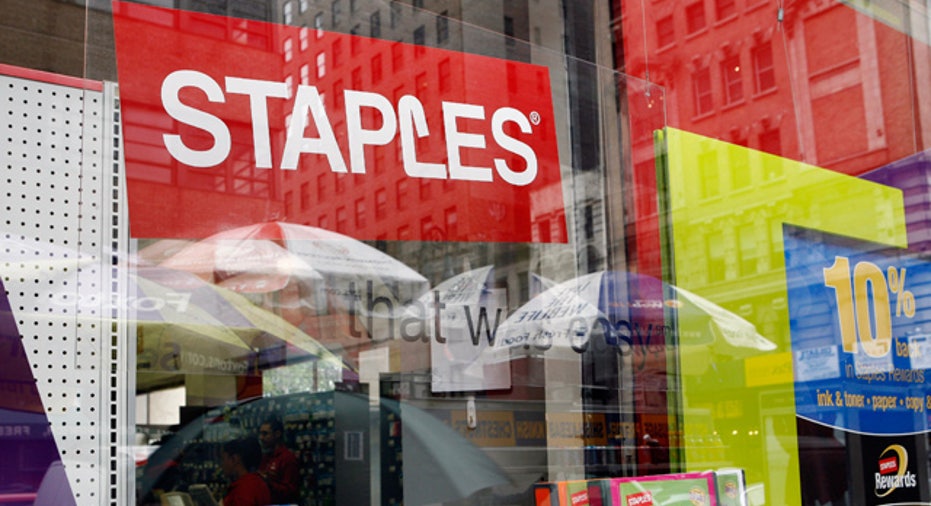 Staples (NASDAQ:SPLS) reported on Wednesday a 17% improvement in fourth-quarter profit, though inclement weather in North America pushed its results slightly below Wall Street's expectations.
The Framingham, Mass.-based company posted net income of $274.7 million, or 38 cents a share, compared with $233.9 million, or 32 cents a share, in the same quarter last year.
Excluding one-time items, the company earned 39 cents a share, narrowly below average analyst estimates polled by Thomson Reuters of 40 cents.
Revenue for the office products retailer was $6.4 billion, virtually matching year-ago results, and falling marginally short of the Street's view of $6.48 billion.
"While the fourth quarter was challenging primarily due to the impact of winter storms, sales have recovered in the first quarter of 2011," said Staples CEO Ron Sargent. "Our business is healthy, we're investing in the right things, and our growth initiatives are gaining traction and positioning us well for a strong 2011."
Staples attributed the softer sales results to inclement weather in North America, as well as increased promotional spending, and weaker demand for computers and peripherals, offset by strength in its paper and services businesses. The leading supplies retailer said inclement weather hurt sales by about $70 million, or 3 cents a share.
Sales in the company's international unit slipped 3%.
Looking ahead, Staples said is sees 2011 earnings in the range of $1.50 to $1.60 a share, in line with Wall Street estimates of $1.55.