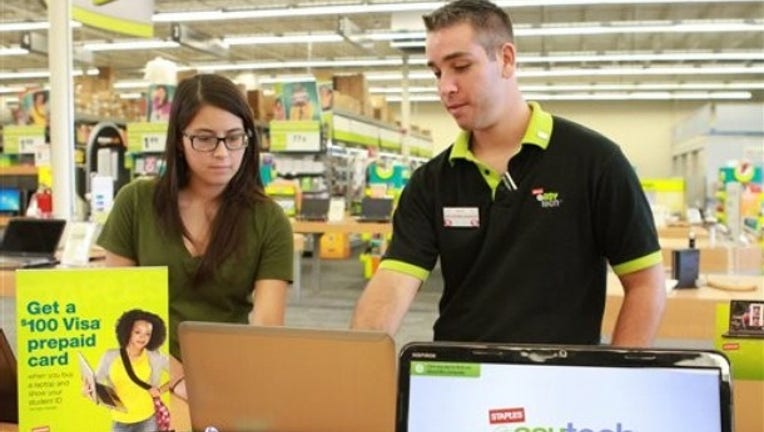 Staples (NASDAQ:SPLS) reported slightly higher fourth-quarter profit that narrowly topped Wall Street expectations, as strong sales in North America offset softer demand in Europe.
The nation's largest office-supply chain reported net income of $284 million, or 41 cents, up 3% compared with a year-earlier, $274 million, or 38 cents, just ahead of average analyst estimates of 40 cents in a Thomson Reuters poll.
Revenue for the three months ended Jan. 28 was $6.46 billion, up 1% from $6.41 billion a year ago, barely beating the Street's view of $6.45 billion.
In the latest period, Staples' retail sales in North America climbed 3% to $2.6 billion, the best growth since early 2010, a reflection of higher average order size and a slight increase in customer traffic.
Operating income improved on lower incentive compensation.
Offsetting domestic gains was a 5% decrease to $1.3 billion in international operations, a result of a 9% drop in comparable store sales in Europe and weak Australian revenues.
In a statement, Staples CEO Ron Sargent attributed the improvements more than $1 billion of free cash flow and "solid plans in place" to build on its momentum in 2012.
Smaller rivals Office Depot (NYSE:ODP) and OfficeMax (NYSE:OMX) also reported stronger-than-expected fourth-quarter earnings, a sign the office supply sector may be rebounding after years of declines.
However, Staples forecasts slow growth next year in the U.S. economy and slumped demand in Europe.
The company sees earnings growing in the low single-digits. Analysts on average are looking for a profit of $1.49, which would mark earnings-per-share growth of about 8.8%.