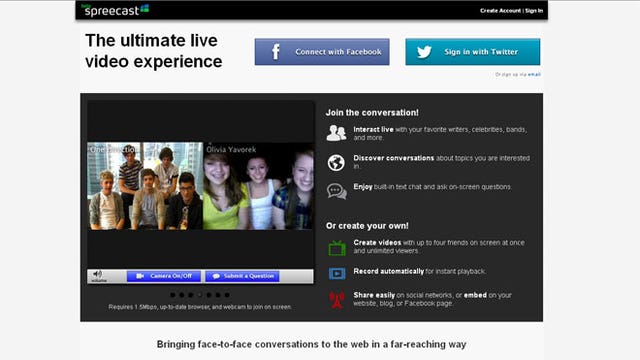 Starting a new business venture is intimidating, sure. But does it get any easier the second time around?
StubHub founder Jeff Fluhr, who sold the online ticket site in 2007 for $310 million to eBay, has his feet wet once again with his new company, Spreecast. The social video platform enables users to converse about major events in real-time, on camera and via chat, on the Web. Spreecasts essentially allow users to act as TV or radio producers, anchors and guests from their computers, tablets and phones.
"I thought it would be cool to have people interact face-to-face around these topics," Fluhr said. "It's a platform for people to talk about timely, relevant things on an international and local scale."
The platform, which has raised $11 million in funding to date, has been publicly available for about a year and a half. Its biggest competition is Google Hangouts, and Fluhr says that while Spreecast's user data is proprietary, it is on track to grow by four-to-five times this year. The startup has close to 25 employees.
Users include the Wall Street Journal, MTV and ESPN, who all have Spreecast players embedded on their sites. Users can create a conversation, and others can watch and join live via text and chat.
"You can also ask to join on camera, and you would be there live to talk," Fluhr says. "Whoever creates the Spreecast has the producer controls. The producers can actually see those video streams for these individuals, so it is like calling into a talk radio show."
Fluhr's StubHub.com, the online ticket sales platform, which was acquired by eBay in 2007 for $310 million. He says the experience taught him that while many may express interest in an acquisition, such deals are few and far between.
"There may be a number of potential acquirers and conversations with suitors over time," he says. "The overwhelming likelihood is that those deals won't happen.  So you have to focus on building a business and value, not on going public and liquidity. It takes a while—it's rare to have an Instagram situation, where in two years a team of 13 people gets bought for $1 billion."
And as of right now, he says he's taking his own advice.
"We are just getting started," he says. "StubHub took seven years to [be acquired], and I arguably sold too soon," he says. "It will take as long to build that, and it's way too early to sell, and I think it's a mistake to sell too soon."
In the immediate future, Fluhr says the platform will be working on monetization, allowing its partners to capitalize on running ads and sponsorships in their embedded players.
"We are also focusing on making it more social, and more habitual among our users," Fluhr says. "We had a mobile app come out in April, so you can watch it, ask questions and make comments, so you can join on camera from your phone."
Despite his experience, Fluhr says he is still learning from trial and error in building Spreecast.
"I definitely made mistakes with senior hires, I tended to focus more on experience and skills, and less on softer characteristics of people—the resume rather than how smart, motivated and hard-working the person was," he says.