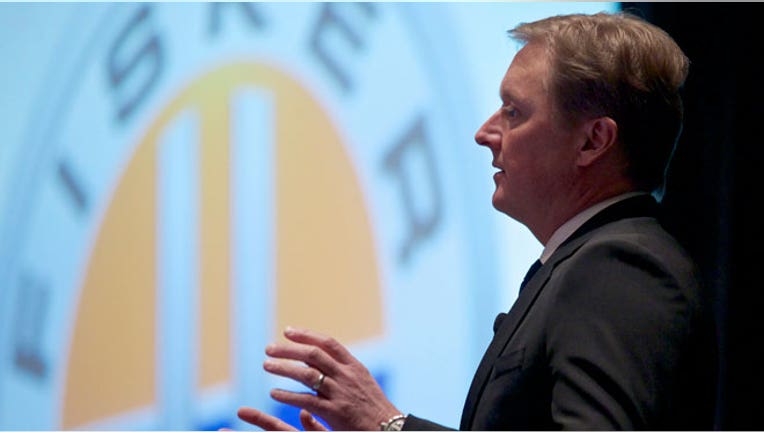 When troubled electric-car maker Fisker Automotive announced last fall that it would cease production, it laid blame squarely on the bankruptcy of A123 Systems.
But battery supplier A123 has maintained normal operations during its Chapter 11 proceedings and, according to a source familiar with the situation, was fully capable of making batteries for Fisker's plug-in Karma sedan.
The current blame game was preceded by months of financial woes, accusations, counter accusations and court filings, with both companies playing equal roles.
In November, Fisker announced it was shutting down production of the Karma and holding onto leftover batteries for customer replacements. Company officials pointed squarely at A123's bankruptcy, even though the last Karma rolled off the assembly line in July.
"Because we have no batteries, there's no production right now. Inventory is starting to get a little low," Fisker Chief Executive Officer Tony Posawatz told Bloomberg News in November. "We'd like to restart production as quickly as possible. We should know the outcome of the [A123's] auction by the middle of December."
And Fisker spokesman Roger Ormisher told Reuters that A123 slowed production after filing for Chapter 11 bankruptcy protection in October, while Fisker expected to have more clarity on its battery inventory after Dec. 6, the scheduled date of A123's auction.
Since then, the sale of A123's various business units has been approved by a bankruptcy court.
Meanwhile, the company has fulfilled orders for other customers, including General Motors (NYSE:GM). A123 is making the batteries for the Chevrolet Spark, which launched last month as scheduled. In October, a GM spokesperson told MLive.com that the automaker didn't expect the Spark to be delayed as a result of A123's bankruptcy.
Who Blinked First?
A123 and Fisker didn't have the most amicable of business relationships.
The trouble began when A123 had to issue a recall for the batteries used in Fisker's Karma, which had already been plagued by significant delays and a tepid launch. Consumer Reports gave it the lowest rating among luxury sedans after the Karma shut down from a defective battery.
Fisker wanted its battery supplier to handle the warranty repairs, while A123 felt it was a joint problem, according to the source. Nonetheless, A123 began replacing battery modules and packs that were subject to a manufacturing defect.
The source added that the two companies weren't on good terms, saying they didn't like each other and did a lot of finger pointing.
A123 declined to comment. Fisker did not respond to a request for comment.
According to A123's bankruptcy disclosure statement filed in March, the company entered into a supply agreement with Fisker in January 2010 and "have been supplying battery systems for Fisker's Karma PHEV programs."
Then, in October 2011, Fisker unexpectedly reduced its fourth-quarter orders. Fisker was A123's largest customer at the time, the disclosure statement said.
A123 subsequently reduced the workforce at its Livonia, Mich., plant by 35%, citing the drop in Fisker orders.
The recall, which came in March 2012, led to a major shift in inventory and significant losses for A123.
"A123 was required to rebuild its inventory and manage its backlog for existing customer orders while simultaneously replacing the defective customer modules and packs," the disclosure statement said.
A123 filed for Chapter 11 protection seven months later. Fisker filed claims totaling $140 million, alleging that A123 broke its supply agreement and breached its warranty obligations.
The battery maker countered in a claim objection that its supply agreement "merely established a relationship that allowed Fisker to place orders for battery packs, and Al23 agreed to provide battery packs only in response to orders that it accepted."
According to the objection, the supply agreement didn't obligate A123 to "accept further orders from or continue to supply battery packs to Fisker. … In any event, Fisker has stopped producing vehicles and has provided no evidence to support its assertion that it will require approximately 15,000 additional batteries."
Fisker was awarded just $15 million in relation to the breach of warranty, and the $91.2 million claim related to the supply agreement was thrown out.
Despite the tension between A123 and Fisker, the battery maker made no public attempt to counter Fisker's claim that production was halted as a result of A123's bankruptcy.
The source said that at the time of its bankruptcy, A123's mindset was to move on from the floundering automaker, which it didn't see as central to future business since Fisker cars weren't selling well.
It was more important for Fisker to find excuses than it was for A123, this person suggested, given that Fisker received a $529 million loan from the Department of Energy and needed a good reason to stop production.
A123 received $249 million in grants from the Department of Energy in 2009 to build production facilities in Michigan, using $133 million worth of those grants before filing for bankruptcy.
Fisker Fighting to Stay Afloat
The Karma had a rough time from the beginning. Originally slated for launch in late 2009, the first Karmas were delivered about two years later.
After struggling to gain traction in a market currently dominated by Tesla (NASDAQ:TSLA) and major players in the auto industry, Fisker laid off 75% of its workforce in April. A month earlier, founder and industry veteran Henrik Fisker resigned as chairman amid reported disagreements with executives.
Fisker, which also has weighed bankruptcy, has yet to resume production and is in the process of finding additional investors.
One obstacle is the money owed to the U.S. government, a loan that caused controversy when an email from a Department of Energy official revealed that Fisker drew on $32 million in funding after the government was weary that the car company missed production targets. The Department of Energy had said the email was taken out of context.
Meanwhile, a bankruptcy judge in December approved Wanxiang America's purchase of about 80% of A123 for $256.6 million. In the fall, Wanxiang originally proposed a $465 million deal for A123, including its government business, but that offer never materialized amid opposition from lawmakers. Chicago's Navitas Systems, which was spun off from Sun MicroSystems, agreed to buy A123's government business for $2.25 million.
Reuters reported last month that a group including former GM executive Bob Lutz and Wanxiang, China's largest auto parts maker, bid $20 million to buy Fisker. Another group, led by Henrik Fisker and Hong Kong billionaire Richard Li, is also looking to acquire the company.
Venture capitalist and former H-P (NYSE:HPQ) chairman Ray Lane, who was influential in attracting investors to the startup, resigned from Fisker's board last week, leading to greater uncertainty over the car maker's future.