Sony Hopes for Vita Cheer, Feels Fitch Heat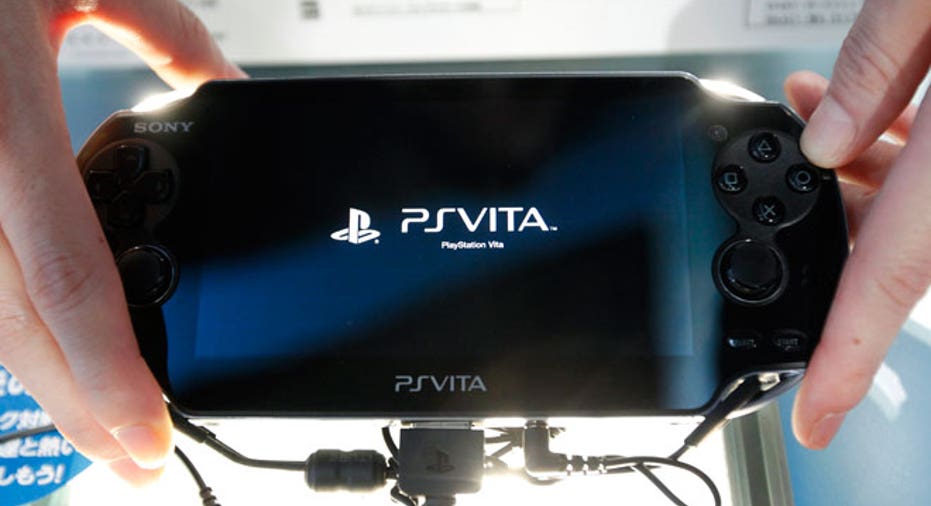 Into just his fourth month as head of Sony's videogames unit, Welshman Andrew House has to plot a much-needed success story for the new PlayStation Vita handheld games device, negotiating a minefield of consumer gloom and competition from smartphones and tablet PCs such as Apple Inc's iPhone and iPad.
Sony Corp, the struggling Japanese electronics giant which last month forecast a net loss of more than $1 billion this year, launches the Vita in Japan this weekend.
It is banking on a slate of 24 software titles at launch to avoid the fate of rival Nintendo's 3DS, which flopped shortly after launch, forcing a price cut.
"It's unprecedented for us to achieve that degree of publisher and development support ... we adopted a different approach to the lead-up to the platform in terms of our relationships with publishers and developers," House told reporters at Sony's Tokyo head office on Thursday.
The videogames unit, Sony Computer Entertainment, made a first profit in 5 years in the year to March, as it squeezed production costs for the Playstation 3, boosting profits for the whole company. The unit's sales accounted for more than a tenth of Sony's 7 trillion yen in total revenue.
But costs involved in driving Vita sales may push the unit back into the red this year, adding to Sony's struggle with huge losses in televisions.
Sony needs the Vita to be a hit to ease the pain from its TV business, which is set for an annual loss of $2.2 billion, an eighth straight year of losses. Sony is looking to halve that loss next year, but has given few details on how it plans to get the business back into profit.
FITCH MOVE
The Fitch ratings agency turned up the heat by downgrading Sony to BBB- - a notch above non-investment, or junk, grade - from BBB, citing the group's weakened financial performance and the challenges it faces in recapturing its former strong position in key markets.
"A likely overall FY12 EBIT loss, excluding financial services, and an increase in debt driven by acquisitions will significantly weaken Sony's credit profile," said Nitin Soni, Associate Director in Fitch's Asia-Pacific Telecommunications, Media and Technology team.
Sony said in October it was taking over its mobile phone joint venture with Ericsson for $1.5 billion, and is also leading a group to buy EMI's music publishing operations in a deal valued at $2.2 billion.
"Of course, if the rating is downgraded it makes it more expensive for them to raise money, so it's not good," said Keita Wakabayashi, an analyst at Mito Securities.
"(Sony has) slashed its profit outlook for the current year and even if the North American market has improved slightly, European and Japanese markets and emerging markets are in a severe state. So downgrades are something we'll have to keep in mind."
VITA
The Vita, featuring a 5-inch OLED display and 3G connectivity, is sold out in advance bookings in Japan, where buyers have rushed to upgrade from the popular PS Portable, which shipped 73 million units since its end-2004 launch - though that was less than half the number of Nintendo's DS.
Sony has not provided a unit sales target for the Vita.
The United States and Europe may pose a tougher challenge as a Feb. 22 launch date for the Vita comes well after the crucial year-end holiday sales season.
"We've been told the PS Vita sold out on pre-bookings. How it sells next year depends on the software. If they can come up with something like Monster Hunter they will be able to sell a lot, but if they don't, prospects don't look so bright," said Mito's Wakabayashi, referring to a game title that drove sales of the PSP in Japan.
The challenge from smartphones and tablets is on top of long-standing domestic rival Nintendo, which aims to sell 16 million of its cheaper 3DS handheld games devices by March.
Sony on Thursday said it was keeping to its target of selling 15 million PS 3 game machines in the year through March. Another rival, Microsoft, doesn't offer a portable device.
After a slump in sales, Nintendo slashed the price of its handheld gadget in August by about 40 percent to $170, compared with $249 for the PS Vita, or $299 for the 3G version.
The games industry has shrugged off the broader economic gloom and is forecast to top $81 billion by 2016, according to research firm DFC Intelligence, up 23 percent from this year and more than three times the size of the recorded music industry.
Much of that growth is likely to be in online, social and casual games, rather than the traditional hardware model that has been Sony's staple.
Japan's software houses are pouring resources into mobile social gaming, and industry executives have expressed some concern over the future for dedicated handheld gaming devices.
Sony was criticised in June, when it announced the pricing of the Vita, for making the gadget too expensive, and has teamed up with U.S. telecoms firm AT&T as Vita's exclusive carrier. Many U.S. iPhone users have complained that AT&T provided poor connectivity.
Sony shares closed down 1.5 percent on Thursday, their lowest in two weeks.