SOL REPUBLIC Tracks Headphones First Look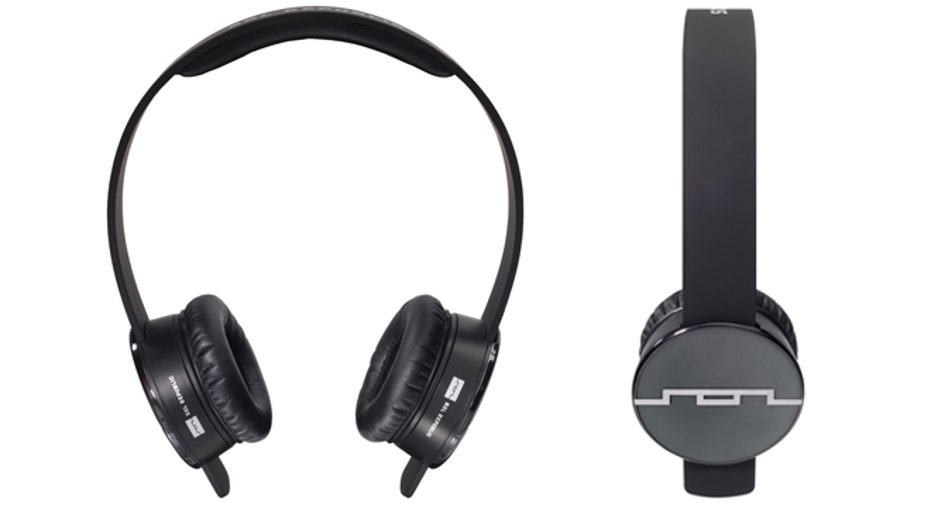 "Sound Track" is the name of the band… the headband, that is, of SOL REPUBLIC's Tracks headphones. The company calls them "virtually indestructible" and seems to have put as much thought into the set's durability as it has into its sound.
FOX Business took a look, or rather, a listen to the headphone company's $99.99 headphones, which on Wednesday became available for sale at major retailers, including Apple and Best Buy.
San Francisco-based SOL REPUBLIC launched last August, founded by Kevin Lee, Scott Hix, and Seth Combs, who aimed at creating headphones with great sound minus the typical huge price tag.
Sound
Powered by SOL REPUBLIC's "V8 Sound Engine" speakers, the Tracks headphones put out fantastic sound with a full range. We heard instruments in some songs we didn't even realize were there when using lower-end headphones or even some mid-tier pairs like Bose's IE2 set… and that says a lot.
Acoustic guitar licks sounded live, the complex digital sounds of electronic music were rich and full, and the responsive bass will make hip hop fans smile. Meanwhile, pumping up the music volume didn't create the distortion you'd often hear with lower-end headphones.
Some people unaccustomed to strong bass may find the sound a little overwhelming at first, but it will depend on your tastes.
In terms of sound isolation, Tracks headphones block out surrounding noise well. They'd make a great pair for long flights or even drowning out that piercing voice of the girl yapping on her phone on the other end of the train during your 7AM commute. But you might wanna take them off if you're crossing the street or railroad tracks.
Feel
These are pretty comfortable headphones and, indeed, they're designed to be with their large, lightweight ear cushions. Some headphones can put too much pressure on the ears, making them sore after extended use; these did less so.
Tracks felt very lightweight for over-the-ears headphones. We wouldn't go so far as to say they feel like they're not there, but despite their size, there's no noticeable football-helmet feel.
The fit was good as well, as they never felt like they were slipping off, even while walking around. Granted, we wouldn't take them onto a treadmill for intense running sessions, but the high level of adjustability really does allow for a custom fit in a way that's not possible with a lot of other sets. In fact, this set is pretty unique in that the pieces are interchangeable: you can slide the ear pieces up and down (and even off) the headband. You can also individually unplug each of the ear pieces from the audio cable.
And while the pair is very light, it's also strong, as SOL REPUBLIC used a proprietary polymer it developed called FlexTech to create the headband. They felt very solid, and while we didn't try snapping them in half, we definitely got a sense that they could hold up to a lot of abuse.
Calls
The Tracks headphones include a microphone in the control piece that allows for placing and receiving calls. We were only able to test this feature in a quiet environment, but the sound quality of the call was decent.
One big drawback, however, is actually due to how well the headset seals out noise from your surroundings… including your own voice. This led to a very awkward-feeling phone conversation. You might not realize how weird it is to speak on the phone without being able to clearly hear your voice. We'd imagine this to be worse in a louder environment. But this certainly isn't a deal breaker and SOL REPUBLIC doesn't pretend that a fantastic calling experience is one of the headphones' killer features.
Controls
In addition to taking and placing calls with the microphone, Tracks lets users control audio playback and volume on their iPhones, iPads, iPod Touches, and even some Mac computers. The buttons worked very well, in a similar fashion to Apple's (NASDAQ:AAPL) supplied earbuds. We found the placement of these controls, further down along the wire than Apple's earbuds, to be more convenient than right next to the face.
Further, owners of the latest iPhone 4S can use the microphone to speak to the smartphone's personal assistant feature Siri. This worked well in our tests.
Look
Again, thanks to the headband's strong construction, these headphones are much less bulky than other over-the-ear headphones, which is great if you want to avoid that air traffic controller look in public, but still want the sound quality of an over-the-ear headset.
A spokesman from SOL REPUBLIC said the company's core audience is 15- to 28-year olds, though he said the set would appeal to all ages. Indeed, the Tracks headphones, available in black, red, or white, have a sleek, minimalist look that will certainly appeal to that core audience. And because of how all the pieces are detachable, you can swap different colors in to create your own look, if that's your thing. SOL REPUBLIC says additional colors and designs will be available later this year.
Final Thoughts
SOL REPUBLIC's Tracks headphones offer sound that's quite good for a price that rivals entry-level premium headsets. While they don't excel in phone conversations, they do a great job where it counts: in the sound department. And they do so in a solid, yet lightweight, visually-appealing package.