Snowsports Offer Opportunity to the Mom-and-Pops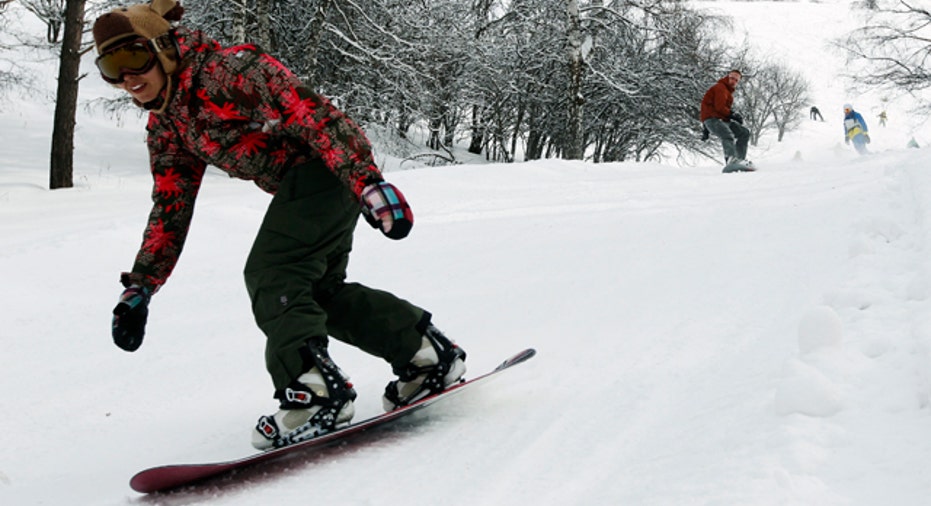 Like most industry sectors, snowsports offer plenty of room for the little guys, especially when U.S. skiers and snowboarders are expected to spend a record $3.2 billion this winter on equipment.
Skis, snowboards, boots, snowshoes, jackets, pants, helmets and gloves - all the makes and models that'll be available to retailers next winter were on display recently at this year's Snowsports Industries America 39th annual Snow Show in Denver. More than 19,000 sporting goods retailers and manufacturers or distributor reps – the public is not invited – perused some 800 new brands of equipment. They placed their orders and crossed their fingers in hopes that recession-weary skiers and snowboarders have worn out their gear in the past two seasons of standstill spending.
"The conversations [with retailers] this year are totally different than last year," said SIA president David Ingemie. "Last year, they were trying to convince suppliers they could pay their bills. This year, they are more concerned about not ordering enough or ordering too much."
Sure, the multinational manufacturing giants were on hand, showcasing their newest wares. North Face, Spyder and Obermayer had the latest jackets and gloves. K2, Head, Rossignol proffered their skis, Burton its boards. But among them, a growing number of smaller entrepreneurs hawked their lines of quirky and functional accessories, translating their wintry brainstorms and dreams into cold, hard business realities. Here are a few:
These days, almost half of all U.S. skiers and snowboarders wear helmets, up from 25% in the 2002-03 ski season, according to the National Ski Areas Association. Industry insiders say the swift trend toward safety was spurred by a spate of high-profile ski fatalities involving celebrities such as Michael Kennedy, Sonny Bono and Natasha Richardson. None wore helmets.
But Michael Morrow looked at all the new headgear and pronounced it, well, boring.
"We recognized a gap in the marketplace for helmets, where they were either solid black or a licensed character. There was nothing 'cool' from a graphics standpoint for youth and adults," said Morrow, founder and president of Nutcase Helmets. "We made Nutcase helmets for ourselves, our kids and our friends, and the response has been tremendous."
The Portland-based company, started in 2005, now retails more than 120 helmet designs for snow, bike, skate and water sports. The Nutcase brand – with its slogan, "I Love My Brain" - is manufactured in China and distributed in sporting goods stores throughout North America, Europe, Japan and Australia.
"We've doubled our business every year," Morrow said. "We're a $2.5 million [annual revenue] company headed for five million."
Morrow is a former creative director for Nike Apparel, who designed, among other things, the USA Track & Field uniforms for the 1996 Atlanta Olympic Games. He left Nike in 2000 to form Morrow Creative Group, whose clients include Disney, NFL, NBA and the X-Games. Morrow and his wife, Miriam Berman, run Nutcase with nine employees.
Over the past 10 years, Ron Chang said he found himself watching a lot of combat video on the nightly news of U.S. and U.K. Special Forces at war in Iraq and Afghanistan. He came to admire the "shemagh," or traditional Middle Eastern head wrap that Western troops adopted to keep their faces, eyes and necks free from the sun, wind and sand.
"One day, I took one of the scarves, wrapped it around my neck and began to cut away at the fabric to modify it," Chang said. "I had my wife sew it together and it became the prototype for my Wrong Gear Warrior Masks."
Chang founded Wrong Gear in 2009, and two years later he and his wife Ginger – so far the company's only two employees - have designed six types of acrylic and polyester masks as winter sports accessories to keep away the snow, cold and sun. Some are velcroed together, some have earbud loops and all are featured in dozens of brightly colored designs.
The thing that makes Chang proudest? "That my product is made in Los Angeles," he said. "It is almost one of the first things I tell people."
Chang grew up in Japan, and came to the U.S. for an undergraduate degree and MBA from the University of Southern California. He worked for Walt Disney Imagineering, designing theme parks and prototype rides, and then as a financial adviser for Morgan Stanley.
"I quit to do something I love – snowboard," he said.
Last year, Wrong Gear grew more than 100%, Chang said. "So far, the profits are OK, but there still are a lot of costs involved."
"Currently, most of our U.S. market share is in the West, from Colorado to California," Change said. "But I export to Japan, Hong Kong, Taiwan, Russia, Israel, Sweden, Demark, and Switzerland."
DRYGUYJoel Beckett has trouble reconciling his passion for winter sports with his penchant for getting cold hands and feet.
He brought his 16 years in the aerospace engineering business to bear on research that began in 1996. Two years later, he founded DryGuy, which now offers a full product line of boot and glove dryers, as well as various insulation accessories.
"At the time, I tried every product available - wools socks, bare feet, electric socks, boot heaters, and even neoprene socks all to no or minimal avail," Beckett said.
His signature product has evolved over 13 years into the DryGuy Widebody, whose four vertical heat chambers can dry any closed-end garment in an hour.
"We see the DryGuy used on everything from everyday dish gloves, soccer shoes, ski boots, football cleats to neoprene diving booties and gloves," Beckett said. "At first I thought I was in the boot drying business, but as the phone calls from consumers kept coming in, I realized we were in the comfort and extremity health business."
Beckett is headquartered in Mercer Island, Wash., with distribution centers in nearby Sumner and in Cincinnati, and a manufacturing partner in China. The DryGuy product line now sells in 2,000 retail outlets, including REI, EMS, Cabela's and Gander Mountain.
Since his is a seasonal business, Beckett said he uses mostly contract employees that allow him to shrink and grow through the year. He flies a staff of four salespeople to tradeshows like SIA.
"It started out just me taking every order and shipping every box," Beckett said. "We burned out two Suburbans carrying freight to and from the terminal and towing booths to tradeshows. "
OMEEZAdrianne Luban came up with the idea for her line of faux-fur fashion accessories one day in 2007 while staring into her closet.
"I lacked the right kind of boots to complement my outfit," she recalled. "I was seeking that powerful 'oomph' factor. So I took a pair of old, funk-looking knitted socks, and after removing the foot portion, I folded the top of the socks over the top of my boots. Voila!
"Everywhere I traveled that day, people commented on how cute and fun my boots were and asked where I got them," Luban said. "I kept asking my friends, 'Would you buy these' 'For how much?'"
That day her company, Omeez, was born. Luban named it after her German grandmother, Omi, a seamstress who helped design her first offerings.
The self-described stay-at-home mom with three kids in school in Encinitas, Calif., now employs a bookkeeper and five sales reps. Her boot and sleeve warmers are now sold in boutiques in eight states and Canada.
"One of my newest inventions that has received a lot of attention this year is my Faux Fur Goggle Strap," Luban said. "Now you can take your tired old ski goggles and spiff them up with one of the varieties of faux furs I have to choose from."
Her Omeez line is currently manufactured in Mexico, but Luban said she just found a Chinese factory "to gear up for future growth" of the small company she said grew 350% in the past year."I still can't believe that someone like me - without a college education, business background or even a designer's background - came up with this, and that people are receiving it the way they are," Luban said. "Like I tell my kids, you can be scared all you want, you just can't let being scared stop you."
As part of a Wharton Business School assignment in 1995, Ron Wilson and Brian LeGette designed a prototype for the first pair of earmuffs that attach behind the ear rather than over the top of the head, thereby eliminating the frumpy phenomenon known as "hat head."
They went on to found 180s, named for the number of degrees the earwarmers wrap around the back of the head. Today, with its founders no longer aboard, the Baltimore company employs 45. Its product line has expanded to hats, gloves and eyewear, designed with technologies protected by nearly 80 patents.
For instance, 180s' patented "touch screen technology" allows wearers of bulky, insulated gloves to navigate their smartphones and iPods while keeping their pinkies toasty.
An initial airing on QVC in 1995 caused the company to sell out its entire inventory of 5,000 earwarmers. Today the company, which manufactures in China, sells several million units a year in more than 3,000 stores, including Target, Sports Authority and Dick's Sporting Goods.
"We work in a cool industry that is exciting to be a part of," said Brian Parker, 180s director of marketing. "We get to keep people outdoors braving the elements. As consumers continue to look to the outdoors for fitness, our mission is to develop smart, stylish products that are equally at home in the mountains or on the city streets."