Smith & Wesson Loses Army Bid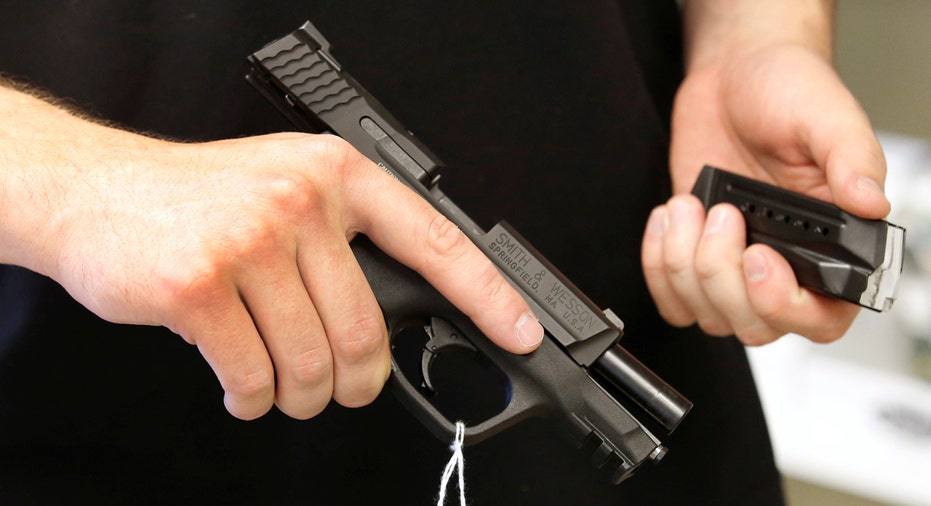 Smith & Wesson (NASDAQ:SWHC) will not make the U.S. Army's next standard-issue sidearm.
The Army didn't select Smith & Wesson and General Dynamics (NYSE:GD), its partner in the project, as finalists in the competition to replace the Beretta M9, the Army's current pistol.
The news, announced late Friday, sent Smith & Wesson shares tumbling. The stock fell as much as 7.8% to $25.41 on Monday morning.
"We and our partner in the pursuit of the U.S. Army's Modular Handgun System, or MHS, solicitation to replace the M9 standard Army sidearm have been notified by the Department of the Army that our proposal was not selected to advance to the next phase of the competition," Smith & Wesson said in a filing with the Securities and Exchange Commission.
Smith & Wesson was seen as a top contender to win the contract. The company's M&P lineup of pistols has been a big hit among law enforcement and consumers, and its partnership with defense contractor General Dynamics was thought to give Smith & Wesson an extra advantage.
"I think we've always been optimistic," Smith & Wesson President and CEO James Debney said during a March conference call with Wall Street analysts. "As we look at the requirements of the Army, we know that we do a very good job of meeting those requirements for the Modular Handgun System itself."
Despite its efforts, Smith & Wesson became the first company to announce an end to its bid. Beretta submitted a new handgun for testing, while other leading gun makers, including Glock and Sig Sauer, are also believed to be competing for the contract. The Pentagon is expected to award the contract in 2017, seeking close to 500,000 pistols. Military officials planned to pick three finalists in August, according to IHS Jane's.
Debney reiterated in March that Smith & Wesson plans to offer a consumer version of the M&P polymer pistol it submitted to the Army.
Smith & Wesson recently made several moves to expand its business beyond gun sales, which are prone to volatile swings. The Springfield, Massachusetts-based company has acquired laser sight manufacturer Crimson Trace and knife maker Taylor Brands, which has offered licensed Smith & Wesson knives for years.
In August, the FBI process 1.85 million background checks for gun sales and permit applications, easily a new record for the month. The FBI's NICS system has processed a total of 17.9 million background checks so far this year, putting it on pace to beat last year's annual record of 23.1 million.