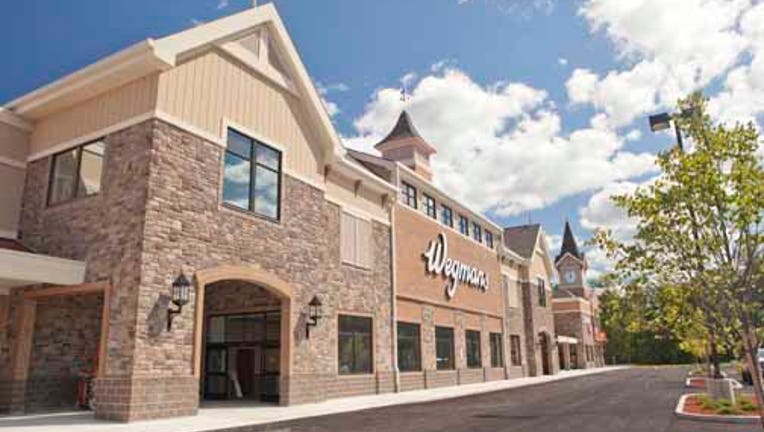 Grocery chain Wegmans is looking to serve alcoholic beverages at its Northborough, Massachusetts location – and some nearby small businesses are calling foul.
A bill currently under review by the Massachusetts House would allow the Northborough-based Wegmans to serve alcoholic beverages on-premises, in addition to selling packaged alcohol to go. The New York-based chain, known for its large cafes, opened the Northborough, Massachusetts location in 2011.
"We just want our customers eating in our café to, if they want to, order a glass of wine or beer or margarita with their meal," says Wegmans spokesperson Jo Natale.
"Our model is unique because we have a much larger restaurant operation than most retailers. We're not out to hurt anyone's business," says Natale. She says the Northborough location's café seats 300 people. Wegmans is opening two more Massachusetts locations in 2014, in Newton and Burlington.
But some Massachusetts-based small business advocates and owners say the move could hurt independent liquor stores and restaurants.
"Wegmans is a huge national corporation coming into this market and asking for an extraordinary privilege. No restaurant has that right, no liquor store has that right and no supermarket stakeholder here has that right," says Restaurant and Business Alliance President Dave Andelman. The RABA released a statement last week opposing the bill.
Andelman says the bill, if passed, could burn Bay State restaurant owners (the meals tax is 7% in the state of Massachusetts).
"Restaurants really have been hit with a perfect storm of negative conditions in the middle of a recession. The meals tax was raised from 5% to 7%, and a lot of restaurants taking credit cards pay 3% in processing fees. They're already losing 10% off the top," says Andelman.
Some local entrepreneurs share the concerns.
"Of course it will have an effect on my business and restaurants," says Victor Fayad, owner of nearby Westborough's DiVine Wine and Spirits. "People are looking to save a penny – times are tough. They'll drive an extra mile to save a couple of dollars."
Fayad says he feels brushed under the rug by state lawmakers.
"The state needs money. They don't care about small business," he says.
Others find fault in the principle of the matter – changing the rules for a big corporation.
"The whole problem over the years is that big businesses [and] big chains come into town and get anything they want," says Tony Tomaiolo, owner of Northborough restaurant AJ Tomaiolos.
Though Tomaiolo says his restaurant will be able to hold its own if Wegmans starts serving adult beverages.
"If people want good dining and a good cocktail, they're not going to go to a chain that's just alright … We do a better job with quality wines and we pour really good drinks," says Tomaiolo.
Westborough restaurant owner Joe Antonio, of JP's Restaurant and Pub, seconds the sentiment.
"I don't think it will make that big of a difference … but every other liquor license affects the business," says Antonio. "It used to be one per thousand, and you had to buy [a liquor license] … I don't like that they can create new licenses."