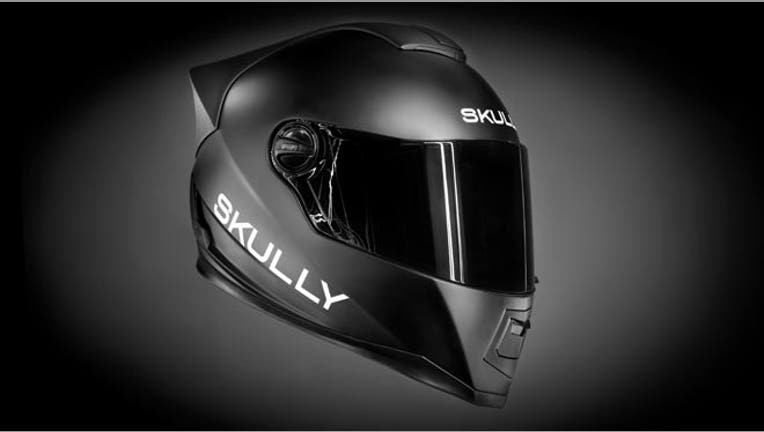 Startup SKULLY is once again turning heads with its fundraising ability. The nascent firm announced Friday that it has completed an $11 million Series A financing round led by Walden Riverwood Ventures and Intel Capital.
"These firms obviously have powerful connections in the [tech] industry. Both of those could not be more ideal investors," SKULLY founder and CEO Marcus Weller said in an interview.
The funding comes just four months after SKULLY set records on crowdsourcing platform Indiegogo for the fastest campaign to raise $1 million in sales for pre-orders of its AR-1 motorcycle helmet; the company says total pre-orders eventually topped $3.4 million.
"We raised more than we expected to," said Weller. He says the surge of pre-orders plus a "jumbo" seed round of $2 million gave them enough time to pick the right partners, including Riverwood partner Nick Brathwaite, who will join SKULLY's board.
Brathwaite is the former Chief Technology Officer for Flextronics, the contract manufacturer making the AR-1, and also the venture capitalist who led the Series A for GoPro (NASDAQ:GPRO) and helped shepherd the digital camera maker through its explosive growth, subsequent funding rounds and initial public offering.
"We didn't start off [emulating GoPro], but obvious parallels revealed themselves. Where GoPro revolutionized the camera industry, we're revolutionizing the helmet industry for our start. There are lessons to be learned there for sure," said Weller.
Keep Your Eyes on the Road
In case you don't follow hot crowdsourced projects or cutting edge motorcycle gear, SKULLY's first project is bringing the motorcycle helmet into the digital era. Weller describes the in-helmet experience as a "bubble of awareness, you can see the environment in augmented reality."
He likens the experience to a fighter pilot's helmet with information just below the line of sight so drivers can keep their eyes on the road. It features a 180-degree blind spot camera that eliminates the need to turn your head to look for cars when turning, since you can see that inside your helmet.
"The concept is to keep the driver's attention forward," said Weller. "Every time you look sideways you create a situation. You can miss a football field's worth of distance when you check your surroundings (taking your eyes off the road)."
The helmet is platform agnostic and syncs with both iOS and Android smartphones. It allows drivers to pull maps, GPS navigation or music from the phone that plays over embedded speakers inside the helmet.
Michael Sherrod, the William M. Dickey Entrepreneur in Residence at Texas Christian University, thinks the helmet was a "genius" way to introduce SKULLY's new technology for several reasons. "Helmets are just really cool—and this one is about as cool as it gets, it is truly badass," he said, adding, "A huge number of tech and maker types ride and they just flat geek out over something like this…the tech had to add value and work really well because those geeky early adopters would kill it with bad reviews."
Lord Helmet?
So what's SKULLY doing with its new cash horde?
"We're doing R&D on next generation stuff, staffing the organization—we have about 20 or so people now so we're tripling the size of our organization focusing on manufacturing and leaders in industry and technologists, engineers," Weller said.
Pre-orders are backlogged through July according to SKULLY's website, but Weller said even newfound capital won't speed up delivery: "I highly doubt our schedule will shift as a result of the funding. The goal is to hit a level of quality our customers expect, making sure we do it right and make an extremely high quality product. This is not a tool, we're not shipping a cool consumer electronics toy, it's a safety device."
Tech analyst Rob Enderle says SKULLY's caution is merited.
"We are less concerned with whether the technology works reliably [in vehicles] than we are that the technology may distract the driver at a critical moment. So we've shifted from concerns over viability--which is why the Indiegogo campaign was so successful, to concerns over safety--which has slowed this product to market," said Enderle.
Weller said SKULLY is keeping its eyes on the road ahead. He would not tip his hand on the company's next projects but he did say, "A lot of motorcycle companies we're talking to right now say the user experience will emanate out from the helmet…Consumers and investors are going to be demanding this new kind of technology and the OEMs say they're going leverage this new technology."
In November the startup offered a peak behind the wizard's curtain for connected motorcycles. At the EICMA motorcycle show in Milan, SKULLY and Aprilia Motorcycles demonstrated wireless data transmission from the Aprilia RSV4 to the AR-1 helmet's head up display, showing the bike's speed, engine speed, gear position and fuel consumption inside on the helmet's screen.
Weller added that the firm is open to licensing. "Our goal is to save people's lives and make the roads safer. There are many ways to do that. Our goal is to disseminate our tech as broadly as possible."
Sherrod, a long-time entrepreneur and startup advisor, says SKULLY will succeed but not without a few bumps in the road as tech giants Apple and Google expand into mobility and transportation software and vehicles: "(SKULLY) will have to deal with copycats and some pretty tech savvy competitors in the helmet and vehicle world who will build their own versions of the AR-1. A GoPro camera integrated into the helmet seems like a no-brainer to me and that gets the helmet onto the ski slopes, into racing cars, bicycles and more."
While that integration would be yet another parallel, or perhaps synergy with GoPro, Sherrod says today's funding announcement has SKULLY on the road towards realizing Weller's vision as a company providing intelligent solutions for vehicles, not only for motorcycles.
And while this is the first round of venture funding for SKULLY, the tech firm may again need to follow in GoPro's tracks and keep filling up the coffers before expanding beyond this initial market.
"In their position right now, cash truly is king," Sherrod said. "Can they scale it fast enough, sell enough helmets and get enough new applications to stay around long enough to enter the markets and create the partnerships that are crucial to their future?
"This is a classic 'crossing the chasm' problem. They've got the early adopters, can they sustain their growth and scale to get the mainstream? I see multiple funding rounds in their future."