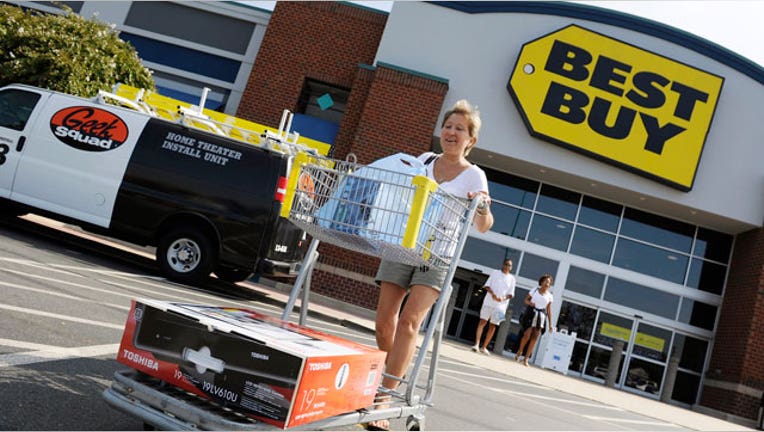 If ten straight quarters of soft sales has taught Best Buy (NYSE:BBY) anything, it's that 50,000-square-foot big-box electronics stores don't seem to be cutting it in the 21st century.
The 4.3% decline in third-quarter same-store sales – a measure of revenue at stores open longer than a year – as well as a worse-than-expected decrease in profit are signs that something at Best Buy needs to be shaken up.
Perhaps one way Best Buy can turn things around is to drastically reduce its bricks-and-mortar footprint, chopping down on its square footage while focusing on smaller, more focused retail spaces like its Best Buy Mobile format and boosting online sales.
"Evolution of Best Buy's business model is required for that store to continue serving customers the way it wants to," said Thomas Blischok, chief retail strategist at Booz, a global consulting firm. "It will need to think about its go-forward bricks–and-mortar strategy."
Best Buy's selling, general and administrative expenses, which encompasses virtually all costs associated with the daily operations of the company such as rent, insurance, utilities and executive salaries, was $2.54 billion in the third quarter, up from $2.47 billion a year ago.
In fact, its SG&A expenses are taking up a larger chunk of sales compared with some of its major competitors. Best Buy's general expenses jumped to 23.6% last quarter from 22.2% a year ago, higher than Amazon (NASDAQ:AMZN), which most recently reported SG&A of just 16.5%, and Wal-Mart (NYSE:WMT), which boasted SG&A of 19.6% last quarter.
"Best Buy's at a structural disadvantage," said Chris DeRose, a consultant who worked with Best Buy from 2004 through 2008.
Stuck between bricks-and-mortar retailing and online, which typically carries a much slimmer operational cost structure, the Minneapolis-based company closed 50 stores this year, an effort to reduce overall square footage while increasing flexibility.
The struggling consumer electronics retailer currently has 1,467 stores in operation, a majority of which are large Best Buy big-boxes that range anywhere from 20,000 square feet to as high as 45,000 square feet, while 405 are Best Buy Mobile stores, averaging just 1,200 square feet.
Best Buy's new chief executive, Hubert Joly, has pledged to streamline the company so that it operates as a more "nimble organization" and has touted the need to improve online sales, but pressure is mounting rapidly as investors strain to see Best Buy's clear focus heading forward.
A series of missteps over the last few years and a scandal that ousted ex-CEO Brian Dunn in April has led to a deterioration in the stock price, with its shares falling more than 30% since founder Richard Schulze offered to take Best Buy private this summer for $24 to $26 a share.
Best Buy Has Options
Operating big-box stores is an expensive venture, but there are ways Best Buy can cut down on its square footage, including closing stores once their lease is up. While waiting won't solve near-term woes, Best Buy said 71% of its leases are set to expire over the next four to six years.
"There's no question they need to migrate to a smaller format but it will be tough to do it fast enough with their legacy infrastructure," said DeRose, who co-authored a new book called "Judgment on the Front Line: How Smart Companies Win by Trusting Their People."
While Best Buy could "try to muddle through the next few years" as Sears (NASDAQ:SHLD) has done, DeRose said it will be "extremely difficult as a public company" given the impatience of investors.
Having recognized the growing competition and the importance of the upcoming holiday season, Best Buy said it would match online prices from rivals like Amazon, Apple (NASDAQ:AAPL), Dell (NASDAQ:DELL), Target (NASDAQ:TGT), and Staples (NASDAQ:SPLS), and offer free home delivery if items aren't in stock at the time or purchase.
Best Buy said 40% of its dot-com customers prefer to pick up products the same day at its brick-and-mortar locations, which a Best Buy spokesperson said was a "great example of how physical stores are relevant in today's retail environment."
While that helps address some of Best Buy's online concerns, another dilemma the company needs to tackle is "showrooming," the term used to describe when a customer enters a store to check out an item with little or no intention of actually buying. Currently, 40% of Best Buy's 600 million annual in-store visitors leave with a purchase. While that's been steady over the last few years, the number of people showrooming has grown marginally, reaching 15% this year.
While Best Buy said recently that it is "embracing showrooming," using it as an opportunity to attract potential customers into its physical stores while at the same time providing employees greater freedoms such as price matching to seal the deal, bolder action will be required over the next few months to ensure the company remains competitive.
If Best Buy can rework its brand and come up with a unique strategy, whether it's a service, product or overall experience that differentiates the retailer from its competitors, it may be able to give shoppers a solid reason to enter Best Buy as a store rather than as merely a showroom, according to Steve Beck, managing partner at CG42, a boutique consulting firm.
Joly has said the company is implementing a "real estate rationalization strategy," which will address its lower performing stores, many of which will come off their leases in the next five years.
"We will rationalize our footprint at a market level," the Best Buy spokesperson said, acknowledging that "different geographies may require a variety in the mix," some catering toward big-box brick-and-mortars and others toward the smaller Mobile format.
Leveraging its Geek Squad, as well as its in-house Insignia brand and customer service, the company may be able to focus on much smaller stores that carry a much lighter overhead.
Best Buy "needs to use its retail presence in a different way," Beck said.