Should Airport Passengers Be Allowed to Travel with Guns & Ammo?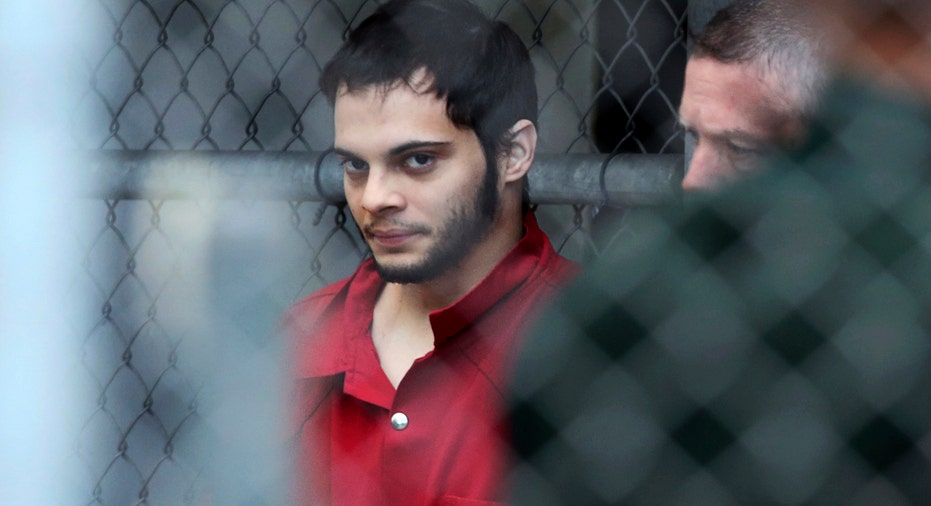 Esteban Ruiz Santiago, who is suspected of killing five people and wounding eight others at random during a shooting inside Florida's Fort Lauderdale-Hollywood International Airport baggage claim area, made his first appearance in court Monday.
Security experts and lawmakers alike believe this incident exposed a flaw in airport protocol, warning travelers are sitting ducks, in part, because individuals can carry firearms and ammunition together.
"The gaping holes in the above are the fact that ammunition is allowed to be in the same locked case as the firearm in most cases. Also, the luggage containing the firearm is placed with regular luggage with no ID verification to release the luggage. Luggage containing firearms should be treated like oversize baggage whereby the claimant must report to a separate area in baggage claim where they should be made to show their ID and paperwork to be reunited with their firearm," David Hyde, security consultant and author of "Certified Threat & Risk Assessor," told FOXBusiness.com.
Former director of the Detroit FBI, Andrew Arena agrees that this incident has "exploited a gap in the system."
"I believe we need to review the process for traveling with a weapon, the person needs a valid reason," he told FOXBusiness.com. "I agree that there needs to be a different area in which guns are received. Picking up a bag with other luggage and baby car seats seems absurd! Possibly, those bags are retrieved at a security office, where officers can observe behavior. Also, if ammo is allowed in the bag, the person needs to be escorted outside before they can retrieve it."
Last Friday, Santiago, 26, a military veteran, was able under TSA law to check a 9mm handgun with ammunition during his flight from Anchorage, Alaska to Ft. Lauderdale. After he ran out of bullets, witnesses reportedly said Santiago threw his gun to the ground and laid face down while he waited for officers to take him into custody.
Rafi Sela, CEO of AR Challenges – a transportation consulting firm – and former president of Israeli Homeland Security Industries says with the right system this incident could have been prevented.
"While there is no such thing as 100% security, I have been on record since 2004 blasting the TSA for no system. It is reacting to incidents rather than proactively planning for them. They are always fighting the last war," Sela told FOXBusiness.com.
Sela says his team has suggested to Senate, Congress and the TSA, a system that is based on Israeli know-how called Trust Based Security (TBS). The new paradigm, which was designed by Sela's company, AR Challenges, involves developing a security policy, assigning credentials to entities, verifying that the credentials fulfill the policy and delegating trust to third parties. It is currently being successfully implemented at Ben Gurion International Airport in Tel Aviv.
"It will make airports, seaports, bus and train hubs much more secure while providing a better experience for the travelers. Until such time when Congress and Wall Street stop working together to enhance U.S. manufacturers of useless equipment, and the TSA becomes a regulator to work with private well-trained security organizations, I am afraid we are going to see much more of the same on both sides."
The rise in airport shootings will likely push lawmakers to get more aggressive on the issue of gun control.
Florida Senator Bill Nelson told reporters that crowded areas such as airport baggage claim are "soft targets" and more needs to be done in regards to airport safety.
Gun Owners of America Executive Director Erich Pratt said in a statement that the problem isn't allowing guns as checked items but rather how the shooter was able to empty his firearm — and pause to reload — without fear that anyone in that baggage area would be able to fire back.
"Quite simply, the Ft. Lauderdale airport is a gun-free zone," Pratt stated. "In fact, the Crime Prevention Research Center reports that 'Florida is one of only six states that completely ban concealed carry at airports.'"
Pratt said the Ft. Lauderdale Airport facility is policed by a department that receives over $60 billion a year and tougher gun laws would not help the situation because the "bad guys will just ignore the law."
This is hardly the only airport shooting in recent years; Last year, authorities temporarily shut down Oklahoma City's Will Rogers World Airport after a Southwest Airlines (NYSE:LUV) employee was gunned down in a parking lot by an unidentified gunman.
There were also three airport incidents in 2013 including Bush Intercontinental Airport in Houston and Jacksonville International Airport, and more notably Los Angeles International, where a man armed with a rifle allegedly began shooting at a security checkpoint, firing as he moved further into the terminal. One security officer was killed and two were wounded. The shooter was later apprehended by police.
Despite the tragedy, Broward County, Florida Sheriff Scott Israel told reporters that the security at their airport is "where it needs to be," and law enforcement agencies involved in the investigation will review an "after action report" when the investigation is over regarding making improvements.