Shoppers Give Love to Department Stores This Valentine's Day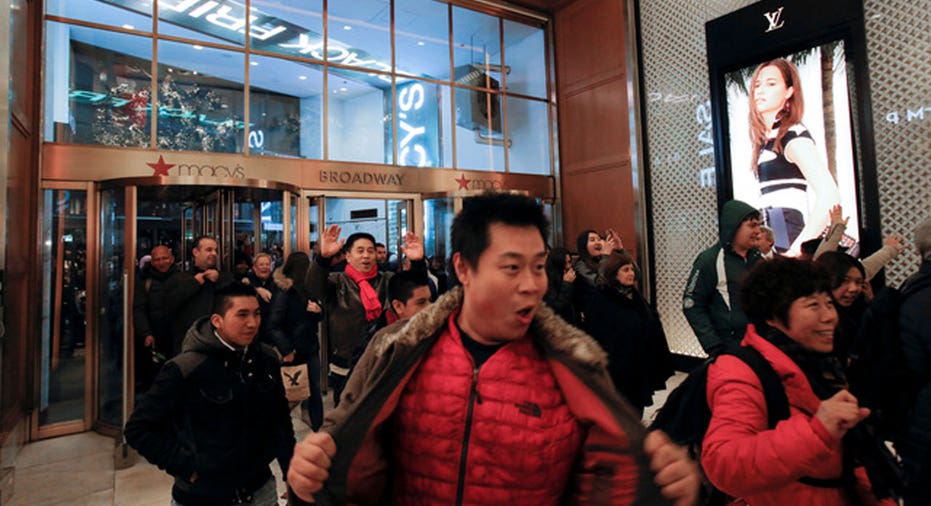 For struggling U.S. department stores, all you need is love this Valentine's Day.
While online sales continue to pressure brick-and-mortar retailers, when it comes to the holiday of love, it looks like shoppers may prefer to browse the wide, open spaces of America's department stores. According to a survey from the National Retail Federation, 34% of Valentine's Day shoppers planned to purchase gifts at a department store this year, while discount chains and online platforms are close second and third destinations.
"For Valentine's Day, we are seeing consumers head to department (Macy's, Nordstrom) and discount stores (Walmart, Target) versus online due to the fact that some of the most popular gifts that are given during Valentine's Day is best to purchase in person – feel and look at the product before buying – than taking the risk and purchasing online," said Ana Smith, NRF spokesperson.
Whether a department or value store, online or in-store, Valentine's Day shoppers remain hopeless romantics. About 50% plan to gift candy and a greeting card, while 38% plan to treat their Valentine to an evening out, which may include dinner and a show. For male shoppers, flowers are the No. 1 gift of choice with an expected price tag of about $45, while females say a nice card is top of mind, with candy a close second.
While jewelry ranks among the bottom of what NRF respondents say they planned to purchase for Valentine's Day gifts, IHS Director of Consumer Economics Chris Christopher said he expects spending on luxury items in February to rise.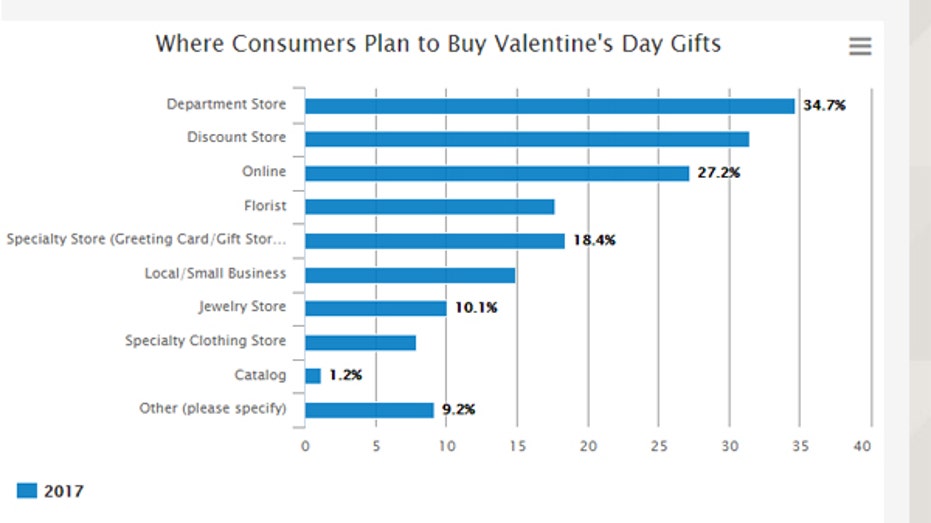 "The consumer is feeling better, they're more confident, and have more wealth, so luxury spend should be up in addition to overall spending on luxury gifts for the month of February. Valentine's Day will be a big part of that," Christopher said.
And last-minutes gift givers, fear not: Discount chains armed with low prices and aisles of candy are prepared for Valentine's Day stragglers. A spokesperson for Dollar General (NYSE:DG) said in addition to the shopper on the hunt for candy or a card, the company frequently helps kids or teachers pick out the perfect low-priced gift for a classmate or décor for their classrooms this time of year.
The NRF data should be welcome news to big retailers including Macy's (NYSE:M), Nordstrom (NYSE:JWS) and Sears (NYSE:SHLD). Macy's, which has struggled to grow its same-store sales and is reportedly in talks with Canadian department-store operator Hudson's Bay about a potential takeover, looked to attract younger Valentine shoppers to its Celebrate Shop, with offers for "unique gifts with a personalized feel," as it encouraged prospective consumers to "shop for a loved one or yourself."
Nordstrom, meanwhile, appealed to shoppers of all price ranges as Sears teamed up with WE TV's "My Fair Wedding" host David Tutera, who offered gift-giving advice and style tips.
However, NRF data show after a 10-year increase, the number of Americans planning to participate in the holiday decreased, with the amount they plan to spend overall falling from last year's all-time high of $19.7 billion to $18.2 billion.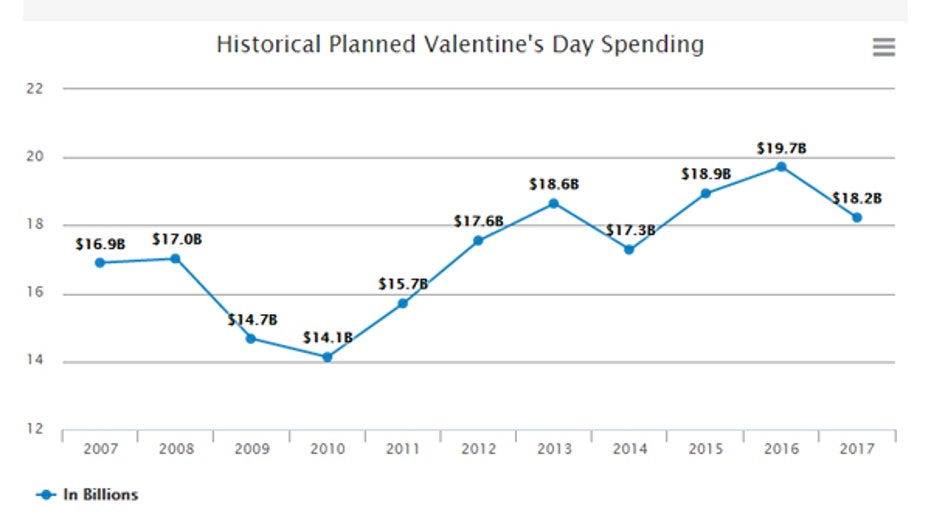 But IHS's Christopher said while spending for the Hallmark holiday may be seeing a pullback, overall spending for the month is still looking strong as consumer confidence remains high.
"When the stock market is doing well, people see their 401(k) doing pretty good, they have a tendency to spend," Christopher said. "We think it should be a pretty good retail environment around the celebration of this holiday."