She Leads Africa Connects Female Startups in Africa to Capital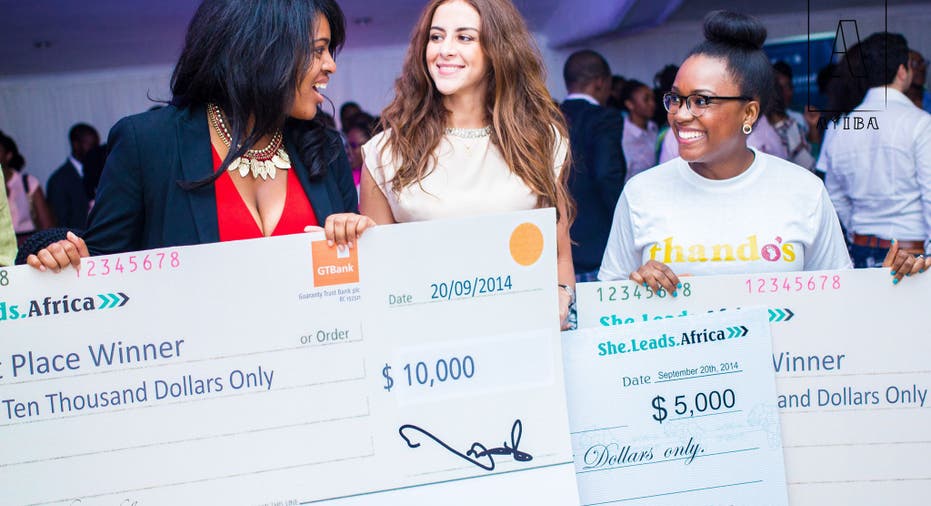 Social Business Spotlight: A Look at Entrepreneurs With Heart
Business: She Leads Africa, @SheLeadsAfrica
Who: Yasmin Belo-Osagie and Afua Osei, co-founders
What: She Leads Africa is a social enterprise dedicated to supporting high-growth, female-led startups, with the goal of transforming women entrepreneurs from SMEs to industry leaders.
When: June 2014
Where: Lagos, Nigeria
How: For Princeton grad Yasmin Belo-Osagie and University of Chicago alumna Afua Osei, the desire to enable women entrepreneurs in Africa to become part of the continent's economic growth story propelled them to take action and co-found their non-profit called She Leads Africa.
"A lot of people talk about making sure African women participate in economic growth," Belo-Osagie says. "And although [Africa] has the highest rate of female entrepreneurship worldwide … most organizations assist them to be very small."
She Leads Africa wants to help female entrepreneurs scale.
The non-profit's first project hosted a "pitch contest" for entrepreneurs to compete for thousands of dollars in prizes, mentoring and networking opportunities, legal and tech resources. The ultimate prize was the opportunity for the competitors to pitch their ideas to a panel of judges – including potential investment backers – in an effort to help these women get their businesses off the ground. The winner, Cherae Robinson, pitched her app Taste Makers Africa, which is a mobile app allowing users to buy curated experiences in Africa.
"For us, in terms of the prizes, we have to understand that finances are just a very small piece of the puzzle so we really tried to give them greater support," Belo-Osagie says.
She Leads Africa secured sponsorship and support from corporate and private backers including Google (NASDAQ:GOOGL), GT Bank, Etisalat, Hauwei and Genevieve Magazine. Additionally, the Dangote Foundation and Nigerian Bank of Industry have together committed $1 million in financing for entrepreneurs from the network.
The typical business profile for a female entrepreneur in Africa, according to the co-founders, is a consumer-oriented SME.
"This is an underutilized and untapped market," Osei says, adding that She Leads Africa is setting itself up to be the go-to resources for potential investors looking for to work with talented and driven SME candidates. "We're making [private equity's] life easy, by going to find businesses, upscaling them and bringing them all together in one place for (PE) to see."
Playing the long game: Osei and Belo-Osagie have three main objectives they want to address, with the goal of improving the outlook for female entrepreneurs in Africa in the long-term.
First, they want to increase access to finance by connecting entrepreneurs with angel investors or low-cost financing. Second, they want to expand the mentor network through events and program where entrepreneurs can meet and build relationships with experts and business leaders. And third, they aim to "upskill" these women through (online and offline) educational programs and training courses.
"We also want to develop exciting experiential opportunities where we can take a select group of entrepreneurs and expose them to exciting innovation and entrepreneurship trends in other markets," the co-founders add. In fact, they have one such trip set for May 2015, where they will take a group of five entrepreneurs to tour the Huawei campus in China. There they will be able to meet Chinese investors and learn ways to leverage tech within their businesses.
Biggest challenge: The most rewarding aspect of launching the enterprise for the co-founders has been "meeting and engaging with smart, ambitious women." But there are still some hurdles they will need to overcome along the way.
"We were quite blessed with having a lot of entrepreneurs reach out to us," Osei says. "But one of our key selling points [as a business] is that we're going to develop the best and brightest, so our reputation is on the line if they don't perform."
With that in mind, the co-founders are investing the bulk of their time and energy on making sure these entrepreneurs ready to get in front of investors.