SCOTUS EPA Ruling May Impact Select Energy Stocks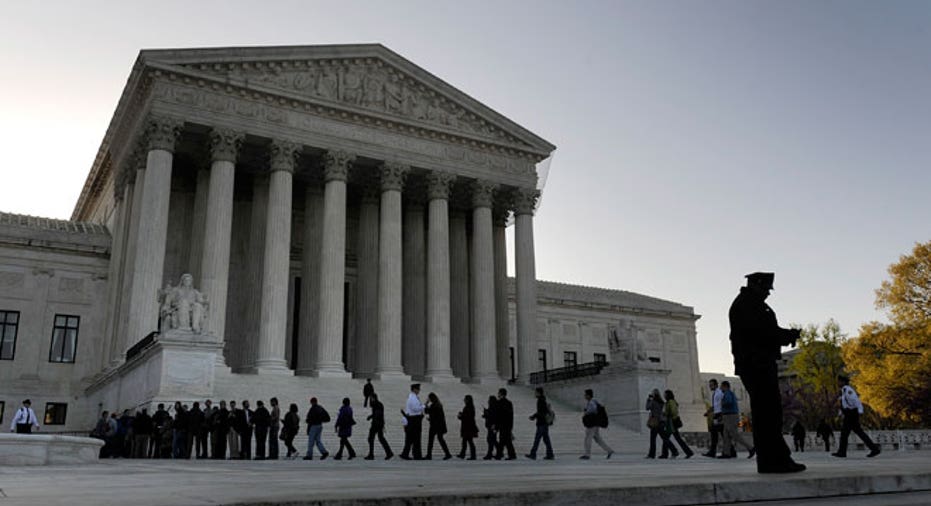 A lot is at stake for a number of energy stocks in the U.S. Supreme Court's ruling on actions taken by the Environmental Protection Agency, which could arrive today.
At issue: whether the EPA wrongfully set aside the financial impact to businesses when it opted to force power plants to cut emissions of mercury and other air pollutants, by instead only estimating public health costs.
If you have any doubts the Supreme Court can affect stocks, just look at the hot action in health care stocks after the court ruled in favor of Obamacare subsidies.
However, with the EPA ruling, it's worth noting that the EPA is whipping a fast ball to make its case, arguing the industry's estimated $360 billion in sales can easily handle the $9.6 billion annual cost from its rules. But using revenue, and not profits, is misleading, utilities have notoriously thin profit margins. The new rules could outlaw the building of new coal-fired plants and force existing plants to install scrubbers and air filters in order to continue operating.
Already, analysts warn coal stocks like Walter Energy (NYSE:WLT), Arch Coal (NYSE:ACI), Alpha Natural Resources (NYSE:ANR) will continue to take a beating. These stocks are down a whopping 98% since President Obama took office, senior FOX Business Network editor Charles Brady notes. Peabody Energy (NYSE:BTU) is down 91%. The move toward natural gas production from increased fracking has also delivered a lot of pain.
A victory for the EPA would have a sweeping impact in other areas. Besides mercury and other air toxins, a Supreme Court victory could bolster the EPA's Clean Air Act, which is a move to cut carbon emissions.
However, analysts at Fusion Research have already noted that the EPA's push has created a new, estimated $10 billion market in air pollution control companies, which would help stocks including Calgon Carbon (NYSE:CCC), Advanced Emissions Solutions (NASDAQ:ADES), Albemarle Corp (NYSE:ALB) and microcap Midwest Energy Emissions (OTC:MEEC).
There are other stocks to watch in the coal ash, power and natural gas spaces. Headwaters Inc. (NYSE:HW) is a coal ash company—any ruling that delivers more regulatory certainty is good for Headwaters. Other stocks to watch: EnerNOC (NASDAQ:ENOC), which helps businesses and factories cut electricity bills, as well as track emissions, among other things.
Also watch Tetra Tech, Inc. (NASDAQ:TTEK). It sells environmental and energy efficiency services. Energy companies that rely on natural gas are interesting plays, too. For instance, NextEra Energy, Inc. (NYSE:NEE) gets more than half its power from natural gas. And GreenHunter Resources (NYSE:GRH) sells water management services for shale gas fracking in the Marcellus, Eagle Ford and Bakken shale plays.