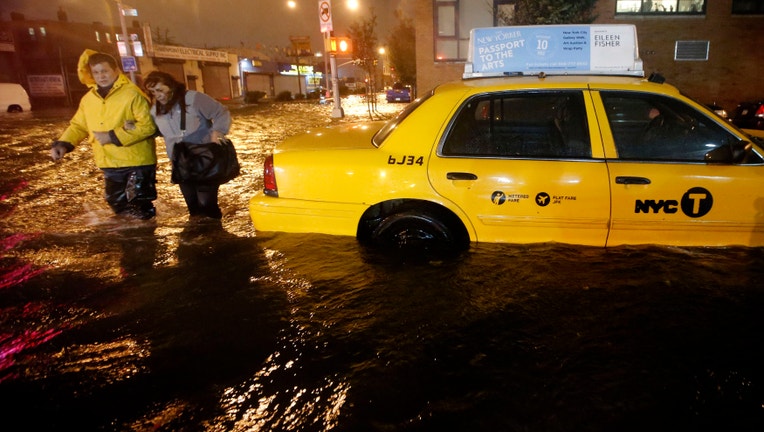 Trees and boats deposited by storm surges on railroad tracks and horrific floods caused by Hurricane Sandy threaten to keep millions of people reliant on public transportation stranded for days.
Efforts to analyze the scale and breadth of damage on railways, subways, roadways, trains and buses in New Jersey, New York and Connecticut began Tuesday, however it's unclear when public transit will return to normal.
In New York, the Metropolitan Transportation Authority (MTA) said limited bus service is expected to begin with the evening rush hour on Tuesday, with full service possibly resuming on Wednesday.
For other public transportation systems, recovery will take much longer.
"I think that rather than talking about restoration of the [entire] system, it's going to be more a conversation of restoration of parts of the system," N.Y. Governor Andrew Cuomo said at a press briefing earlier on Tuesday.
New Jersey
N.J. Governor Chris Christie said the PATH rail system, which carries tens of thousands of passengers from New Jersey towns Hoboken, Jersey City and Newark to Manhattan daily, is possibly the most affected public transportation system in the state.
Severe flooding from the Hudson River has caused salt water to pour underground, drenching and likely damaging the PATH rail system, particularly in Hoboken.
Christie said it could take at least seven to 10 days before PATH operations resume and encouraged commuters to rely on ferries and NJ Transit buses.
"All those [PATH] systems have to be tested, they've probably been compromised and they'll need to be repaired," Christie said in a Tuesday morning press conference. "I would not look for the PATH system to be operating anytime in the near future."
The Holland Tunnel remains closed but other ways to enter the city such as the George Washington Bridge and Lincoln Tunnel are open.
While the Garden State Parkway was reopened in its entirety on Tuesday, authorities are working to clear 7-foot-high storm surge debris from a 35-mile stretch on the N.J. Turnpike, spanning from Edison, N.J. to Manhattan.
Among the debris are 24 small rail cars deposited on the northbound outer-roadway, having been swept up by tidal surge.
NJ Transit rails and buses remained suspended on Tuesday, with some rail systems crippled as storm surge damaged railroad bridges along the New Jersey coastline and swept away large sections of railway. Numerous power lines and trees have fallen on the tracks and rail bridges continue to be blocked by debris.
"We do know this: there is major damage on each and every one of NJ's rail lines," Christie said. "We have significant challenges on NJ Transit that we're going to have to deal with and repair."
Rail stations in low-lying areas like Hoboken, Secaucus and Carney remain severely flooded.
Crews began assessing the status of the system and testing critical infrastructure via an "extensive inspection" Tuesday afternoon, marking the first of many steps toward restoring the state's critical public transportation system.
"Crews will be working around the clock to assess the storm damage, and make repairs or clean-ups where necessary," NJ Transit said in a statement. "This is an arduous, intensive and time-consuming process which involves inspecting more than 500 miles of track, equipment yards, buses and train sets."
Transit authorities said all bus, rail, light rail and Access Link service remains suspended until further notice but a system-wide cross-honoring of all NJ Transit rail and bus tickets has been extended through Friday evening just before midnight.
NJ Transit said residual flooding and storm damage may cause additional delays and cancellations even after service is restored.
Privately-held Academy Bus suspended service on Tuesday and will make an announcement later regarding service for Wednesday.
New York City
Commuters reliant on public transportation within New York City can expect buses to resume at 5 p.m. Tuesday night on a limited Sunday schedule, and authorities are hopeful the system can be up and running at near full capacity on Wednesday.
NYC buses will be free-of-charge Tuesday and Wednesday.
Subways remain suspended on Tuesday and it is unclear when service will resume. Subway tunnels located under the East and Hudson rivers are flooded and Cuomo said lower Manhattan subway stations are damaged after water poured into them with river-like force over night.
While subway cars moved to higher ground in preparation of the storm were not compromised, the subway yards where the trains are typically stored are flooded.
Damage to tracks in flooded tunnels is "unlike this city has seen in decades, if ever," Cuomo said.
The Brooklyn-Battery and Holland Tunnels and bridges to Rockaway, Queens, remain closed after suffering extensive damage from 14-foot storm surges.
"The damage we suffered across the city is clearly extensive and it will not be repaired over night," NYC Mayor Mike Bloomberg said at a press conference Tuesday morning, adding that it's going to take time and "a lot of patience" before power is restored and the city's mass transit system is returned to normal.
MTA Chairman Joe Lhota described Sandy as the worst disaster the agency has seen in the 108 years the NYC subways have been running.
Bloomberg said subways and other forms of public transportation outside of buses will remain closed until further notice.
"There is no firm timeline for the reactivation for bus or train service but I'm sure the MTA will do everything it can," the mayor said. "Clearly the challenges our city faces in the coming days are enormous."
To help get people around the city, Bloomberg signed an executive order that permits cab drivers to pick up multiple passengers. It also allows black cars and livery cabs to pick up people, but the mayor warned those cars must have a "TLC" license plate.
The executive order remains in effect until MTA service is restored.
New York/Connecticut /Amtrak
All Metro-North Railroad and Amtrak services, including the Acela Express, remained suspended on Tuesday and it is unclear when those services will resume.
Metro-North is covered with extensive debris, including trees, wires and a 40-foot boat deposited by flood waters on commuter rail tracks in Westchester County near the Ossining station. A portion of the Hudson line on the railroad has lost power.
Amtrak said crews began inspecting tunnels, tracks, equipment and stations to assess the damage on its Northeast Corridor line, which runs from Boston, through New York and Philadelphia to Washington D.C.
Amtrak said it is working closely with host railroads to determine when passenger train service can resume and hopes to announce a decision on limited service restoration for Wednesday north and south of New York later on Monday.