Samsung Bites Back at Apple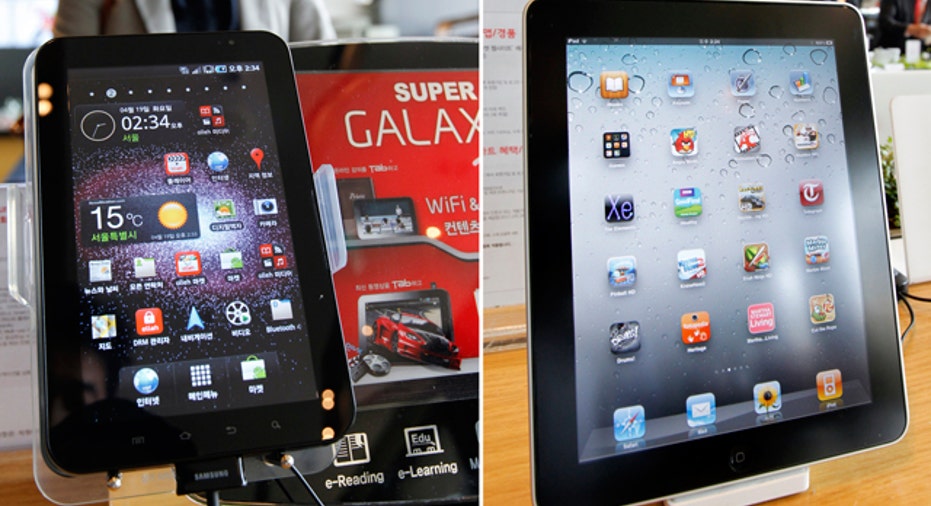 Samsung Electronics Co. filed patent lawsuits against Apple (AAPL.O) over the U.S. firm's iPhone and iPad in a tit-for-tat case after Apple claimed Samsung's smartphones and tablets "slavishly" copied its products.
Samsung's counter lawsuit, its first against its biggest client, comes days before it launches a new product and could jeopardize business ties between the two companies, as Apple relies on Samsung for component supplies such as chips and LCD displays.
"Apple is quite annoyed by Samsung's fast rise in a market which it virtually created," James Song, an analyst at Daewoo Securities, said on Friday.
"It's quite threatening to see how quickly Samsung plays catchup, and Apple might have felt a strong urge to put a brake on its march just when Samsung is set to roll out a new smartphone in May ahead of its new iPhone."
Apple sold 18.6 million iPhones last quarter alone. Samsung, which had a fraction of the booming market until early last year, is estimated to have sold around 13 million units of smartphones in January-March and aims to sell 60 million units this year.
Apple filed a lawsuit last Friday alleging Samsung violated patents and trademarks of its iPhone and iPad, as the popular gadgets are being threatened by the fast rise of rival devices based on Google's (NASDAQ:GOOG) free Android operating system.
Samsung said in a statement on Friday that Apple's iPhone and iPad infringe Samsung's 10 mobile technology patents and it called for Apple to stop infringing its technology and compensate the company.
Operating systems have emerged as the key battlefield for dominance of the world's smartphone market.
Android became the most popular smartphone software in the United States in the three months ending in February, ahead of Apple and Research in Motion (RIM.TO), according to a recent survey by research firm comScore.
Samsung is one of the fastest growing smartphone makers on the back of the Android boom and has emerged as Apple's strongest competitor in the tablet market, with models in three sizes.
COUNTER LAWSUITS
Samsung said the suits, filed in South Korea, Japan and Germany, involved 10 alleged infringements of patents mainly involving power reduction during data transmission, 3G technology for reducing errors during data transmission, and wireless data communication technology.
"Samsung is responding actively to the legal action taken against us in order to protect our intellectual property and to ensure our continued innovation and growth in the mobile communications business," the statement said.
Global technology companies are locked in a web of litigation as they try to defend their shares of the booming tablet and smartphone market.
Strong sales of the iPhone and iPad translate into more revenue for Samsung. Apple was Samsung's second-biggest client after Japan's Sony Corp (6758.T) last year, bringing in around 6.2 trillion Korean won ($5.7 billion) of sales, and is widely expected to become Samsung's top client this year.
"But both know that they need each other. Apple can't suddenly change to other company for supplies of memory chips and mobile processors, because there's no one able to meet Apple's requirement in terms of technology and capacity other than Samsung." Song said.
The battle comes ahead of Samsung launching a new version of its successful Galaxy S smartphone next week in Korea, a key product for the world's No.2 handset maker to meet its target of 60 million units of smartphone sales this year.
Shares in Samsung, Asia's biggest technology company with a market value of $140 billion, closed down 2.6 percent after three consecutive sessions of gains in a flat market.