Rethinking College Costs: 3 Radical Plans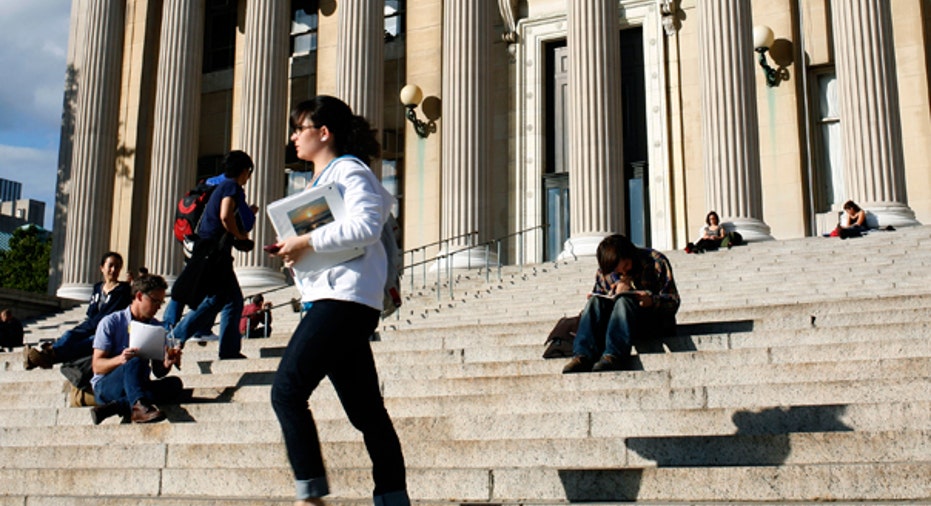 For the 2013-2014 class, college costs are steep. The Institute for College Access and Success reports that among students who took out student loans, the average graduate in 2012 accrued nearly $30,000 in debt.
Many can't pay it back. Nearly 15% of federal loan borrowers default within three years of beginning repayment, the U.S. Department of Education reports. There is hope, however. These outside-the-box education plans could dramatically help students.
Pay It Forward
The idea: Reduce debt by billing students later.
Oregon's Pay It Forward proposal would allow all state residents at public two- or four-year colleges to attend without paying tuition upfront. After leaving school, students would pay a percentage of their income for each year of attendance. Though the exact amount has not been set, the state's Higher Education Coordinating Commission is considering charging 0.75% of adjusted gross income per year of college for 20 years. That's 3% of future salary earnings for a typical bachelor's degree. Should those numbers get approved, a four-year graduate who earns an average $40,000 yearly salary after college would wind up paying $24,000 in tuition.
"(Pay It Forward) would help a lot of people for whom access to college is increasingly out of reach," says Steve Hughes, director of the Oregon Working Families Party, the independent political party that helped create the bill.
The plan isn't a loan, so borrowers would never be at risk of loan default, which can result in wage garnishment, collection costs and possible legal action. It also provides a safety net for unemployed graduates who wouldn't be required to pay anything until they're employed.
Students would still have to pay for books plus room and board upfront, which tops $11,000 annually at schools such as Oregon State University, the University of Oregon and the University of Portland.
Oregon's House and Senate unanimously voted to allow the Higher Education Coordinating Commission to design a pilot Pay It Forward program, which will be reviewed by the state legislature in 2015 before it is enacted. Hughes says there are at least 15 other states considering versions of the plan.
Retroactive degree initiatives
The idea: Help students who didn't graduate by awarding degrees retroactively.
The students in the most trouble are the ones who leave campus with debt but no degree. According to Georgetown University's Center on Education and the Workforce, bachelor's degree holders earn nearly $1 million more over their lifetime, on average, than employees with only a high school diploma. The average boost in lifetime earnings with an associate degree is just over $420,000.
Some students complete the coursework required for a degree but don't actually graduate because of administrative issues, graduation fees, transfer credits that were incorrectly dismissed or because they dropped out with enough credits for a lower degree, but not the one they were pursuing.
In 2009, the Institute for Higher Education Policy, or IHEP, launched a three-year initiative to track down qualified students and award them credentials retroactively. Project Win-Win recruited 60 two- and four-year schools across nine states. Together, they identified 6,733 former students who were eligible and awarded associate's degrees retroactively to 4,550 of them. The project also identified approximately 20,000 former students who were close to completing a degree and wooed about 1 in 10 back to the classroom, according to a 2013 report.
On top of benefiting students, IHEP senior associate Clifford Adelman says the project helps colleges identify barriers that block students from graduating. "Degree award policies are No. 1," he says.
Since 2009, a number of schools have launched their own retroactive credentialing initiatives.
The Saxifrage School
The idea: Reduce debt by eliminating the college campus.
The Saxifrage School wants to dramatically cut college costs, make graduates more employable and simultaneously funnel funds back into the Pittsburgh business community. To do that, the new nonprofit school eliminates the cost of a physical campus -- classes are held after hours in already operating businesses such as nonprofit organizations and coffee shops -- with tuition funds going primarily to local businesses that offer space and instructors.
"Our hope from the beginning (was) to really re-tip the scales towards instruction instead of spending lots of money that inevitably students pay for facilities and posh settings," says Andrew Heffner, Saxifrage director of campus partnerships. "Instead, we're trying to spend as much money as possible on instruction."
The average public college only spends 29% of its budget on instructional costs, reports the National Center for Education Statistics.
The school is currently unaccredited and started offering a few classes last year, but Heffner says the eventual goal is to grow into a four-year institution, one that requires all students to double major in a technical and an arts field. When fully operational, Heffner estimates that Saxifrage tuition will cost around $6,500 annually -- about $2,400 lower than tuition and fees at the average in-state school, according to the College Board.
"Our hope is to make college as good as (it) has always been, but not with the same ever-growing costs and with the separation from the community that you're learning in," he says.